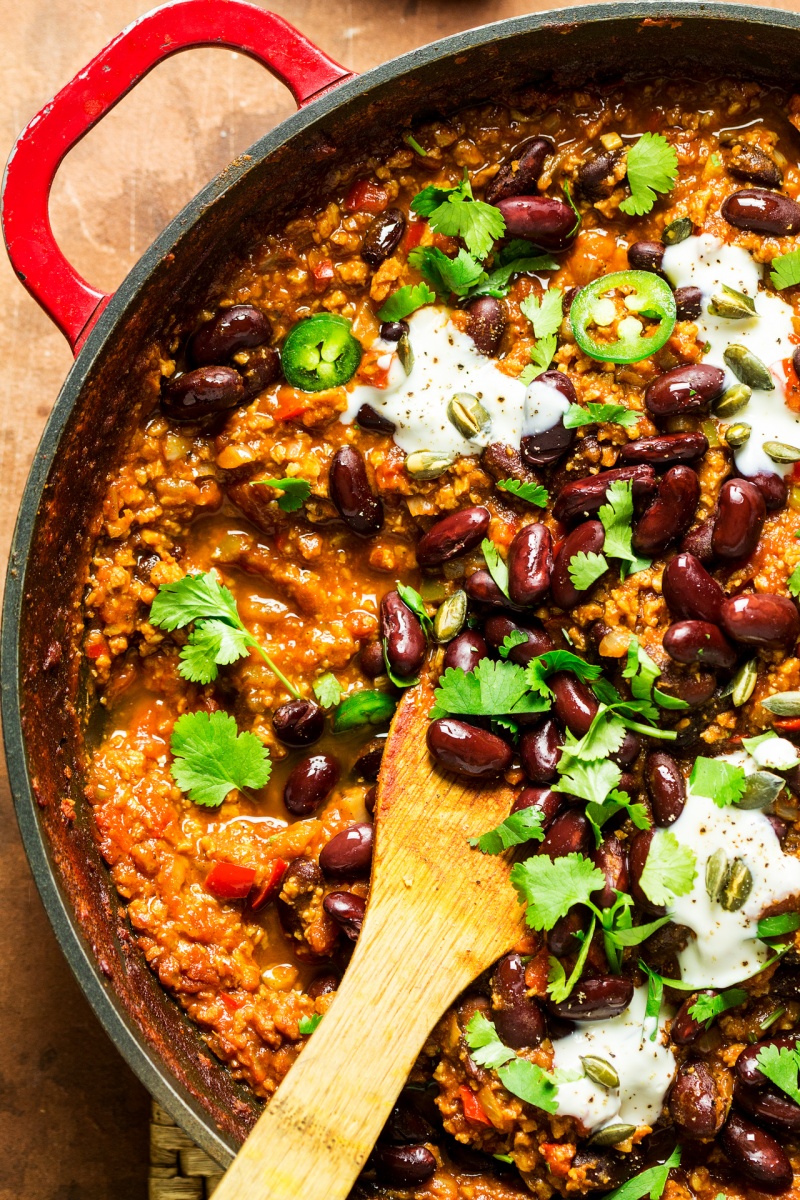 What's cooking this weekend, guys? Can I interest you in a bowl of comforting vegan chilli? It's easy to make, yet tastes delicious, especially if you make it a day ahead. DON'T let the list of ingredients intimidate you. Yes, I know it is long, but once you look closely, most of them are dried spices, which you are bound to have in your arsenal anyway.
It's a miracle I have any pictures for this recipe as our lovely cat, Tina, is a touch understimulated these days and makes my working days a nightmare. We've had fairly sunny weather recently and I do my best to kick her out, but she is a cunning creature and always manages to outfox me. Today she turned up downstairs demanding to be played with again a mere 5 minutes after me kicking her out. I was confused as to how she got in. It turns out that I left my bedroom window open upstairs and as she is an extremely good climber, she climbed up the conservatory and made short work of it too. Argh… Tina I do have to work to put biscuits in your bowl, you know? 'Don't worry, hooman, I will just chase your camera cables when you are not looking, creating a tripping hazard or bringing the whole set down on my own head…' Yup, that nearly happened…
There is another piece to this understimulated cat story that I have not yet told you. So Tina has been reluctant to go outside because of Hilter. Yes, you heard right. Hilter is a very mean neighbour's cat who has a habit of bullying all of the cats in this area, especially the female ones. The previous tenant of our house also had a cat, an extremely timid (by comparison, Tina is super outgoing) little thing. Because the house has no cat flap and her owner was at work during the day, she would leave a tiny utility room window open for her cat during the day so that her cat can come in and out. One day she came home to find her cat bleeding and the house in a state. The same thing happened one or two more times and it later transpired that it was Hilter who used the utility room window to enter the house and bully this girl's cat in her own house!!
As I work from home, I don't have the same issue, but whenever I let Tina out she ends up with scratches on her nose and she appears quite keen to get back in. At one point, I heard a massive cat fight going on downstairs. I ran out as did the neighbour whose cat it is. We saw Tina hiding under a car and the neighbour's cat scampering away as we both shouted. I said to her that her cat is attacking mine, to which she replied that it is definitely the other way round, despite all the evidence to the contrary and previous similar issues with other neighbourhood cats. It was at this point when I heard her call his name and I am pretty sure it was Hitler (I am not 100% sure but that would have been a fitting name so I'm sticking with it).
So we are at an impasse. If she was a reasonable and honest (!) human being, we could maybe come to some kind of arrangement whereby we let our cats out at different times, but as she clearly isn't, Tina is spending an awful amount of time at home. If she had her way, she would play the game of string (chasing one up and down the stairs) all the bloody time, which is a great cardio workout for her, but not something I can do and work at the same time. I hope she will be braver at exploring the wood our house is backing onto once spring comes as no matter how mean Hitler appears to be, I bet he is a mummy's boy after all 😉 .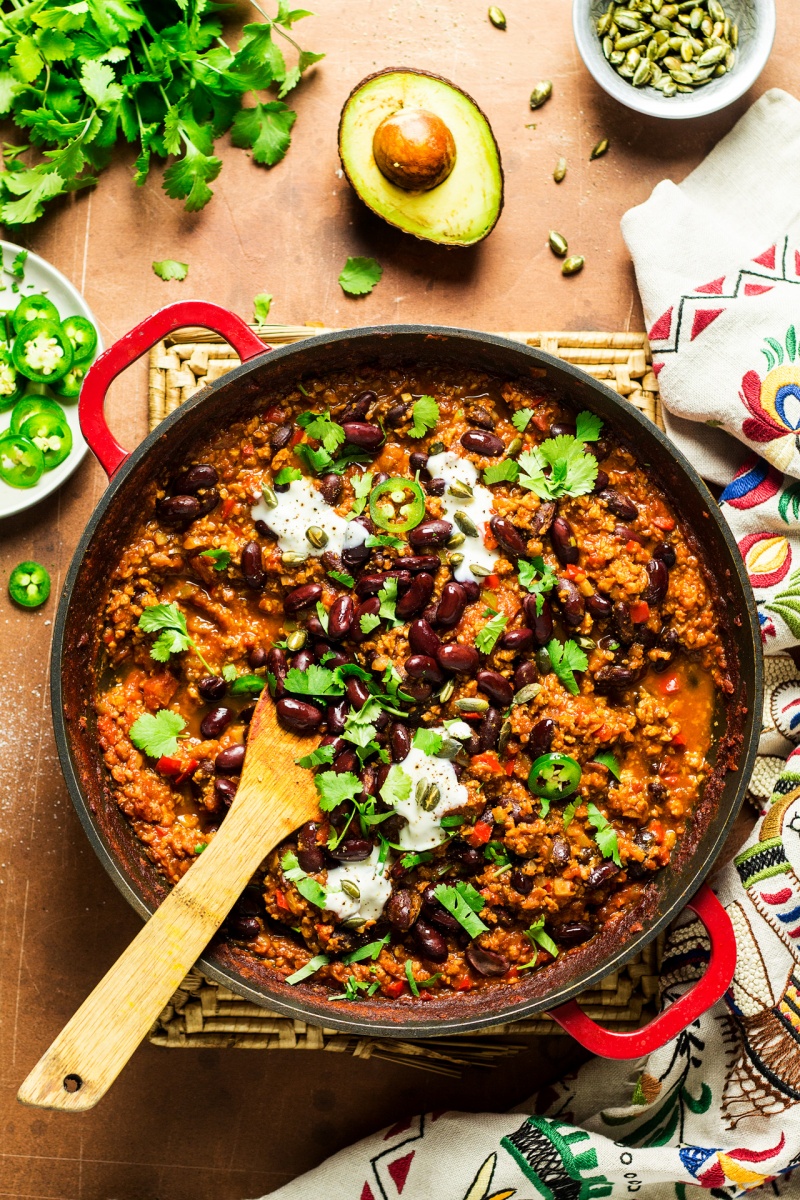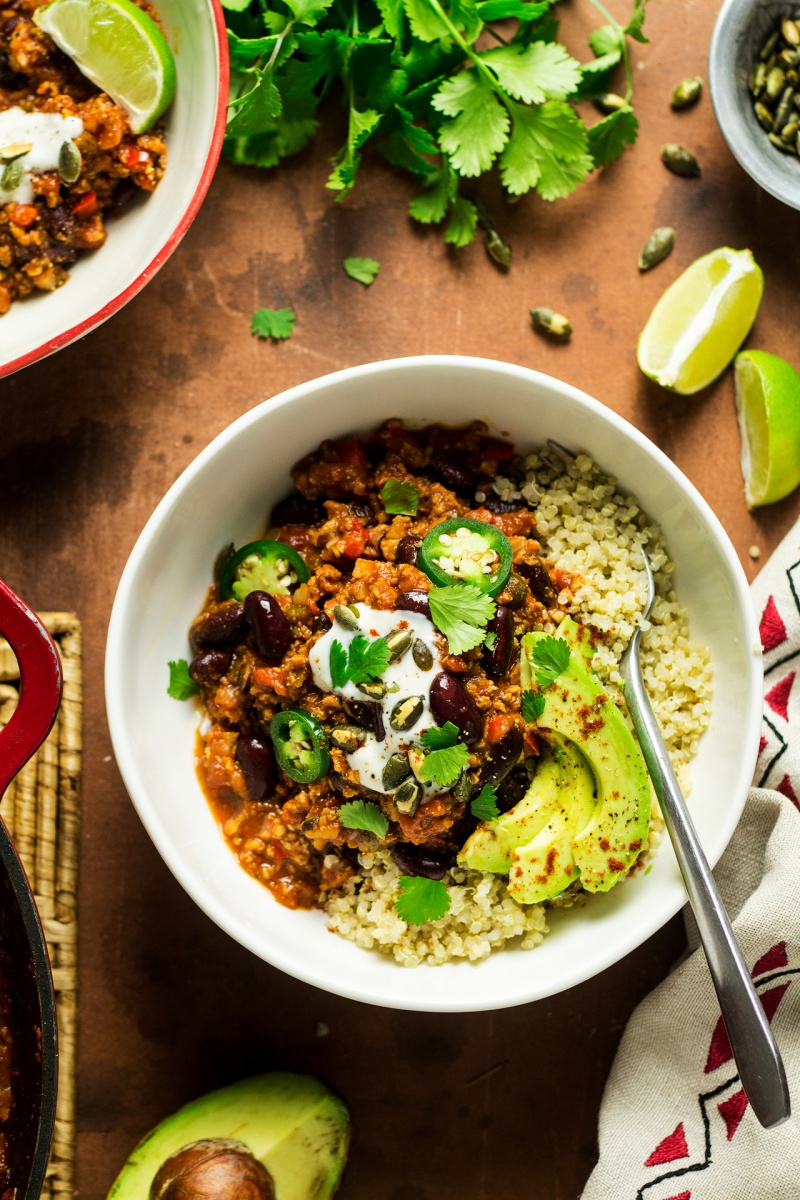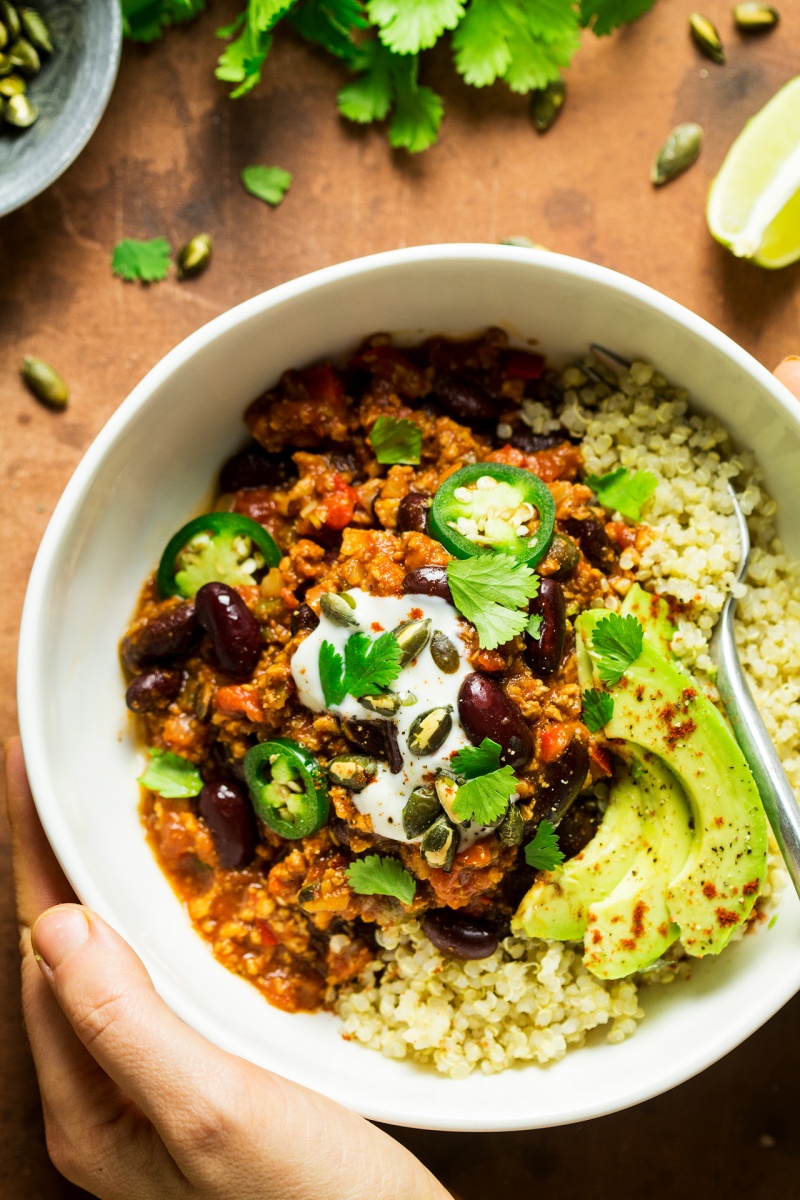 160 g / 2 cups non-GMO, organic soy mince (TVP)*
1 vegan stock cube or 480 ml / 2 cups veggie stock
2 tbsp / 30 ml oil (I used olive oil)
1 yellow onion, finely chopped
4 large garlic cloves, finely chopped
1 red bell pepper, diced finely
1 jalapeno pepper, deseeded (for less spiciness) diced finely
3 tsp smoky sweet paprika
2½ tsp ground cumin
1 tsp ground coriander
1½ tsp dried oregano
½ tsp ground cinnamon
¼ tsp ground cloves
1/8 tsp ground nutmeg
¼-½ tsp cayenne pepper (optional)
1 tbsp tomato paste
2 x 400 g / 14 oz tins chopped tomatoes
1 fresh (or dried) bay leaf
¾ tsp salt, adjust to taste
black pepper, to taste
2 tbsp pumpkin seeds, to serve (optional)
1-2 tsp brown sugar, adjust to taste
2 x 400 g / 14 oz tins red kidney beans
cooked brown rice or quinoa, to serve
ripe avocado, to serve (optional)
vegan yoghurt or sour cream, to serve (optional)
fresh coriander / cilantro, chopped (optional)
METHOD
Place the soy TVP in a bowl. Dissolve a stock cube in 2 cups of hot water and pour over the soy TVP. Set aside.
Heat up the oil in a deep frying pan / casserole dish (with a lid). Add chopped onion and fry on a low heat until translucent and lightly caramelised, stirring from time to time.
Add chopped garlic, diced bell pepper and jalapeno pepper (deseeded if you don't want too much spice). Keep on stirring frequently until the bell and jalapeno pepper softens completely and the garlic releases its beautiful aroma.
Decrease the flame to low and add all the ground spices to the pan and stir them around well. Fry them off gently for a minute or two, stirring the whole time as they burn easily.
Add the tomato paste to the pan and stir it into the mixture.
Next add in the chopped tomatoes and 2 tins / cans worth of water (I rinse my cans with water and then dump it into the pan), bay leaf, salt and a generous grind of black pepper.
Cover the dish with a lid and allow the sauce to cook on low heat for about 30 minutes.
While the sauce is simmering, heat up a small pan on a medium heat. Add pumpkin seeds and roast them until most of them have popped and split, stirring the whole time. Season with salt and set aside.
After that time, take the lid off, add rehydrated TVP and allow the excess water to cook out slowly so that the sauce thickens.
Once the sauce thickens, taste it and season with more salt (if needed) and a touch of sugar if needed.
Finally, stir in the drained kidney beans just to allow them to heat up.
Serve with cooked quinoa or rice, topped with chopped avocado, a dollop of vegan yogurt, some roasted pumpkin seeds and fresh coriander. This dish tastes even better the day after it has been made, it also freezes well.
NOTES
*If you are one of these people who has to avoid soy, you can substitute this ingredient with a range of things like finely chopped mushrooms, ground firm tofu, cooked green lentils, qunioa, finely grated zucchini, or a combination of them. If you are scared of soy because you've heard things like soy gives men "man boobs" or similar soy scares spread by the meat and dairy lobby, please check out
Dr Greger's videos
on the subject, and decide for yourself.