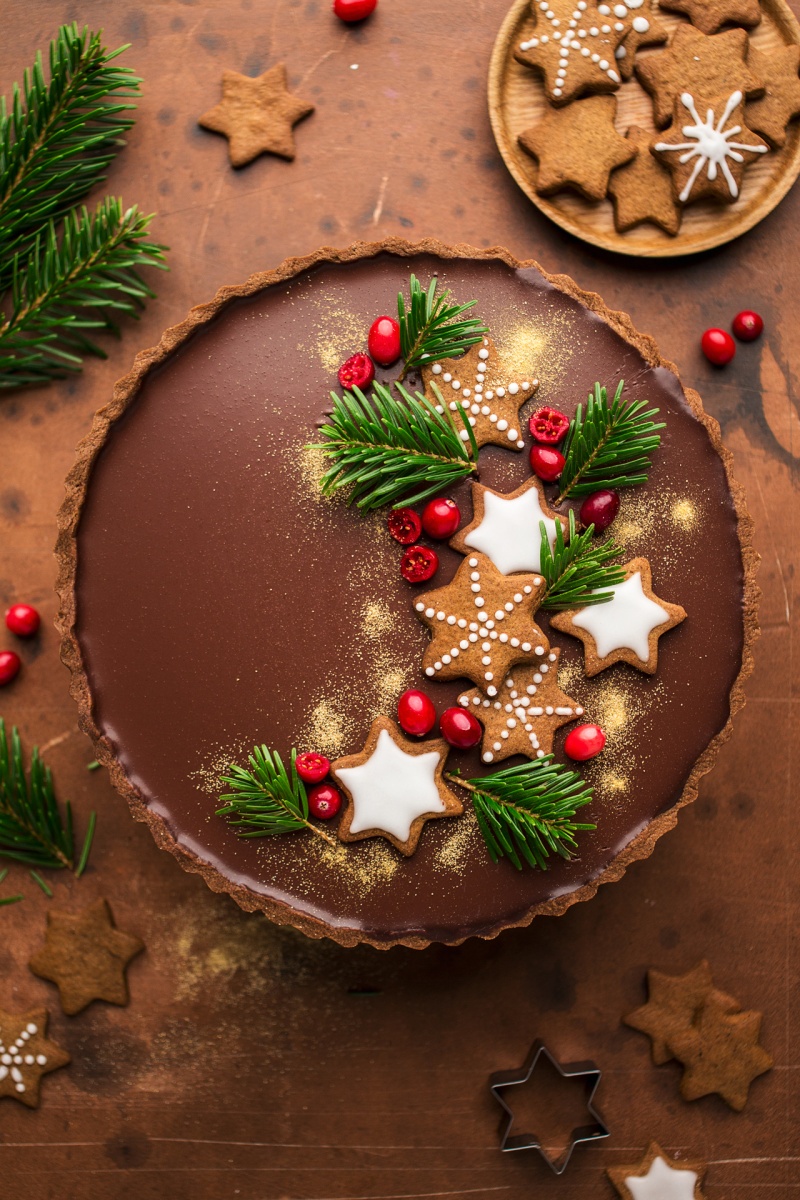 Hello, lazy cats!! This is my last recipe before Xmas, so I've decided to make it count 😛 . It's an aromatic gingerbread tart filled with the most luxurious and indulgent chocolate amaretto ganache. It will knock the socks off the competition, that's a promise!
If you are not keen on the alcohol content, you could simply replace it by more almond milk infused with orange peel (the ganache is super smooth so I would advise against using zest, although if the bits do not bother you, there is no problem) and add a few drops of orange extract to the ganache for a chocolate orange filling.
Well, as I have heaps to do over the next few days, I shall make this post short and sweet – I bet you've got lots to get on with! Duncan, our fluffy princess Tina and myself thank you for putting trust in our recipes. We wish you Merry Xmas and Happy New Year! We hope you get to spend it in amongst your loved ones, eating delicious vegan Xmas food, snuggling with your pets and sharing love! Love is all we need and now even more so than ever!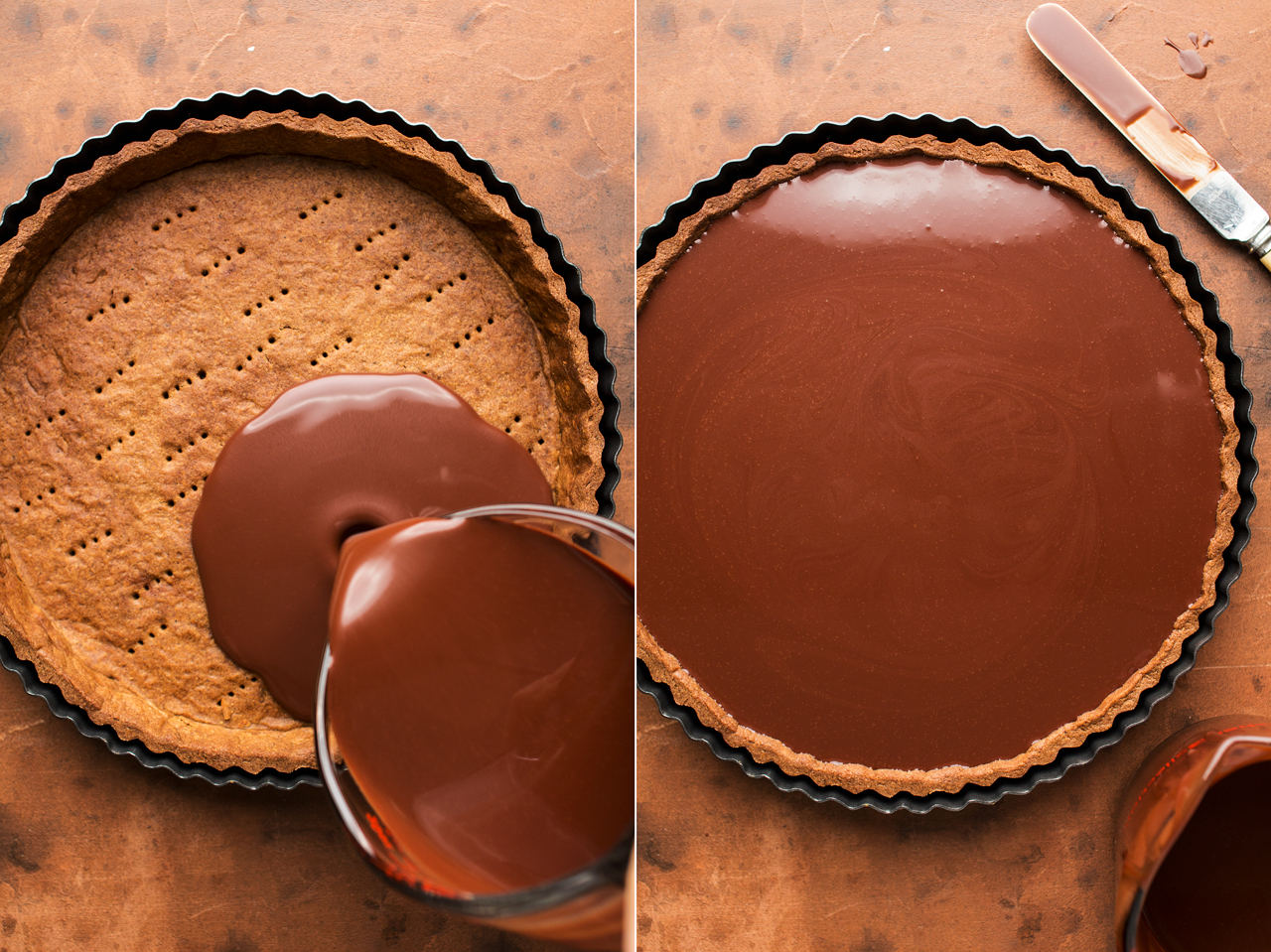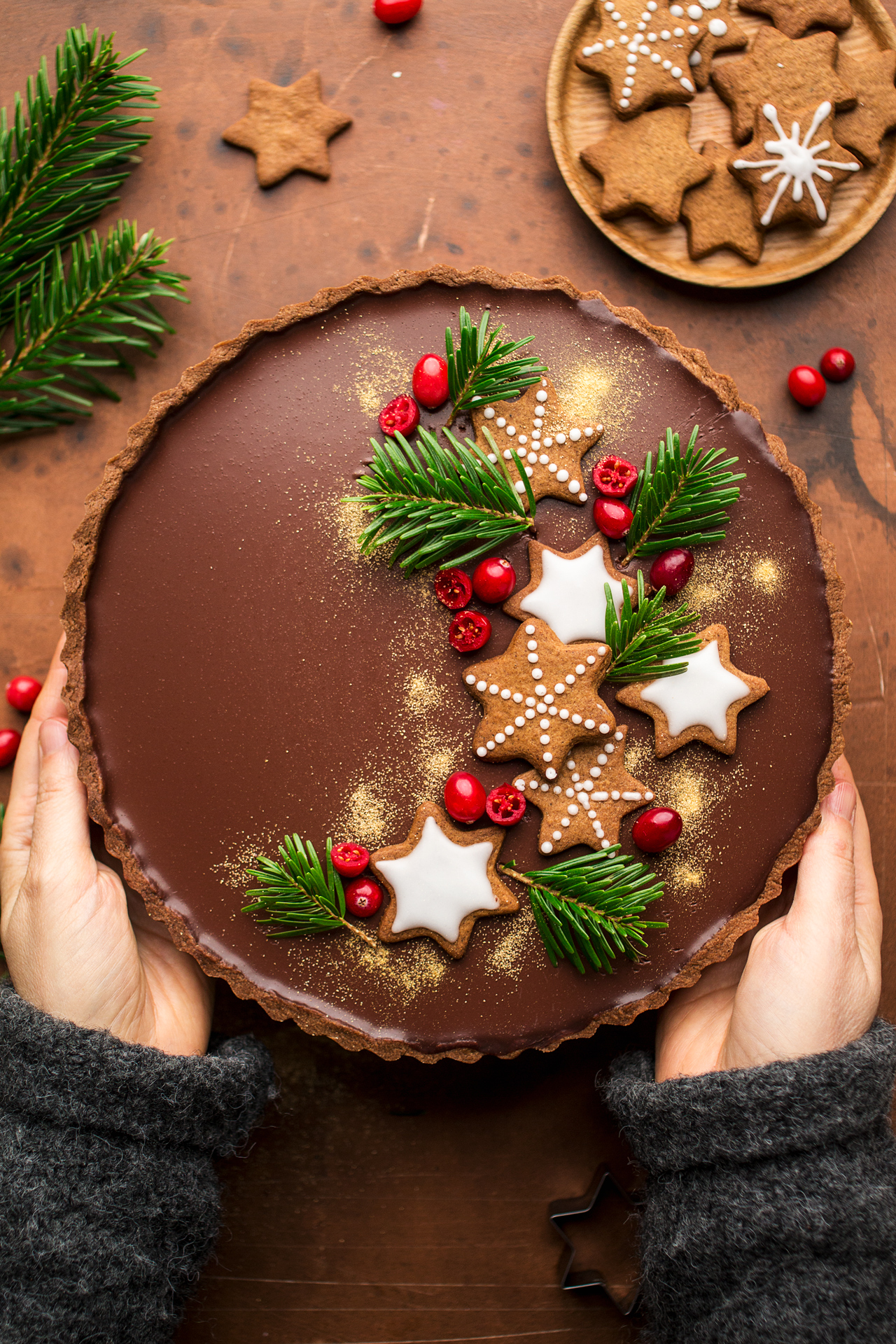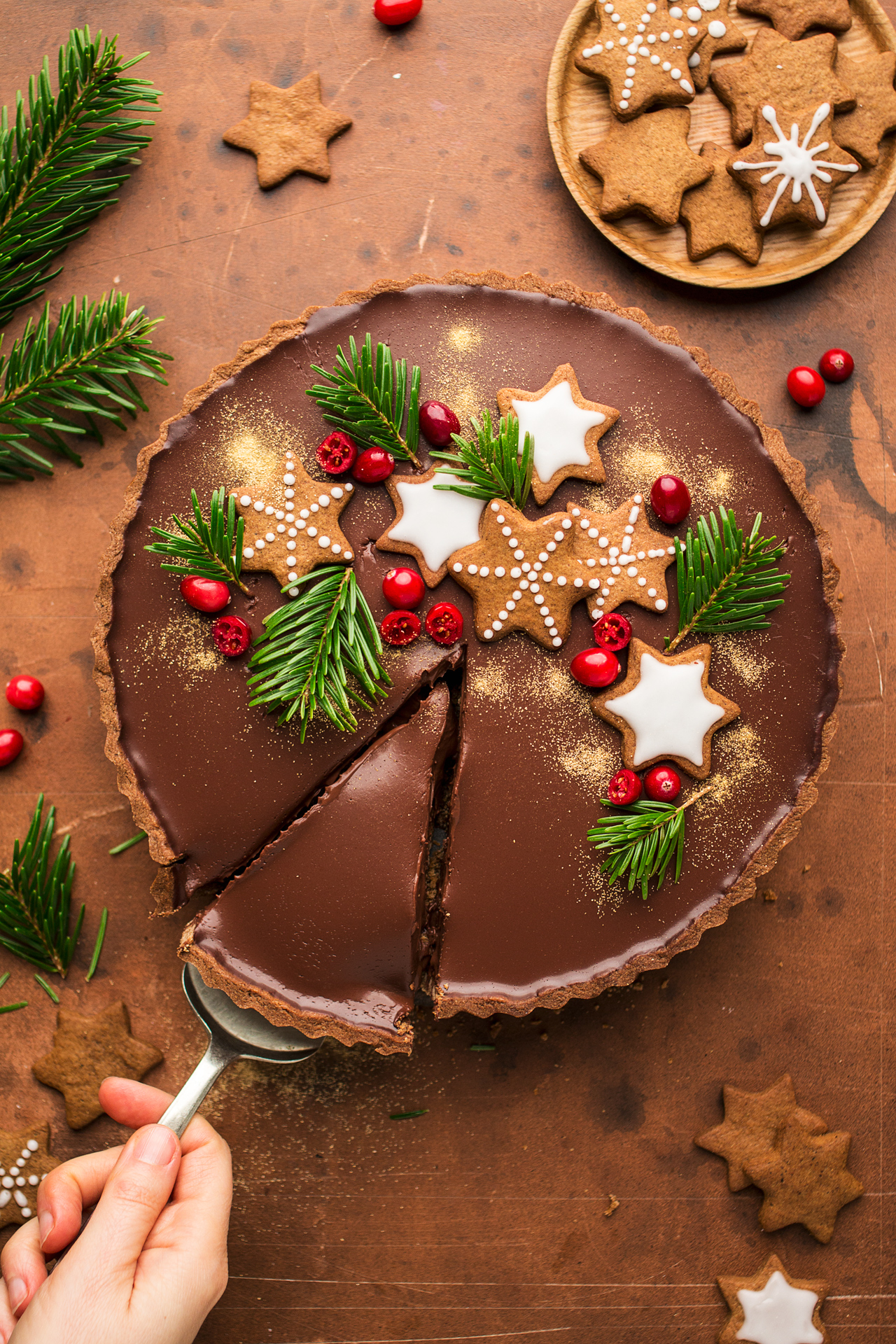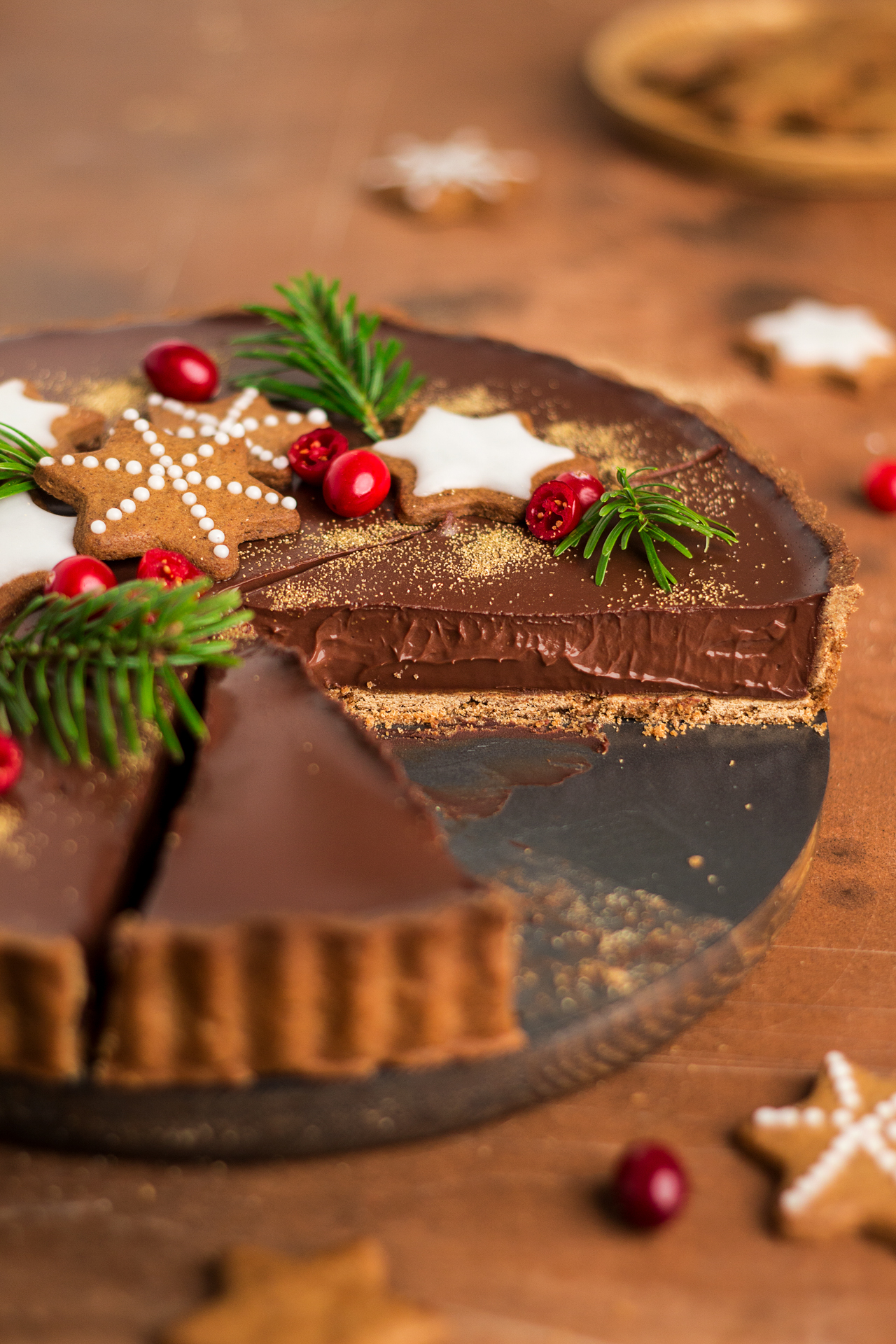 GINGERBREAD BASE (or
shortcust pastry
+ all the spices)
65 g / scant 1/3 cup coconut oil (I use this one) or vegan butter
220 g / 1 + 2/3 cup all purpose flour*
2 level tsp ground ginger
2 level tsp ground cinnamon
½ tsp ground nutmeg
¼ tsp ground cloves
¼ tsp baking soda
a good pinch of fine sea salt
65 g / 1/3 cup dark muscovado sugar
30 ml / 2 tbsp aquafaba or lukewarm plant milk
75 ml / ¼ cup + 1 tbsp maple syrup or molasses*
GANACHE FILLING
300 g / 10.5 oz 70% dark vegan chocolate (I used Green & Blacks cooking chocolate)
120 ml / ½ cup coconut cream (solid part of full fat coconut milk* only)
150 ml / ½ cup + 2 tbsp almond milk
80 ml / 1/3 cup amaretto (I used Disaronno)*
80 ml / 1/3 cup maple syrup
METHOD
GINGERBREAD BASE (or
shortcust pastry
+ all the spices)
Place the coconut oil in a pot and melt it on the lowest setting. Let it cool down.
Sift the flour, all the spices, baking soda and salt into a medium size bowl. Mix really well.
Place the cooled coconut oil, sugar and aquafaba in a large bowl. Cream them together with an electric whisk until well combined and slightly thickened. Add the maple syrup and whisk some more until you get a thick, homogeneous mixture.
Fold ½ of the flour mix into the wet ingredients and, once combined, add the remaining half. Make sure there are no flour pockets and everything is well combined, but do not knead. The dough will be quite loose and sticky, that's fine, it's the way it should be. Wrap the dough in a piece of cling film (glad wrap) and place it in the fridge for at least 1 hour. You can safely keep it in the fridge overnight too.
I use a non-stick pastry case with a removeable buttom, if yours isn't like that, you may want to grease it or/and line it with baking paper.
Allow the dough to come to room temperature and then roll it slowly and gently between two sheets of baking paper or on a lightly floured surface.
Roll the dough into a 3-4 mm thin circle that is large enough to cover the base of the tart tin and the sides.
Roll the rolled out dough onto a rolling pin, place the rolling pin over the tart case and gently unroll the dough on the top of the tart tin.
Mould the dough into the tart case (making sure it fits really snugly everywhere) and trim the excess with a sharp knife. Patch up any holes or thin edges with the off-cuts and pierce the bottom of the pastry with a fork in a few places.
Place the tart case back in the fridge while you heat up the oven to to 175° C / 350° F.
Once the oven is ready, line the inside of the pastry case with a large piece of crumpled baking paper and then arrange baking beads (or dry beans) on top. Blind bake for 15 minutes.
After 15 minutes, take the beads and the baking paper off and return to the tart to the oven for another 10-15 minutes – until the dough no longer looks raw. Allow it to cool completely.
GANACHE FILLING
Place the broken up chocolate pieces and coconut cream in a clean glass or metal bowl over a bain marie (water bath). Warm them both up on the lowest setting (the water underneath should barely simmer and not boil) until the chocolate has been melted. Make sure the water does not touch the bowl the chocolate is in.
Once the chocolate has melted, gently stir it into the cream with a wire whisk, then add almond milk, amaretto and maple syrup. You can adjust the amount of syrup to taste, but make sure you compensate by adding more almond milk (if you end up using less maple syrup than I did).
Allow the mixture to cool down and fill the tart case.
Transfer the filled tart case into the fridge. Allow it to set for at least 8 hours (overnight is best). PS: this tart sets quite firm, but it wasn't quite set when I took these photos, hence it looks a little softer.
NOTES
*For the GLUTEN-FREE version, use 220 g / 1 + 2/3 cup GF flour mix and ½ teaspoon of xanthan gum (unless the mix contains xanthan gum already).
*COCONUT CREAM – I recommend using canned coconut cream (solid part) of full fat coconut milk, which separates after the can has been chilled for a few days. Make sure the brand you purchase has no stabilisers or gums or else the separation will not occur. Alternatively, 240 ml / 1 cup of ready to use (no need to chill) canned coconut cream and only 60 ml / ¼ cup of almond milk. Another alternative, I can suggest is 180 g / ¾ cup smooth almond butter and 120 ml / ½ cup coconut milk (not cream) instead of almond milk.
*AQUAFABA – liquid from a tin/jar of low-sodium chickpeas or home cooked chickpeas.
*MOLASSES – I recommend using unsulphured molasses as opposed to blackstrap molasses – they taste cleaner and do not add any bitterness. Blackstrap molasses are quite bitter, but if that's all you have, use 45 ml / 3 tbsp of blackstrap molasses for the flavour and the remainng 30 ml / 2 tbsp of maple syrup.
*AMARETTO – This tart is designed to have a prominent amaretto flavour, if you prefer a subtler flavour use 60 ml / ¼ cup of amaretto instead. If you are not keen on alcohol, replace the amaretto with almond milk. I recommend infusing the milk with orange peel first and adding a few drops of orange extract to the ganache for a chocolate orange version instead.