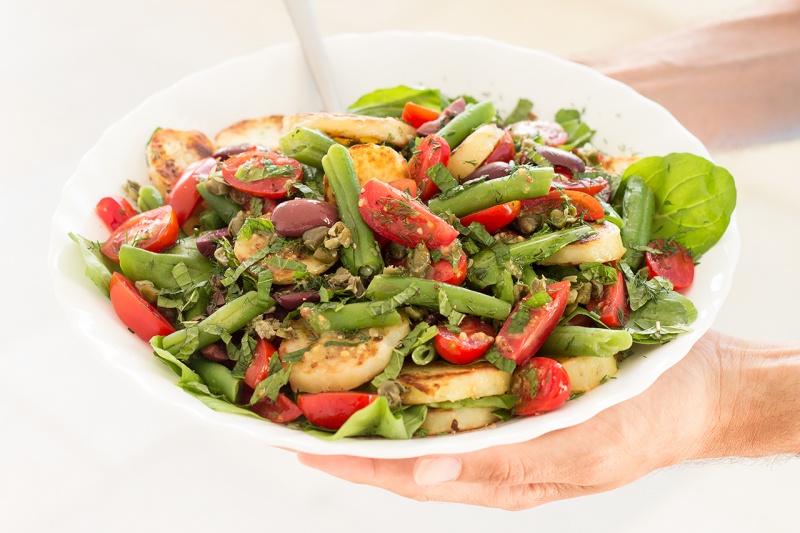 After a long winter and a short spell of spring, Greece is heading for summer. I think. We had 24 degrees Celsius here today and you can feel the summer season is now unofficially open. There are suddenly more tourists and people who have their summer houses here. The vegetable shop was packed today and since Greeks don't seem to like to queue it can get a bit stressful at times, especially if heat frays peoples' tempers and they are in a rush to get to their air-conditioned home and a fridge full of cold drinks. Another sign of summer is that our cat has gone from not doing much to doing absolutely nothing. She is a curious soul (aren't they all?) and decided to assist me in my photo shoot today. Not sure why as, unfortunately for her, we cook no fish or chicken. She didn't last very long, after about 5 minutes she decided to have a nap on one of the chairs near me, but then clearly got too hot and moved to a cold floor. I want her life! In summer, Paros cats spend their entire days lounging on a cold marble floor interspersed with begging for food.
Inspired by stress-free cat lifestyle, I decided to minimise time spent in the kitchen (and maximise time spent on the beach) and have made a quick salad recipe for you. The recipe is inspired by the famous French creation – salad niçoise. My vegan nicoise salad is light but thanks to potatoes it is also nicely filling – you know what I mean – it's not one of these salads which will leave you hungry and craving another full meal. It's a perfect way to use up left-over potatoes too. It tastes great with simply boiled new potatoes, but I've decided to lightly pan-fry mine for extra crunch and colour. Pan-frying is by no means a deal breaker and if you cannot be bothered or want to avoid extra olive oil just skip that step.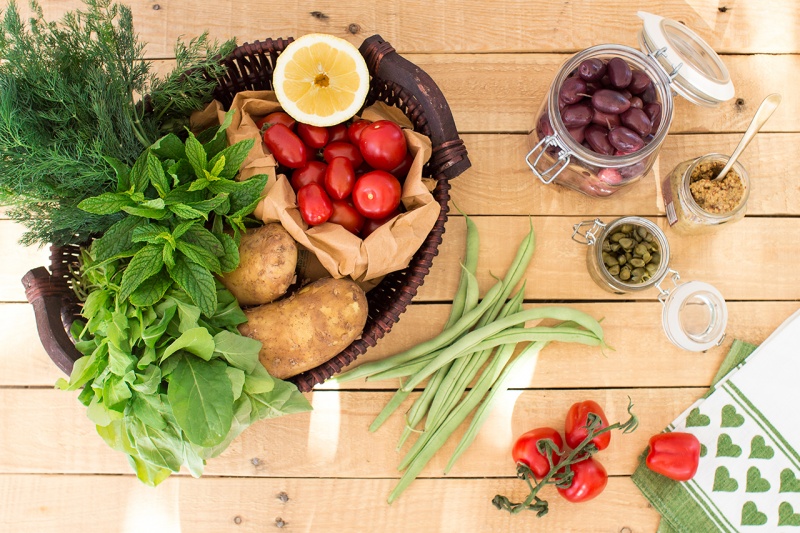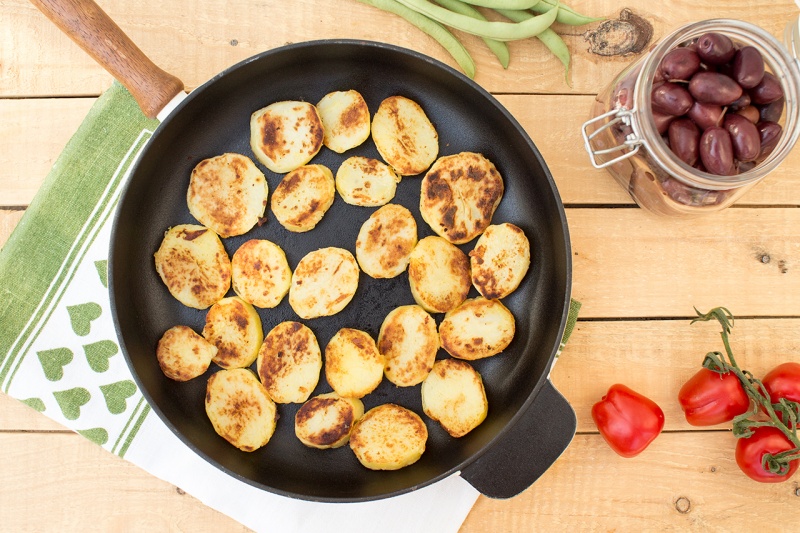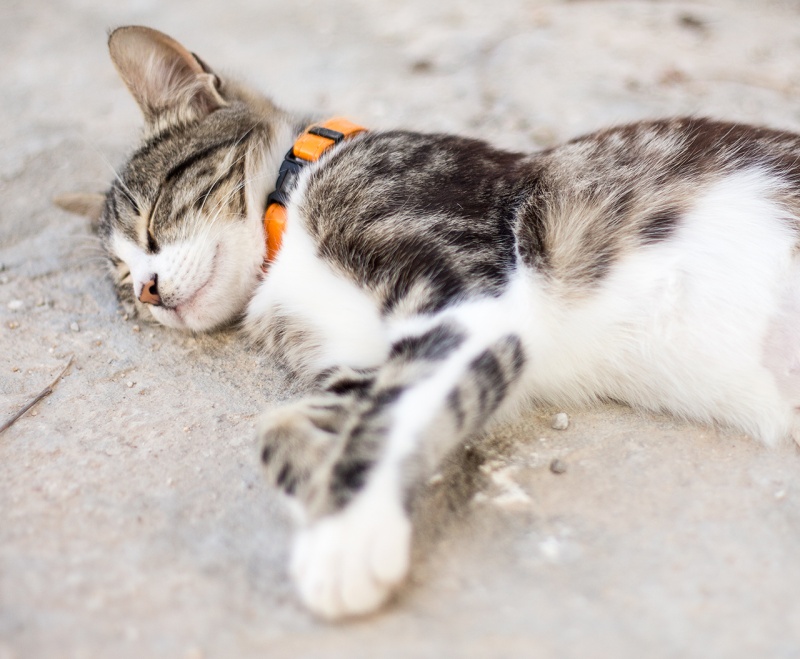 4 large potatoes, cooked
small bunch of rocket*
30 cherry tomatoes
2 large handfuls of french beans
15 black olives (I used Kalamata)
2 tbsp of capers, chopped roughly
small bunch of mint, finley chopped
small bunch of dill, finley chopped
DRESSING
4 tbsp of extra virgin olive oil
2 tsp of wholegrain mustard
small garlic clove, pressed
1 tbsp lemon juice
2 tbsp water
2 pinches of sugar
salt
black pepper
METHOD
Boil your potatoes (about 20 mins depending on size). About 4 minutes to go, chuck your french beans in.  You don't want to overcook them, they should retain a bit of a bite. Drain both potatoes and beans. If you want the beans to keep their colour, plunge them into a bowl of icy water. Cool both.
Quarter your cherry toms, chop/tear rocket and de-stone and quarter your olives.
In a mixing bowl, combine all salad ingredients except for potatoes.
Prepare the dressing by whisking together all dressing ingredients.
If you are pan-frying your potatoes, cut them into 1/2 cm slices. Heat up a pan and brush it with some olive oil. Once the pan is hot, gently fry your potatoes until they are golden on both sides. Season with salt and pepper and set aside.
Pour the dressing over the salad and serve with crispy potatoes (you can pour the dressing over the potatoes too but they will lose some of their crispiness so I prefer to serve them separately.
NOTES
*The rocket I get here is very mild so I don't mix it with other leaves. If your rocket is very peppery, mix it up with milder lettuce leaves.