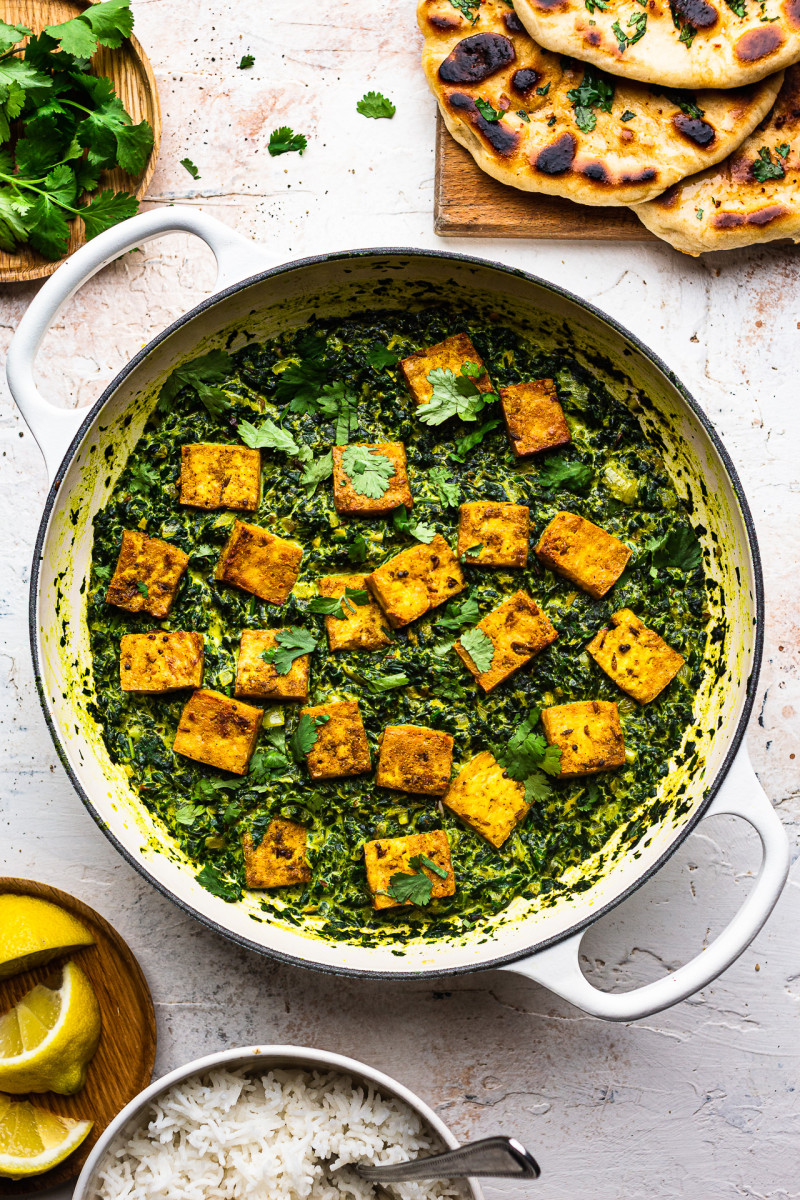 The cold is biting back again and I cannot wear enough layers and drink enough hot beverages to keep warm. I also crave healthy comfort food so my today's recipe is my vegan take on a classic Indian dish – saag paneer. It's a staple on Indian restaurants' menus but in case you haven't come across it, it's a spinach and paneer cheese curry that hails from Punjab, the northern region of India.
Although I have not grown up on it myself, in a funny way it reminds me of my childhood and my childhood nemesis – creamed spinach, which I was forced to eat on a regular basis as an anemic child. Like I suspect most kids, I just had to endure it in order to get my hands on the dessert (some things have not changed 😉 ), but now the taste of this curry – which is a more delicious take on creamed spinach in my view – makes me weirdly nostalgic and brings me comfort.
One of the key components of this dish – known all over the world as saag paneer (although palak paneer is more exact, palak = spinach) is paneer, which is a type of firm cheese made out of dairy milk. As this component is obviously out of limits for a vegan, I sought to mimic paneer with tofu. I used firm, well pressed tofu to approximate paneer's texture. I marinated it in a blend of seasonings, aromatics and spices to banish the blandness and give it flavour. It is obviously not the same thing, but I am really happy with how the finished dish has turned out and we've been enjoying it a lot lately.
It is also quite quick to make. The marinade only takes seconds to put together and the spinach sauce, in contrast to many dishes of this type, doesn't require prolonged simmering. In fact, I only cook it for about 10-15 minutes to retain as much nutritional value of spinach as possible. It benefits from being made a day in advance, but if you don't have that luxury of time, it's absolutely fine too. I hope you will give it a try and that you'll enjoy it if you do.
MORE ABOUT THE INGREDIENTS
TOFU: Firm tofu serves to substitue paneer in this traditionally vegetarian recipe. For maximum flavour, I marinate the tofu in a blend of seasonings, spices and aromatics overnight so that all the flavours get absorbed. If you wanted to prepare it in advance, you could marinate it even longer, up to 3 days.
LEMON JUICE: I used lemon juice to give tofu a bit of a cheese-like tang and some more to season the spinach sauce. Apart from adding flavour, lemon juice also helps our body to absorb non-heme iron in spinach.
NUTRITIONAL YEAST: Nutritional yeast, which is a staple vegan seasoning made out of inactive yeast, helps to flavour tofu with a slight cheese-like flavour.
CUMIN SEEDS: Cumin seeds are used to flavour the oil that is the base of the curry sauce and to marinate tofu.
TURMERIC: Turmeric is another spice to that key in this Indian dish. I used a little to flavour the tofu and some more to flavour the sauce.
GARAM MASALA: Garam masala, which is a warming spice blend commonly used in Indian cuisine, is used in the sauce in two ways. I add some to the sauteed aromatics and toast it off very gently before adding in liquid and sprinkle a little more at the end to finish the dish off. I also use a small amount of this blend to flavour the tofu.
GARLIC & GINGER: Garlic and ginger need no introduction, I am sure. They belong to a group of vegetables referred to as aromatics and form the backbone of most savoury dishes all over the world. Garlic and ginger are true staple of Indian cuisine (alongside onion and fresh chillies) and so they are used here to flavour the curry sauce and I also added threw a bit of them into the tofu marinade to help me banish its blandness.
SPINACH: Spinach is the key ingredient of the sauce although traditonally mustard leaves were often used. As this dish became a staple on Indian restaurants menus all over the world, mustard greens got replaced by a more readily available spinach. I used fresh spinach, but frozen spinach works just as well. There are two options when it comes to texture. If you like the sauce to be smooth, process the spinach in a blender. I personally prefer a bit of texture to this curry sauce, which is why I only pulse a few times it in a food processor instead. If you dislike spinach, why not go back to this dishe's roots and use a drifferent dark leafy green veg? Mustard leaves and kale would both be a fine substitute, but beware that each of them will bring their own unique flavour to this dish.
VEGAN CREAM: Cream is the final ingredient in this simple curry sauce. I used vegan single cream by Oatly, but any vegan single cream product will work just as well. Alternatively, you can make your own cream by blending soaked cashews with a small amount of water or, of coconut flavour doesn't bother you, use full fat coconut milk in the place of vegan cream.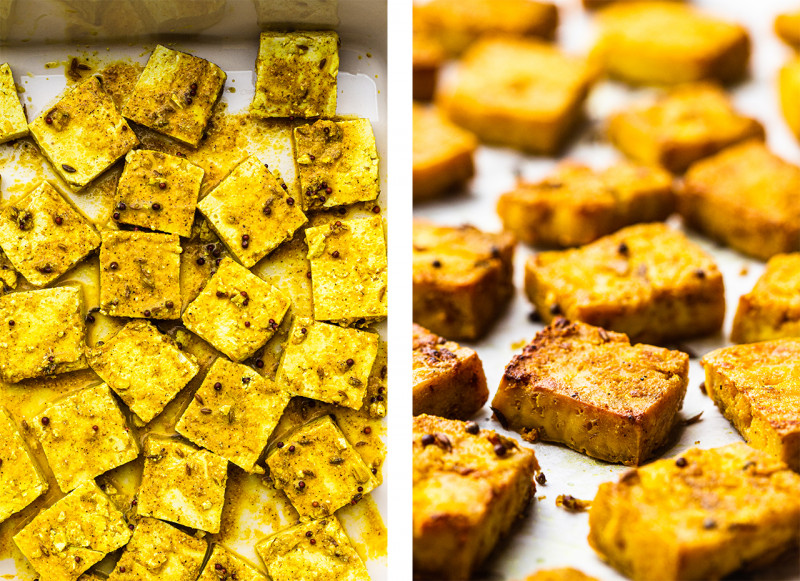 Traditionally, this dish is made with paneer – a firm type of dairy cheese, but since I wanted to make this dish vegan I decided to mimic paneer using tofu. I pressed it, cubed it and then marinated it in a heady concoction of spices, seasonings and aromatics overnight to give it maximum flavour. I then baked it in a hot oven to make it firmer, crispier and to intensify the flavours of the marindade. Another option – if you don't mind using a bit more oil – is to coat it in potato starch after marinating and pan-fry it in hot oil until crisp on all sides.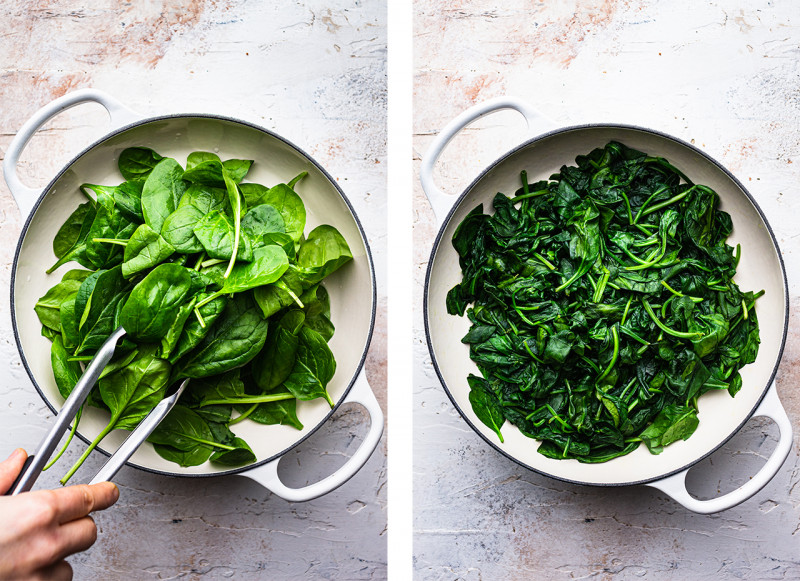 To prepare the spinach, add a splash of water to a warm pan and then pile on as much spinach as you can. Move it around all the pan using kitchen tongs so that no leaves get scorched. Add more spinach as soon as some of the first portion wilts. Switch of the heat as soon as spinach is almost all wilted and let it finish off in the residual heat.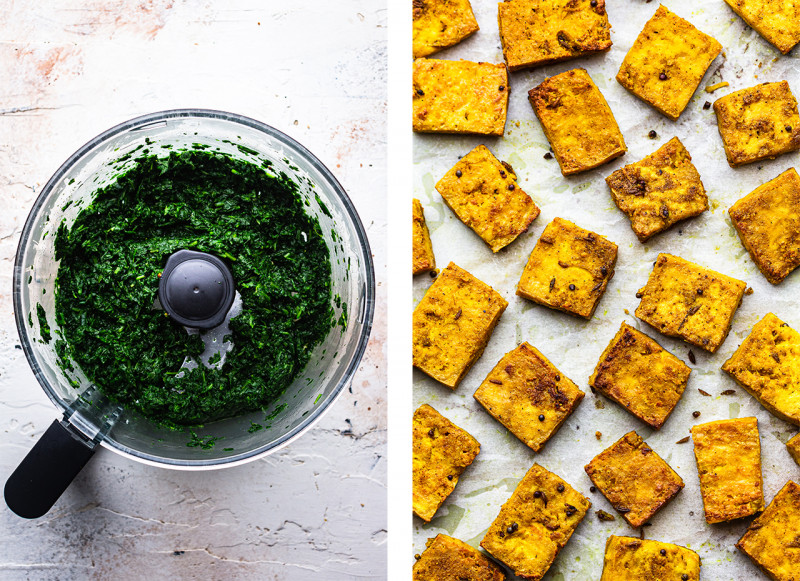 Once all of the spinach has wilted, lift it off the pan with your kitchen tongs and add to a food processor. Pulse until it's minced quite finely. You could also blend it in a food processor (with or without aromatics that are fried in the next step), but I personally prefer some texture in this dish.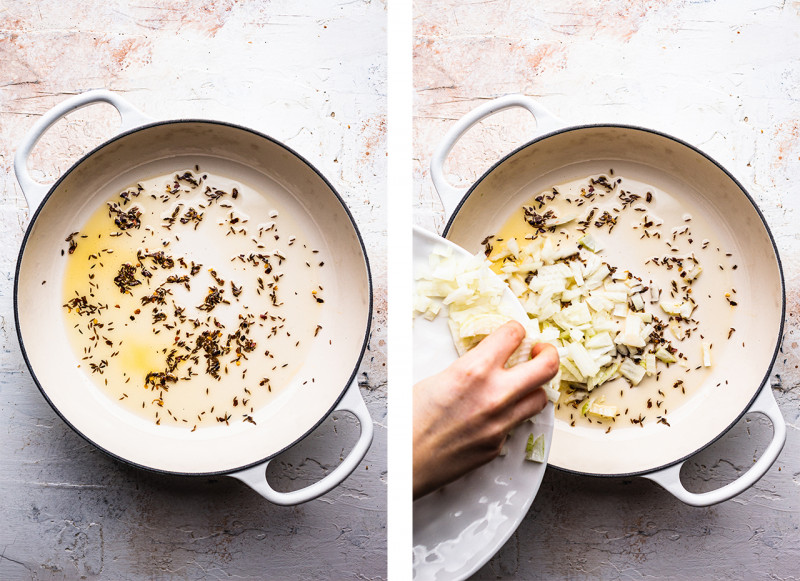 Pre-heat a medium size pan, add oil and once the oil starts to shimmer, add whole cumin seeds and I also used a good pinch of chilli flakes (you could use fresh green chilli instead, if you do that add it in later, with garlic and ginger). After a few seconds, add onion and sautee it on low-medium heat until almost translucent. Stir often.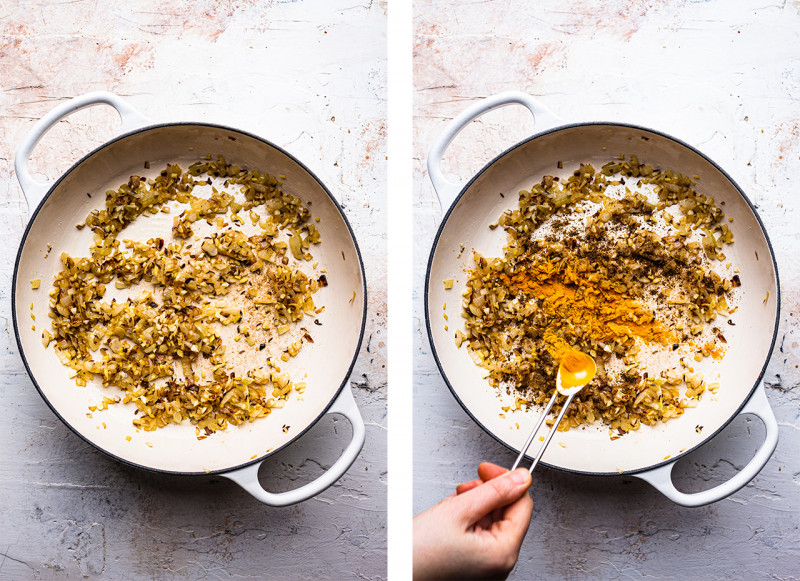 Next, add in garlic and ginger (and fresh chilli if using) and carry on sauteeing until both are softened and fragrant. Next add in dry spices and allow them to toast gently (make sure your heat is low) with the aromatics. Stir the whole time.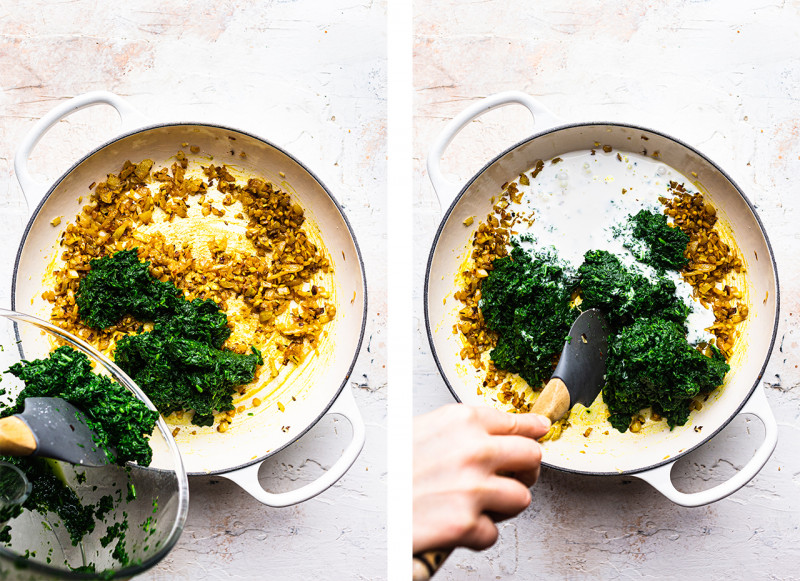 Finally, add in minced spinach and cream. Simmer for about 15 minutes and your spinach sauce is ready. Serve with baked (or fried) tofu, over rice or/and with a vegan naan bread.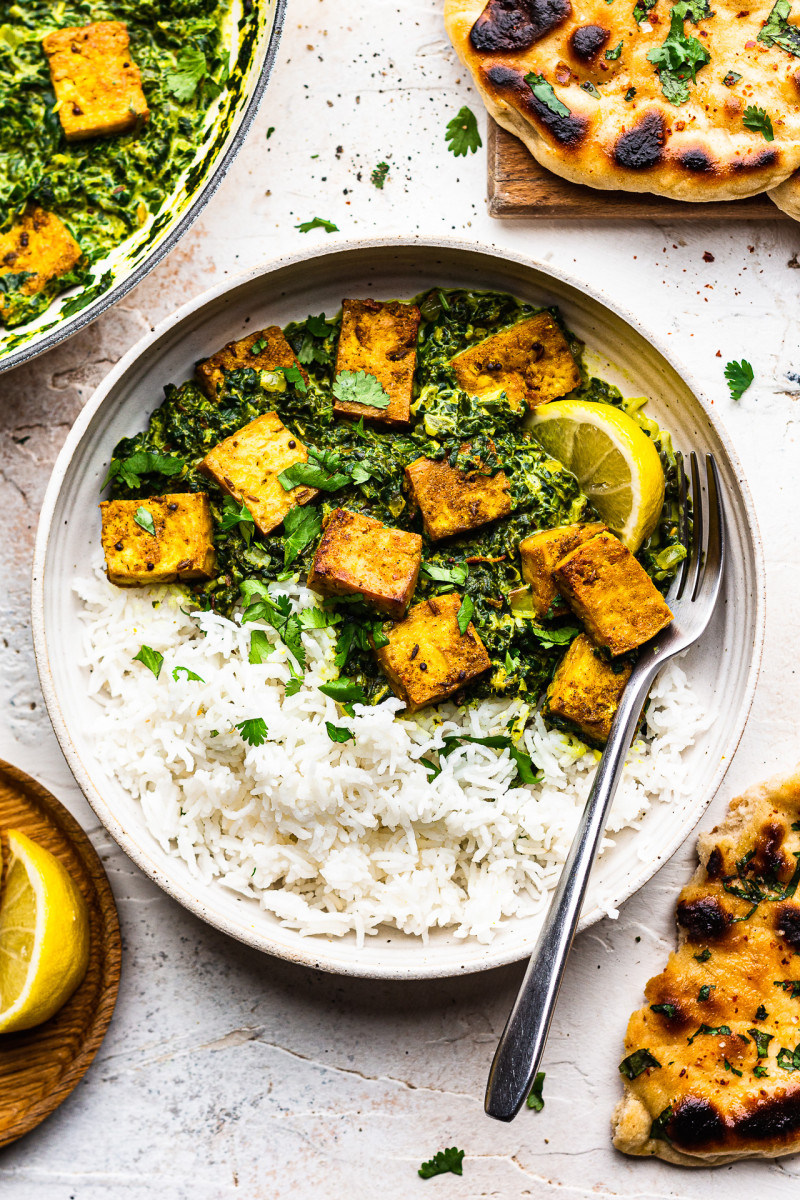 'PANEER TOFU'
400 g / 14 oz firm tofu, pressed
60 ml / ¼ cup lemon juice
2 tbsp nutritional yeast
¾ tsp fine salt
½ tsp turmeric
¼ tsp mustard seeds
½ cumin seeds
½ tsp garam masala
½ tsp garlic powder or 1 clove finely grated
vegetable oil, for baking (or frying)
2 tbsp potato starch or cornstarch (fried option)
SPINACH SAUCE
30 ml / 2 tbsp vegetable oil
1 tsp cumin seeds
a pinch of chilli flakes or fresh green chilli (optional)
1 onion, finely chopped
4 garlic cloves, finely chopped
1 tbsp finely chopped ginger (thumb-size piece)
salt & pepper, to taste
½ tsp turmeric
chilli powder to taste
1 tsp garam masala, divided
400 g / 14 oz fresh (or frozen*) spinach
180 ml / ¾ cup vegan single cream
10 ml / 2 tsp lemon juice, adjust to taste
REMAINING INGREDIENTS
360 g / 2 cups basmati rice, cooked or vegan naan
fresh corinader / cilantro
METHOD
'PANEER TOFU'
Cut pressed tofu into into uniform, bite-size pieces. My were 2.5 cm / 1″ squares.
Combine all of the remaining ingredients (apart from oil and potato starch) and 120 ml / ½ cup of water in a medium-size, flat bottomed dish/box. Arrange tofu pieces on top and spoon marinade over the tofu with a spoon.
Place the tofu in the fridge. Marinate for as long as you can, ideally overnight. Give the tofu a stir now and again to all pieces are evenly coated.
BAKED OPTION: Pre-heat the oven to 200 C / 390° F. Lift tofu out of the marinade and arrange on a paper lined baking tray. Bake for 15 minutes, after 15 minutes coat dried tofu pieces in 1 tbsp (15 ml) of oil and return to the tray, bake for further 15-20 minutes.
FRIED OPTION: Lift tofu out of the marinade and coat it in potato starch on all sides. Heat up a few tablespoons of oil in a frying pan, once the oil is hot, arrange tofu in the pan. Pan-fry on low-medium heat, flipping the pieces regularily, until golden brown and crispy.
SPINACH SAUCE
Heat up a large size frying pan, add a good splash of water and half of the spinach. Using kitchen tongs, move the spinach around the pan. Once most of it has wilted, add the second half and allow it to wilt.
As soon as the spinach has wilted, lift it out of the pan (leaving any moisture behind) and place it in a food processor. Pulse a few times until uniformly minced. You can also use a blender, but I personally prefer it to retain a bit of texture.
Wipe the frying pan clean, then heat up oil in it. Once the oil is hot, add cumin seeds. Allow them to sizzle a little on low heat before adding in finely diced onion and a good pinch of salt.
Saute onion on low heat until almost translucent (about 10 minutes) before adding in garlic and ginger. Saute for another 5 minutes or so stirring frequently.
Make sure the heat is low, before adding in ground spices: turmeric, chilli, half of garam masala, plus more salt and some pepper. Mix spices into the aromatics and carry on pan-frying for another 60 seconds to toast them gently.
Add in minced spinach, vegan cream, a good pinch of salt and a squeeze of lemon. Cover and simmer gently for about 10 minutes, then uncover and cook for further 5.
Adjust the seasoning and sprinkle the other half of garam masala on top.
Serve alongside paneer tofu on a bed of rice or with a vegan naan bread. Sprinkle with corinader and extra lemon juice if liked.
NOTES
*SPINACH: I used fresh spinach, but you can use frozen spinach instead – about 285 g / 10 oz is equivalent to 400 g / 14 oz fresh. Thaw before using.