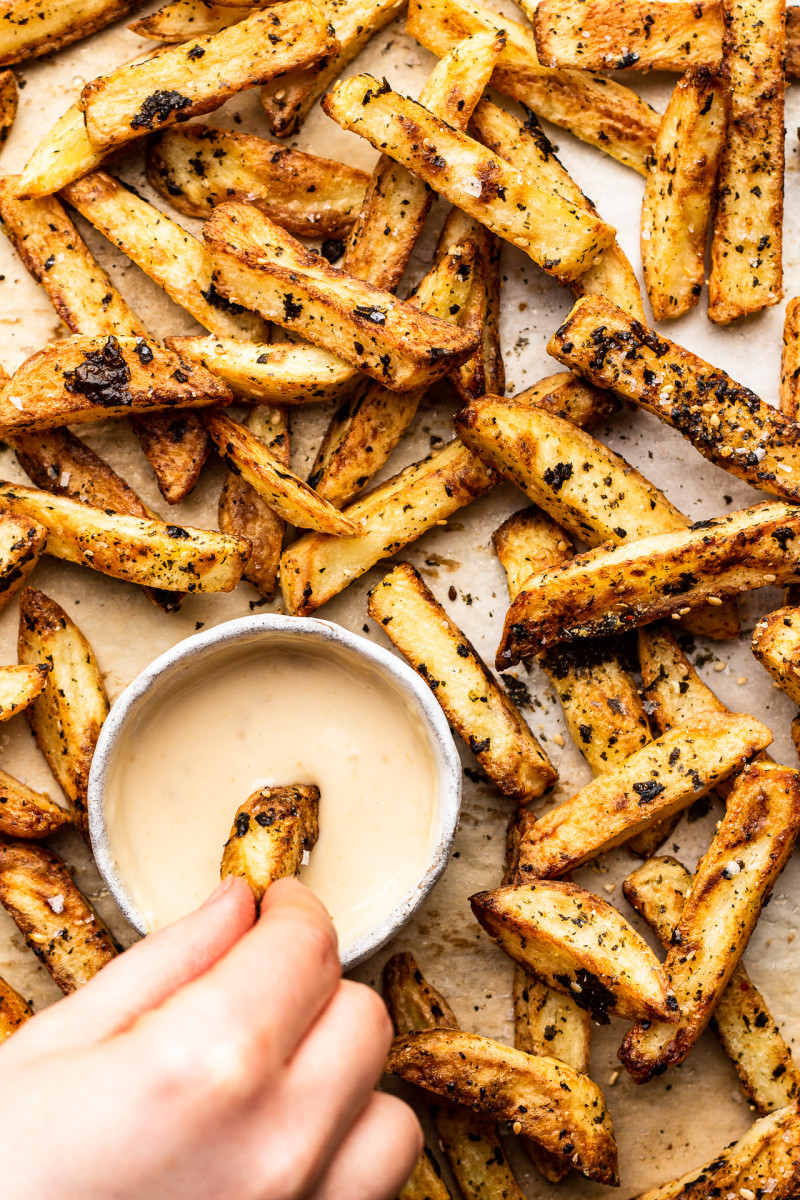 I've had some tests done recently and the results have reminded me that I have slipped up on eating seaweed lately and I want to correct it straight away. I love rice wrapped in nori (vegan sushi, onigirazu and the like), but I haven't had the time to make it in a while so instead, I made a quick rice seasoning that I can sprinkle on my rice every day – we do eat quite a lot of rice. It's inspired by the Japanese rice seasoning beautifully named furikake, except that I made mine up with the ingredients I had in my pantry.
I've enjoyed it so much that I started sprinkling it on everything – rice, popcorn and fries and that's how this simple recipe came to be. The seasoning is made of simple ingredients and it does add a touch of sea to the fries. I used to be a big fish and chips fan before I went vegan and so having seaweed seasoned fries feels like I get to have the flavour of both in one simple 100% vegan snack. I find them irresistible with a side of miso flavoured mayo. I hope you will too. Okay, let's run through the key ingredients and talk about the process for this one…
MORE ABOUT THE INGREDIENTS
POTATOES: The most important thing here is using the right type of potato. In the UK, the variety that is most prized for making excellent fries (or chips as they are called here) is Maris Piper. In the US, it is Russet. In other parts of the world, they will be called something different but you basically want to seek out the starchy variety that is intended for baking. You certainly want to avoid the waxy variety, which performs best in a salad. The all purpose kind should do in theory, but it's worth finding the right variety for making fries, trust me.
OIL: These are substantially healthier than fried fries, but in order to get them to crisp up, you do need a little bit of oil. I found that for 500 g / 17½ oz of potatoes (1 tray, 1-2 portions) 1 tablespoon (15 ml) of oil is plenty. I used light olive oil, but any neutral tasting and stable (high smoke point) vegetable oil will do.
NORI: Nori is roasted seaweed that is traditionally used in Japan to make sushi, for example. You will certainly find it in well-stocked supermarkets. It's crispy and tastes like the sea. I use a coffee grinder to pulverise it well before adding to my spice mix, but you could also shred it really finely with a pair of scissors. Seaweed is one of a very few vegan iodine sources, which is needed for your thyroid to work well.
NUTRITIONAL YEAST: A staple vegan seasoning that adds a nice depth of flavour. I love coating my vegetables (especially cauliflower florets) with it before roasting so I thought it would work well here too and I was not wrong. If you don't have it, increase the amount of garlic powder and pulverize a small dried shiitake and add it to the mix.
MISO: Another vegan staple that adds a lot of flavor. I love using it to season all sorts of dishes, here I added a touch to a vegan mayo for a delicious Japanese-inspired flavour twist that pairs so well with Japanese-inspired nori seasoning.
MORE ABOUT THE METHOD
OVEN TEMPERATURE: If for whatever reason you decide to make half a portion (use fewer potatoes), be aware of how that's going to impact the end result and lower the oven temperature accordingly. Essentially, the more potatoes in the oven, the more steam they create whilst baking and so you need a higher oven temperature to get them to brown nicely. If you halve the amount of potatoes, there is less steam and more dry air circulating around the oven so at 220° C / 425° F, your fries will burn before fully cooking through. The other side of the same coin is why (if you decide to double this recipe) I don't recommend baking two trays at once – there will be too much steam in the oven and you won't be able to achieve as much crispness or browning. You could whack the oven temperature higher in this case, but I have not tested it so experiment at your own peril.
SOAKING CUT POTATOES: Soaking cut potato fries in cold water before baking is an optional step recommended by professional fry makers – it's one of the tricks they use to get an extra crispy exterior (the other is double frying). It matters especially when you fry your potatoes as soaking washes away excess starch and stops the fries from sticking to each other in the frying basket. It does not matter so much here as we are laying individual potato pieces on a baking sheet and allowing plenty of room around each fry / chip. I did both versions and the soaked variety was indeed a bit crispier on the outside but I am not 100% sure it is worth the effort. If you decide to try it for yourself, soak them for as long as you can (overnight if you can, but 30 minutes is okay too), drain and rinse. It is imperative to dry them off really well after soaking or else the water will hinder the crisping up process.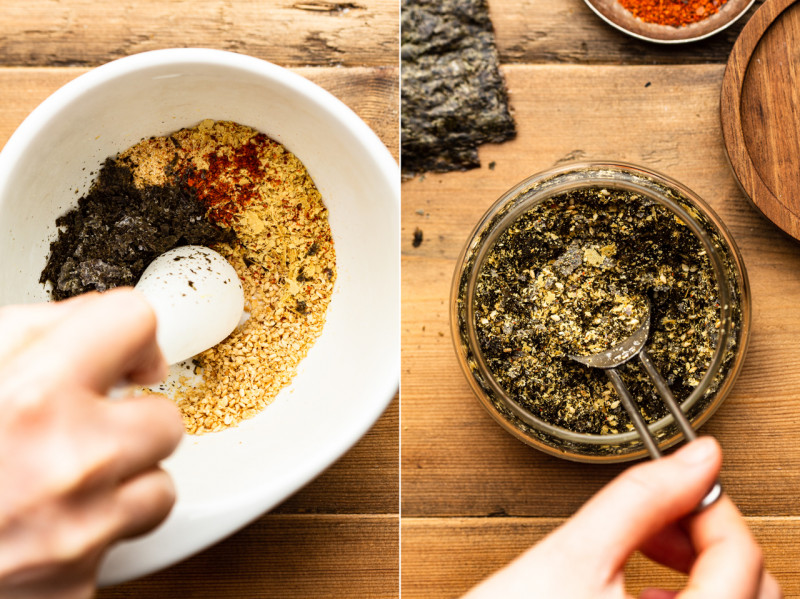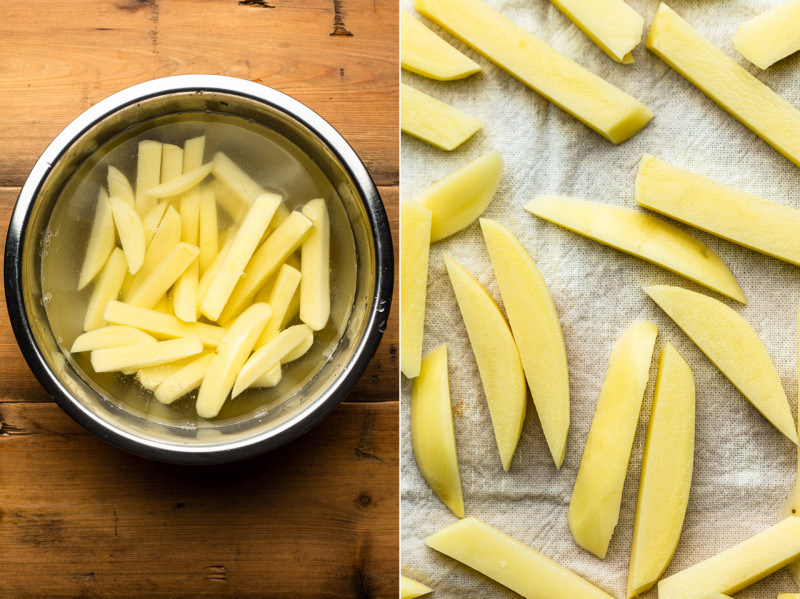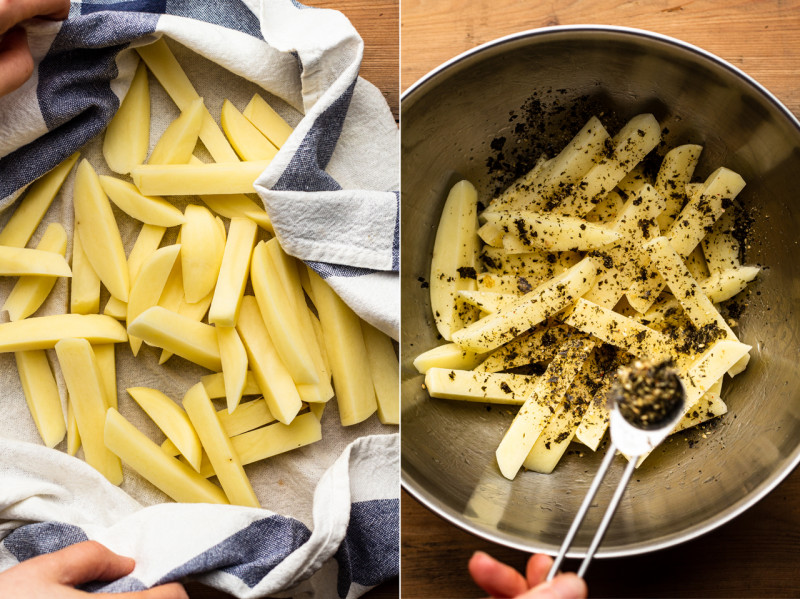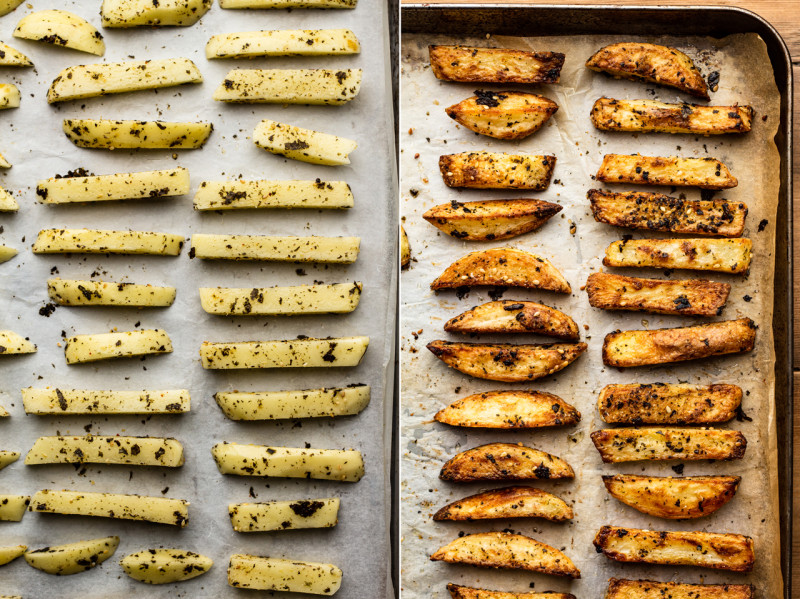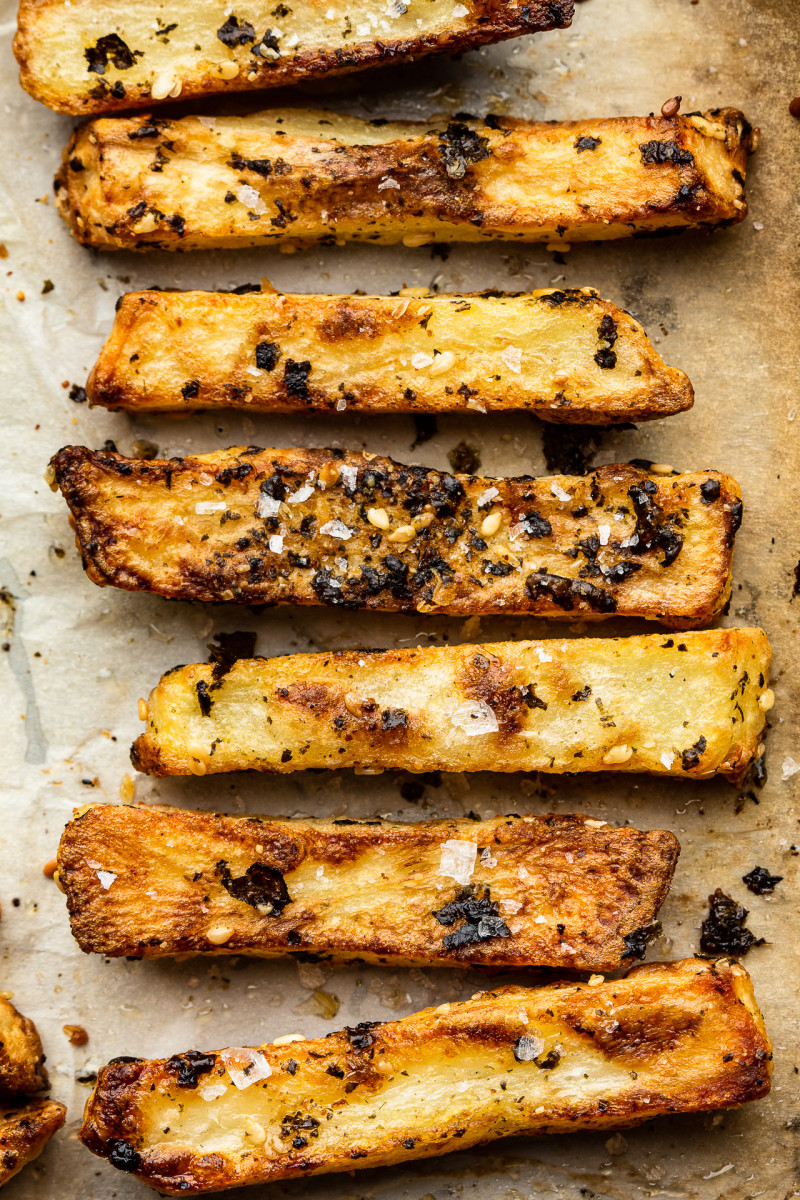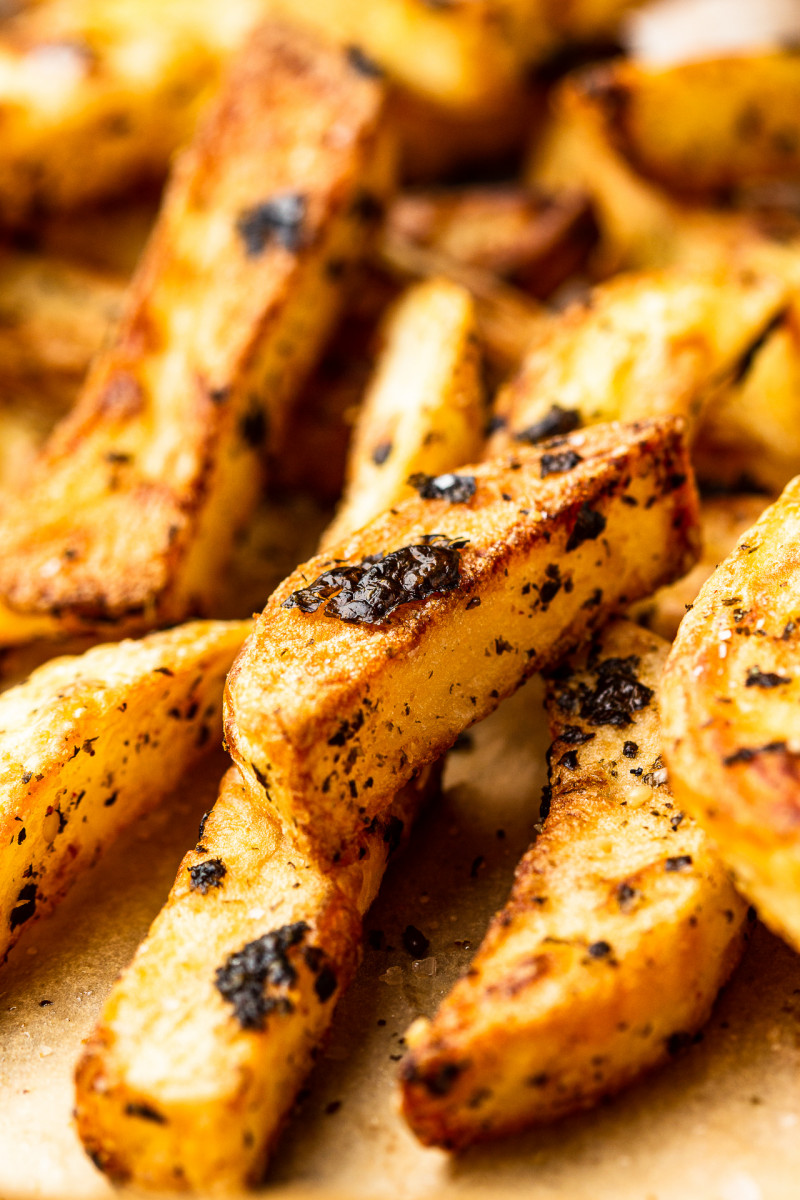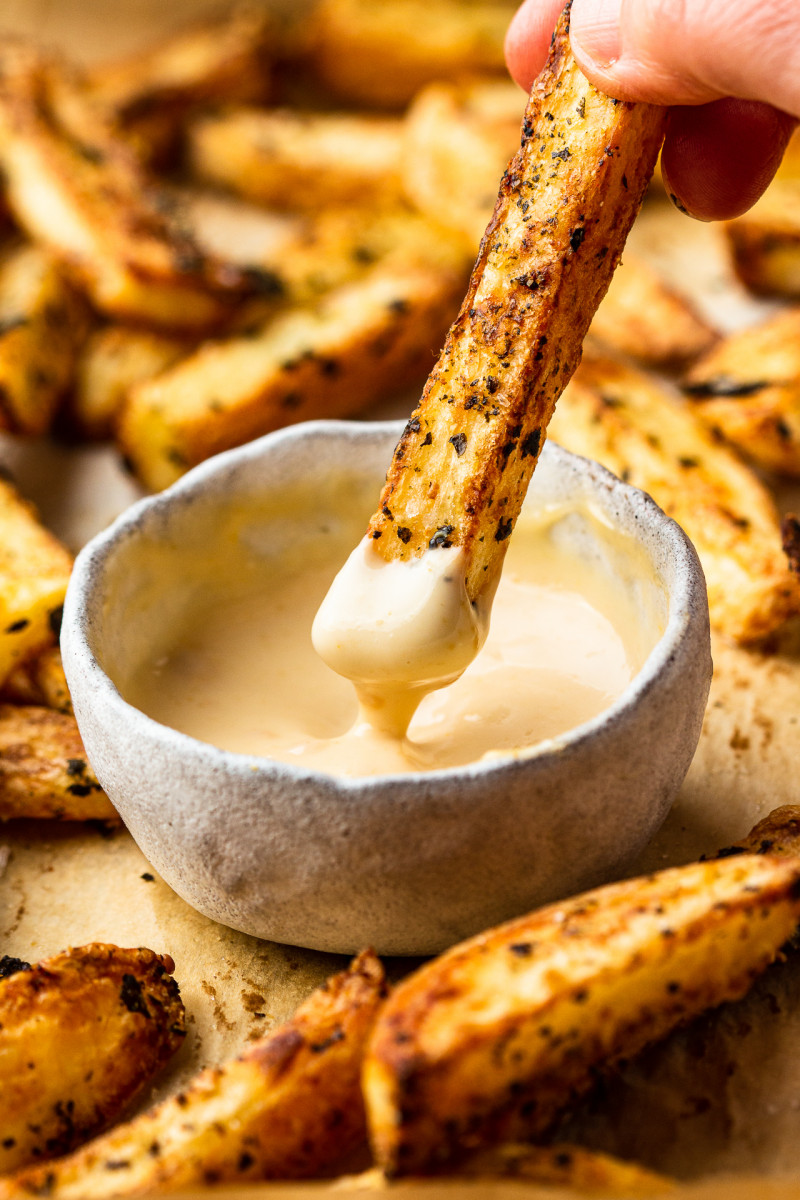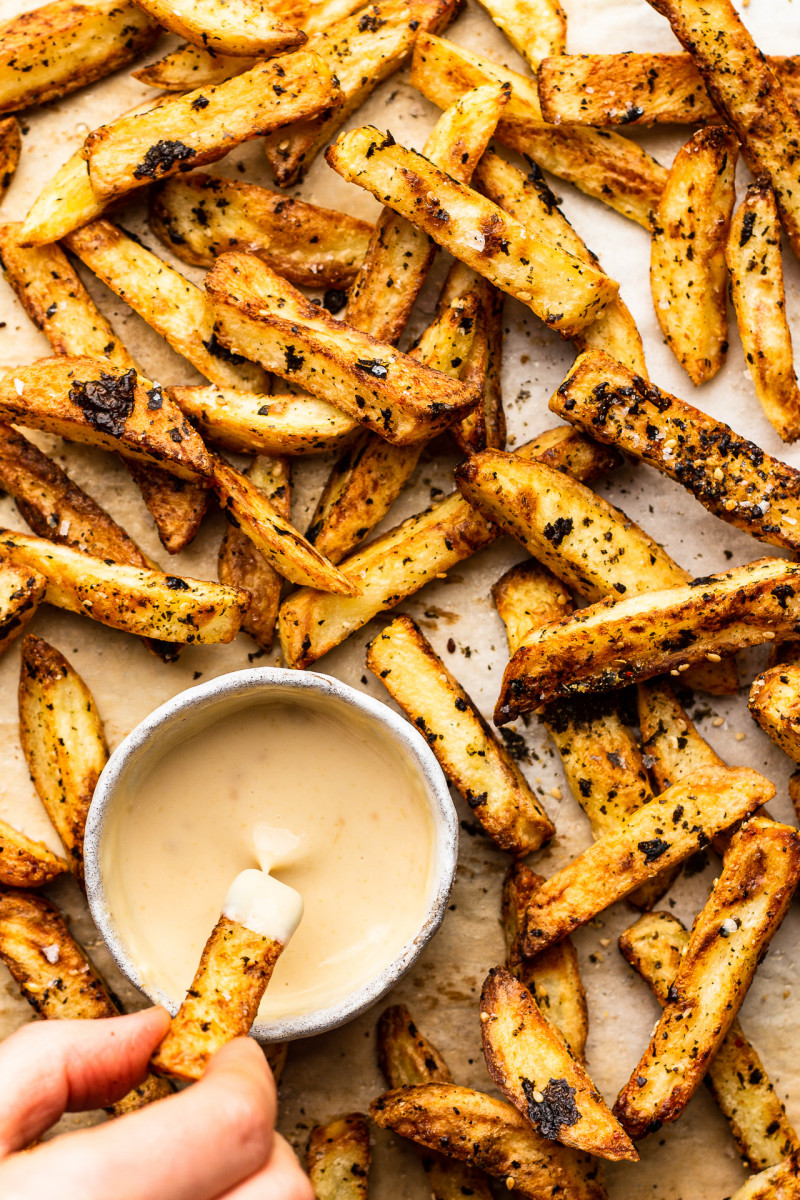 FRIES
500 g / 17½ oz (3 medium) Maris Piper or Russet potatoes*
15 ml / 1 tbsp vegetable oil (I use mild olive oil)
nori seasoning (see below)
salt, to taste
NORI SEASONING
MISO MAYO
Peel or (if dealing with new potatoes) simply scrub your potatoes well. Cut into 1.25 cm / ½" wide batons. Try to make them as even as possible so that they cook evenly.
OPTIONAL: Plunge them into a bowl of cold water and let them sit in it for about minimum 30 min (or longer). Drain the potatoes, rinse them and dry well with a clean kitchen towel (or some paper towels). This process does get the fries crisper but it is a lot of extra effort – scroll up to read SOAKING CUT POTATOES above the photos for a more detailed explanation.
Preheat the oven to 220° C / 425° F and line a baking tray with a piece of baking paper. If using fewer potatoes than the recipe calls for, lower the oven temperature to 200° C / 390° F – fewer potatoes produce less steam, which means fries are more likely to burn.
Place cut fries in a large bowl and toss in oil. Sprinkle with 2-3 tsp of the seasoning, but wait with the salt until they are done.
Arrange the fries in a single layer leaving some space around each fry. Group same size pieces together – I arrange larger pieces at the back as my oven is hotter at the back and the smallest, edge pieces at the front so that I can remove them easily once done.
Bake for about 25-30 minutes for unsoaked potatoes and 30-35 minutes for soaked ones. 15-20 minutes in, gently turn the fries to the other side. The smaller, edge pieces will be done sooner so be sure to keep an eye on them and remove them as soon as they are golden.
Sprinkle with salt whilst still hot, serve with a side of miso mayo.
NORI SEASONING
Tear nori into smaller pieces first then, using a coffee / spice grinder, pulverize it. If you don't have a coffee grinder, use kitchen scissors to cut it up really small.
Crush toasted sesame seeds in a coffee grinder or in a pestle and mortar. Add the remaining ingredients, mix and transfer to an airtight jar. Use on its own if looking to reduce salt, or in combination with salt on rice, popcorn, fries.
MISO MAYO
Dilute miso in 2 tsp of water until smooth and lump-free.
Mix in maple syrup and vegan mayo. Add a few drops of toasted sesame oil to taste.
*POTATOES: Be sure to use the right type of potato for best results. You want a starchy (not waxy or all purpose) variety of potato that gets crispy when baked or fried.
*MISO PASTE: If gluten-free, seek out gluten-free miso paste. It is often based on chickpeas, rice or millet.
This recipe is based on my baked rosemary fries recipe.