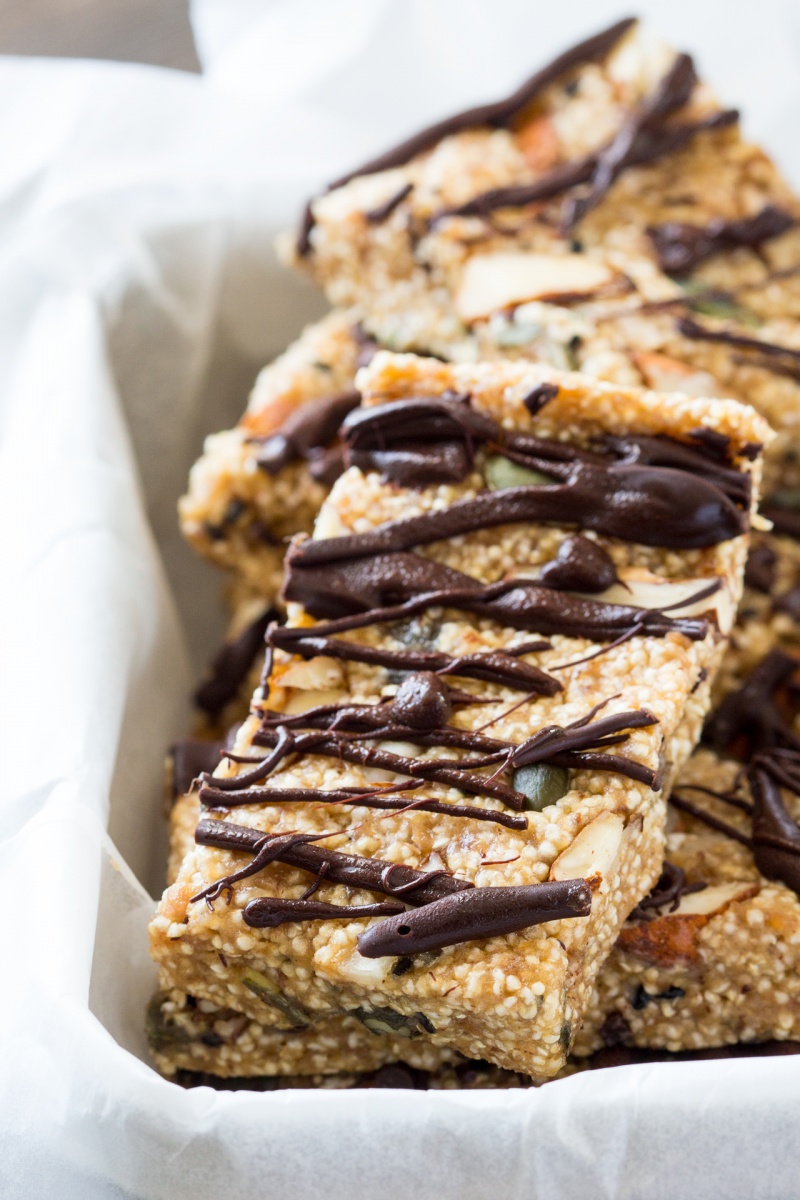 In case you've missed it, my fiancé is currently cycling his butt off across Crete. Him and his mates are attacking some ridiculously steep hills in +30 degrees C temperatures on a daily basis. I cannot even begin to imagine the effort and energy required to sustain such a gruelling schedule.
Duncan says that he has been finding food aspect of this trip a bit of a challenge (as locals appear to love their meat and cheese). After so much cycling every day, he is now able to count all his ribs apparently. Charming, eh? He says he is sick of eating nasty energy bars full of sugar and artificial additives so that gave me an idea to come up with an all natural, tahini and amaranth energy bars for his arrival.
These little bars are super quick and easy to make. The combination of sweet dates and bitter tahini is quite an addictive one (hang on, are there THREE pieces missing? TIIIIIINA!!!) . They are refined sugar free and really quite minimal – the only essential ingredients are the first four. The rest are optional extras and completely flexible – just use whatever seeds, nuts or dried fruit that you happen to have on hand.
What bulks these little bars up without making them heavy is puffed amaranth. It's an ancient grain that contains a complete protein (i.e. including a complete set of amino acids) and a good amount of iron, calcium, magnesium, phosphorus, potassium and vitamin C too. It's also gluten-free as technically it isn't really a grain. When eaten straight out of a packet, it's really quite bland but when set in the gooey date tahini goodness it becomes really quite palatable 🙂 I can imagine that grabbing one of these bars straight from the freezer after a day of cycling in the heat would be exactly what the doctor ordered.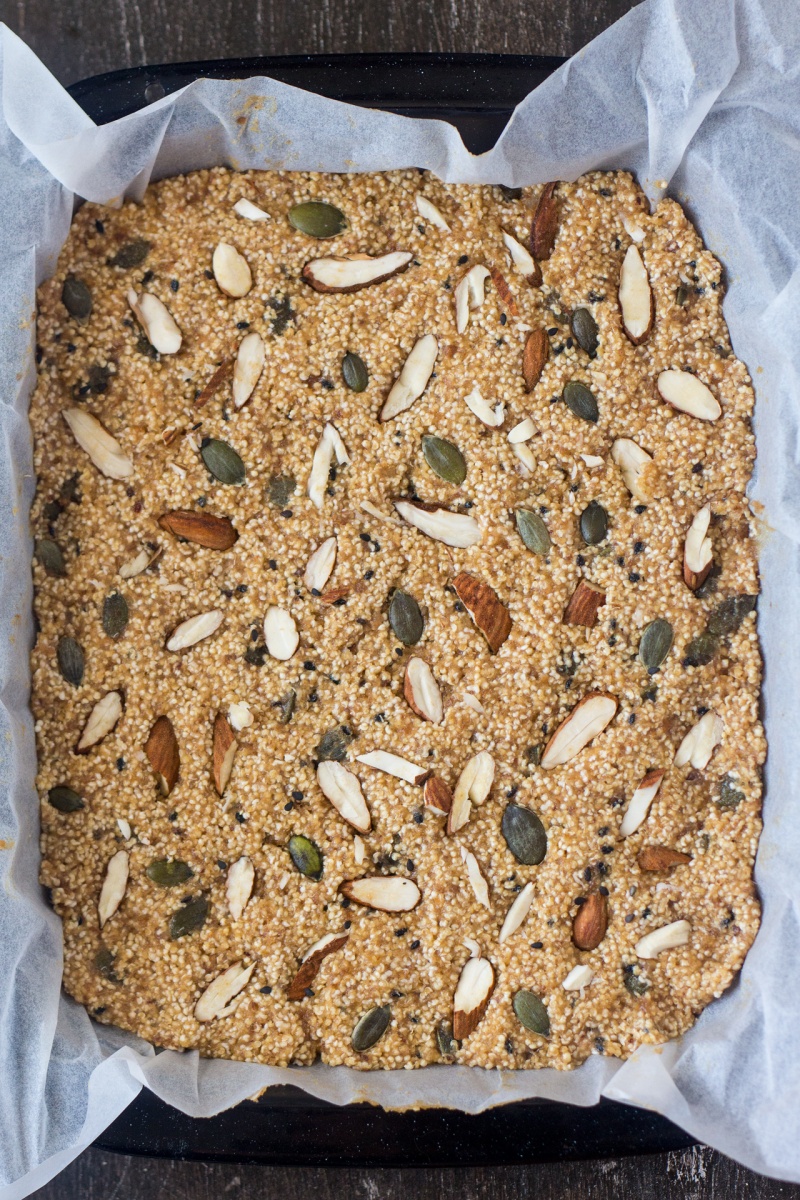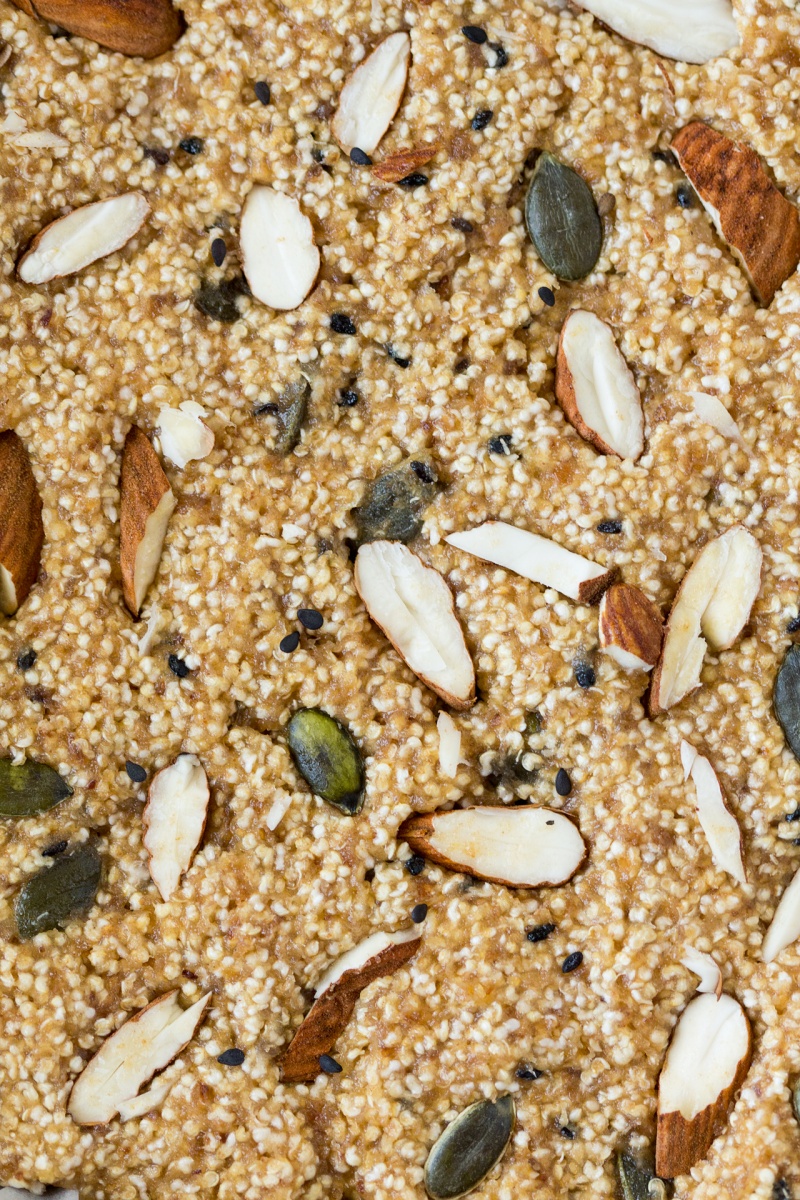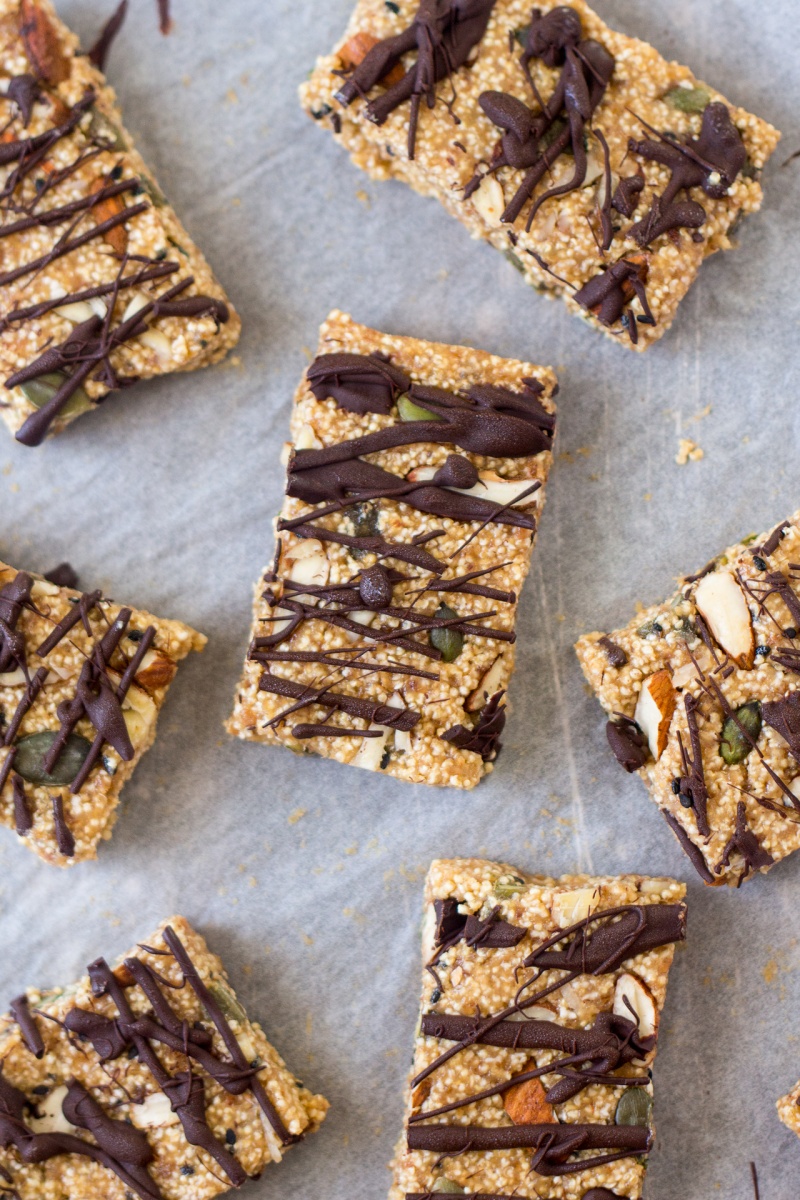 about 250 g / 1½ cups of pitted dates
90 ml raw tahini
1 tsp fine sea salt
3½-4 cups puffed amaranth
a handful of almonds or other nuts, chopped (optional)
a handful of pumpkin seeds / pepitas (optional)
1-2 tsp black sesame seeds (optional)
2 tbsp raw cacao powder mixed with 2 tbsp of melted virgin coconut oil OR melted dark chocolate for drizzling (optional)
Pit the dates. If they are sticky, there is no need to soak them. If they are dry, soak them in boiling water for 5-10 mins.
Line a tray with baking paper. I used a small tray of the following dimensions: 20 cm / 8 in by 15 cm / 6 in tray.
Drain the dates and squeeze the excess water out of them using a paper towel. Chuck dates into a food processor. Process until you get a smooth / thick paste (like in the photo nr 3). Add tahini and salt and process until they are all combined.
Transfer date and tahini paste to a large bowl, add amaranth and work it in until you get a pliable (but not to soft) dough. Add almonds, pepitas and sesame seeds if using. Mix it in well.
Spread the 'dough' in the paper lined tray, pressing it down well and into the corners. Make sure the base layer is even. Place a piece of baking paper on top and weigh the tray down with something heavy. Pop it into the freezer for about 4-8 hours to set.
Remove from the freezer, cut into equal size pieces and drizzle with a bit of melted dark chocolate if you want it to look nice. Store in the freezer in an air tight container.