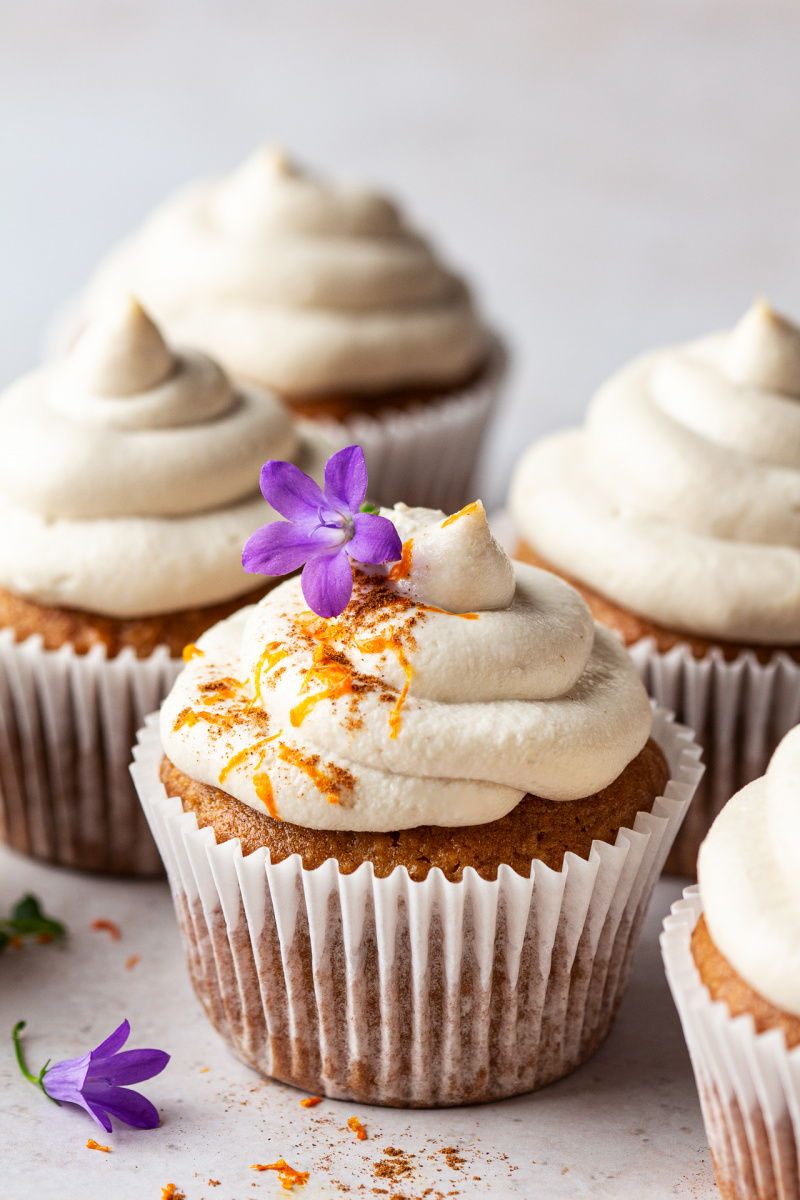 Today's recipe is another autumn classic, which I have been planning on making for a while – deliciously moist carrot cupcakes fragrant with spices and topped with luscious and pillowy cashew cream. I've dragged my feet as I was worried that they may sabotage a goal I've set myself in my personal life, but I have worked out a way to deal with it.
Inspired by a chat with my therapist, I have been on a journey of honouring commitments to myself a little more lately and I'm learning to set myself small and tangible goals – something I have not grown up with really. The goal I'm working on right now is to get fitter and to lose just over half a stone (or 3.15 kg for the metric minded amongst you) by the end of the year. It's something I have promised myself countless times and I have let myself down every single time. This time I really want to prove to myself that I can achieve a goal if I focus on it and approach it in the right way.
While it is certainly far more challenging when making cupcakes is in your job description (that's been a handy excuse since I started this blog), I know it is about changing my mindset and not resigning myself to the status quo or changing profession again. The truth is that I've been an emotional eater my whole life and that mindless instinct to grab one, another and maybe another half of a cupcake or a handful of nuts or some photoshoot leftovers is something I have felt powerless to stop, until now. I've always completely felt owned by that urge until after one of my therapy sessions my mindset has started to shift. Little by little, I am slowly getting better at stopping myself from opening that fridge / cupboard door. It's like they say, it's a muscle that you can train. The more I say 'no' to myself when I catch myself wanting to eat for the wrong reasons (sadness, frustration, loneliness or because I hate something going to waste), the more I am able to do it. It's really freeing and empowering.
Aside from working on my emotional eating, I've also committed to my daily exercise a bit more seriously. I keep a calendar pinned to my wall and I aim for 40-50 minutes of exercise 6 times a week. It's been almost 4 weeks since I embarked on this 'project' and I can see my body start to change, which is very motivating. I feel better about myself and about my ability to change things I don't like. I am more in control. It feels good.
I was careful to set a realistic goal and quite far into the future as I don't want to do anything too drastic – it will only make me throw in the towel sooner or later. I want to make very measured, incremental progress that is sustainable and which will allow me to weed out some bad habits I have gotten myself into over the years. I want to take this opportunity to teach myself to be consistent and patient – something I did not grow up around.
Part of the reason why I am telling you all this is so that I can feel accountable but also to let you know that if you face similar food struggles that seem to own you, you are so not alone. So anyway, don't worry, I won't stop making sweet desserts as I really love baking. I will learn to be more mindful and more in control around them. These cupcakes are delicious (I did have one and gave the rest away), easy to make and if you don't want to bother with making the cream, simply stir some nuts (walnuts or pecans would be my choice) through the batter for some added texture. I hope that they will brighten up your weekend if you decide to make them.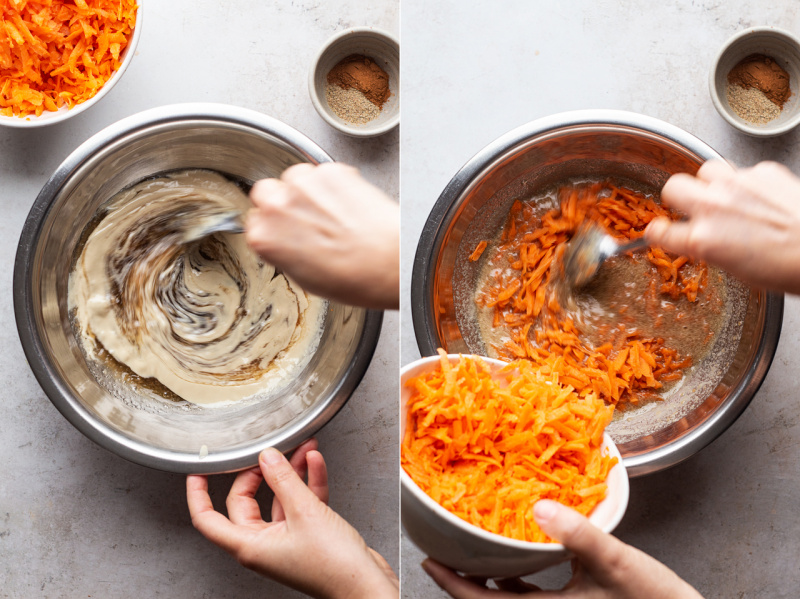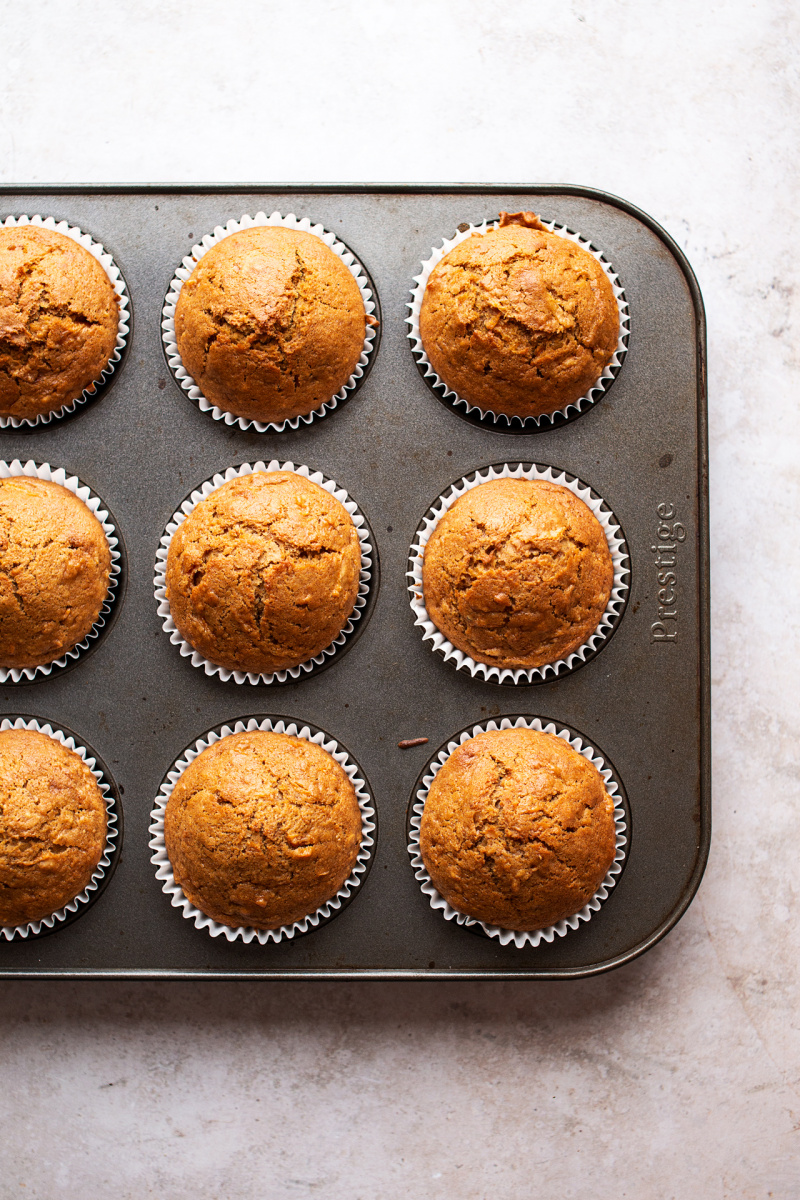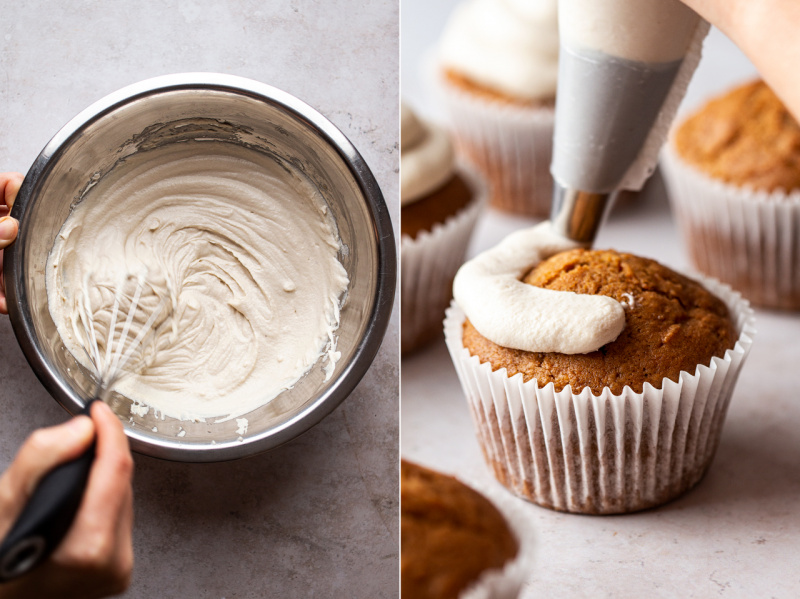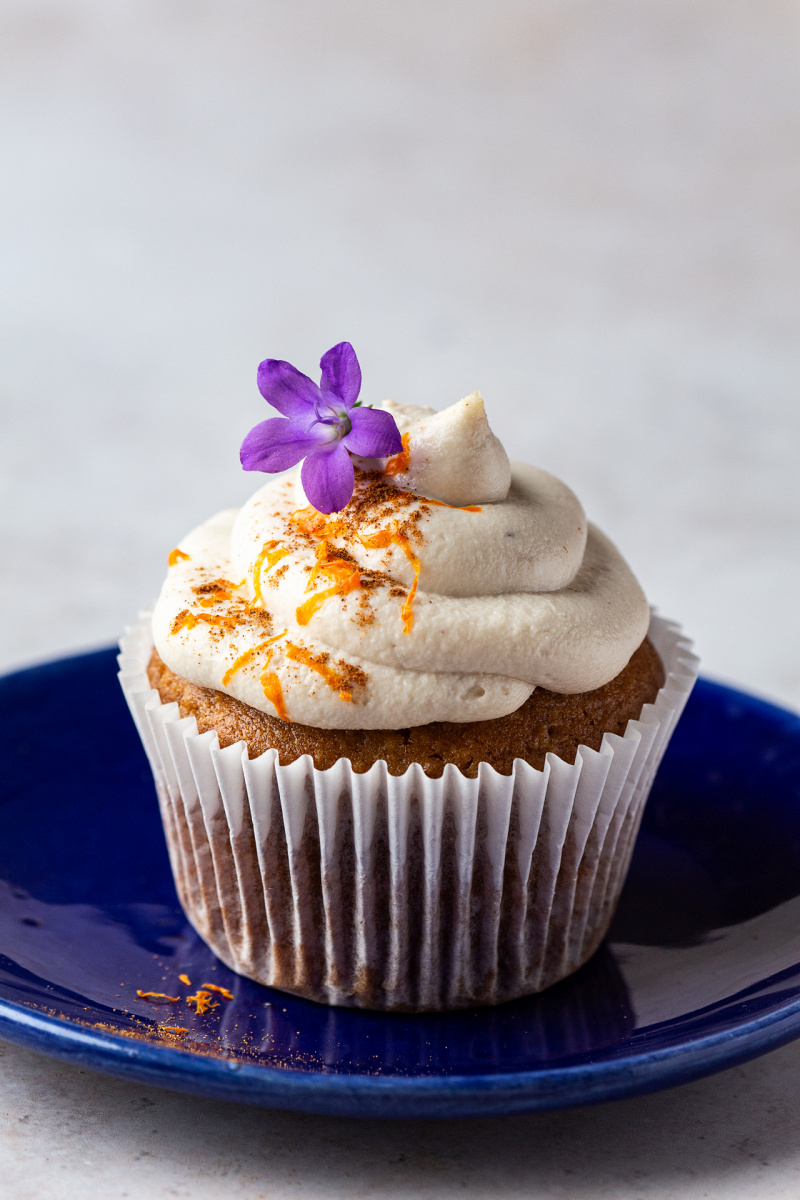 CARROT CUPCAKES
WET INGREDIENTS
DRY INGREDIENTS
250 g / 2 cups all purpose flour or GF all purpose flour mix (I use this one)
¾ tsp baking soda
1¼ tsp baking powder
1½ tsp cinnamon + ½ tsp cardamom OR 2 tsp cinnamon
pinch of salt
CASHEW FROSTING
CUPCAKES
Set the oven to 180° C / 355° C. Line a standard 12 hole muffin tin with paper liners or line the bottoms with circles of baking paper and grease the sides generously.
In a large bowl mix together maple syrup, tahini and apple sauce until well combined.
Next, mix in grated carrots.
Place a sieve over the bowl with wet ingredients and sift all the dry ingredients through it. Fold the dry ingredients into the wet ones using a spatula and a gentle clockwise folding motion until no flour pockets remain. If you use wheat flour, be careful not to over mix.
Divide the batter evenly between 12 muffin holes. Bake for about 21 minutes (they are done when a toothpick comes out fairly clean). Let the muffins cool down completely before removing from the tin and icing.
Once cool, remove from the tin and decorate with the frosting. I also decorated with a light sprinkle of cinnamon and orange zest.
CASHEW FROSTING
Place all the liquids at the bottom of your blender. Start off with 3 tbsp of plant milk, add the 4th one later (if needed).
Add about half of the drained and rinsed cashews. Blend until smooth, adding more cashews as the mixture gets thicker and thicker.
At some point, the mixture will become very thick and heavy and your blender may struggle to turn. To remedy this, start making circles on the surface of your mixture (in the direction of the turning blades) with a spatula to prevent air pockets forming under the mixture's surface. Be careful not to dip the spatula in too deep as you don't want to accidentally touch the turning blades. If you follow the technique I've described above, there is enough moisture in this recipe not to have to use any more liquid, which means you'll end up with a smooth, creamy and thick frosting.
The mixture will thicken a little after it's been well refrigerated but to be able to pipe it, I recommend adding agar agar as a firming agent. Activate agar agar according to the instructions on the packet. I recommend using powder as it's 3 times more potent than flakes and easier to activate – you need to rehydrate it in liquid (almond milk in this case) for 10-15 minutes first before bringing to the boil. Flakes need a lot of simmering and I found that they never fully dissolve.
Once activated, add agar agar to the frosting and blend well and then give it another blend before putting it into the piping bag so that you break any lumps. I like to transfer it to a bowl and give it a really good whisk with a wire whisk to make sure the icing is smooth before I put it into my piping bag.
*You can skip agar agar if you wish and refrigerate the frosting overnight to firm it up. It will be firm enough to apply it to the cupcakes with a butter knife but if you were to pipe it on the frosting won't keep it's shape. In theory, you should also be able to firm the frosting up by blending in some
tapioca starch
,
arrowroot
or
cornflour / cornstarch
but I have not had the time to test this.