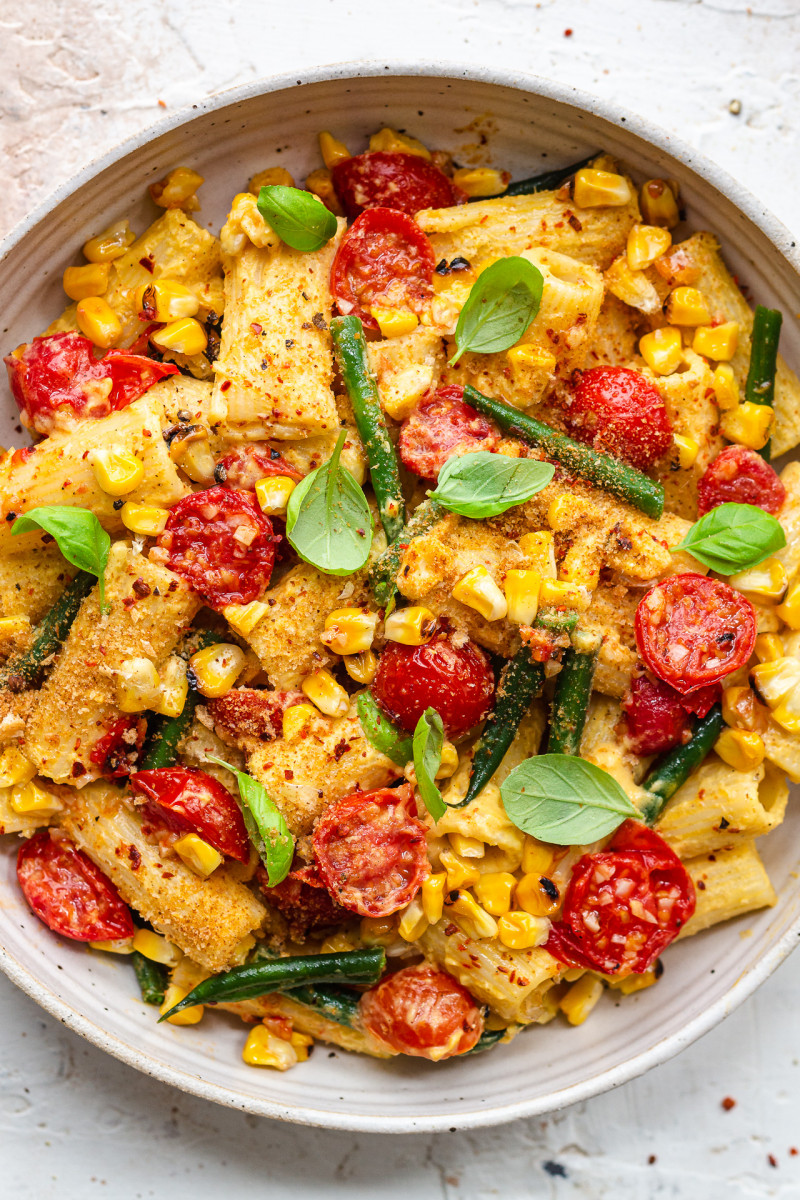 Greetings from Krakow, where I am spending some time away from my kitchen stove and with my family and friends. I was hoping for strolls around the old town in beautifully sunny yet mild weather with golden leaves falling off the trees and I got my wish for a couple of days but my good luck has run out and it's going to be raining and drizzling – except for one day – till I board the plane again.
Anyway, here is a simple late summer and early autumn inspired recipe that I concocted for you before I left. It uses one of my favourite late summer vegetables – sweetcorn – to create a creamy and indulgent pasta sauce that's simple to make yet to die for. Me being me – believing that there is no such thing as too many vegetables and liking to eat a few colours on one plate, I also added juicy, garlicky cherry tomatoes and steamed green beans for extra flavour, texture and nutrition. Let's run through the key ingredients you'll need.
MORE ABOUT THE INGREDIENTS
CORN: makes this dish, you can use either corn on the cob or defrosted corn kernels. I like to use the former in season and char the corn on a griddle pan first, before using some of the kernels in the sauce and some whole. If using defrosted corn kernels, I recommend charring it in a little olive oil, in a heavy skillet first to caramelise it and make the dish more flavourful.
GREEN BEANS: as green beans are still in season, I added them to the dish for extra texture and nutrition. I like to boil them in my pasta water ahead of cooking pasta and fish them out with a slotted spoon when ready so that I can reuse the same water for pasta. Alternatively, you can steam them in a steamer suspended over your pasta cooking water. In terms of timings, it very much depends on how fresh your beans are so be sure to test one before deciding that they are ready. They usually take about 4-5 minutes.
CHERRY TOMATOES: ripe cherry tomatoes softened in garlicky oil add a lot of flavour, texture and nutrition to the dish. As they are naturally sweet and juicy, they add delicious pops of flavour with very little effort.
LEMON JUICE: as corn is naturally sweet, I recommend adding a squeeze of lemon juice (or some apple cider vinegar to taste) to the sauce to achieve the right balance of flavours.
NUTRITIONAL YEAST: is staple vegan seasoning that adds a hit of cheesiness and a nice depth of flavour to this sauce. If you don't have it, compensate by using a little white (shiro) miso, for example.
VEGAN CREAM: I added a small amount of vegan cream to the sauce to make it…well…creamy :). I used Oatly cream, but you can also use soy cream, cashews or cashew butter blended with water. There are a lot of various options. You could also use creamy plant milk and maybe a touch more of olive oil as blended corn gives the sauce enough of a body on its own.
TOASTED BREADCRUMBS: toasted breadcrumbs – I make my own from leftover Turkish pide bread add great texture simple pastas like this. I tend to use dry toasted coarse breadcrumbs but sometimes I will use fried breadcrumbs if I am feeling fancy.
RIGATONI: I used an old-fashioned rigatoni pasta for this dish as it catches the sauce beautifully, but you could use any type you like that's compatible with creamy sauces like this. My next best would probably be tagliatelle.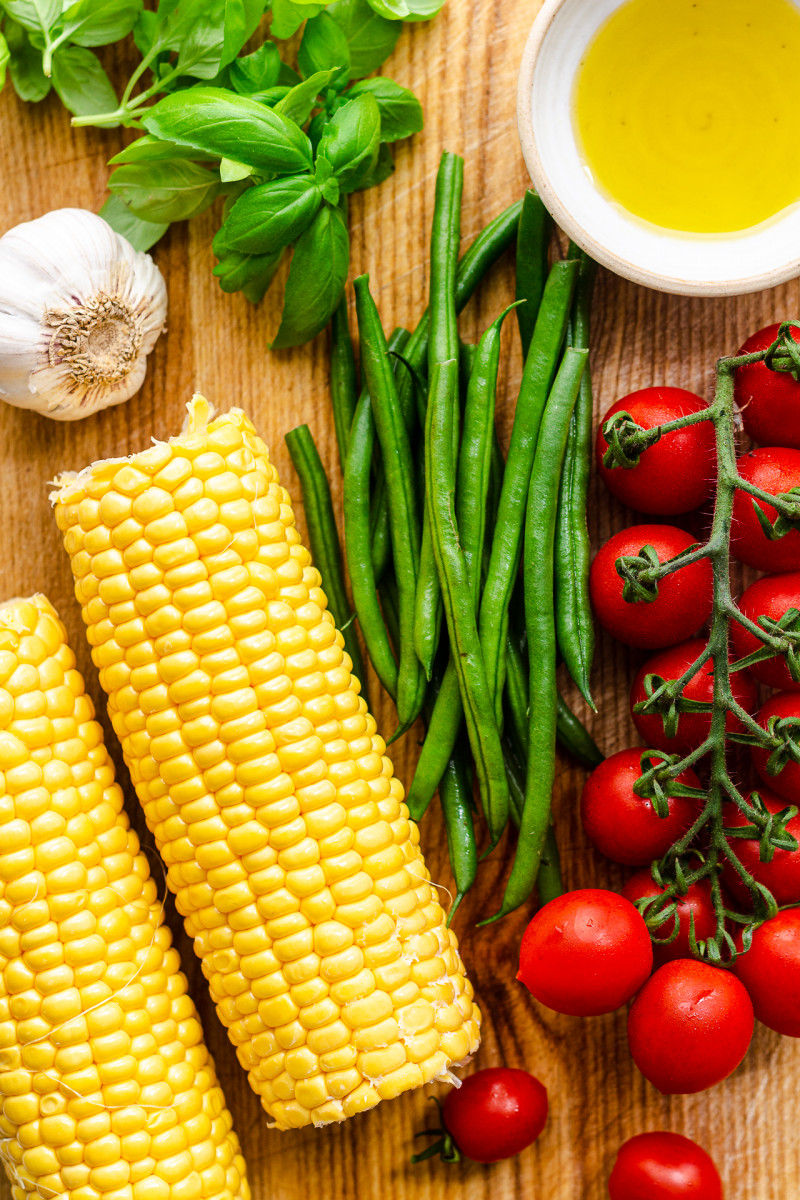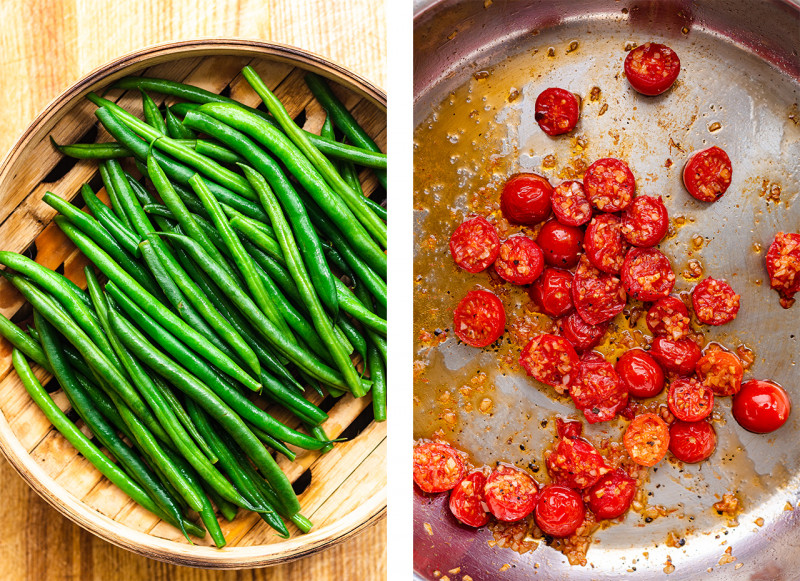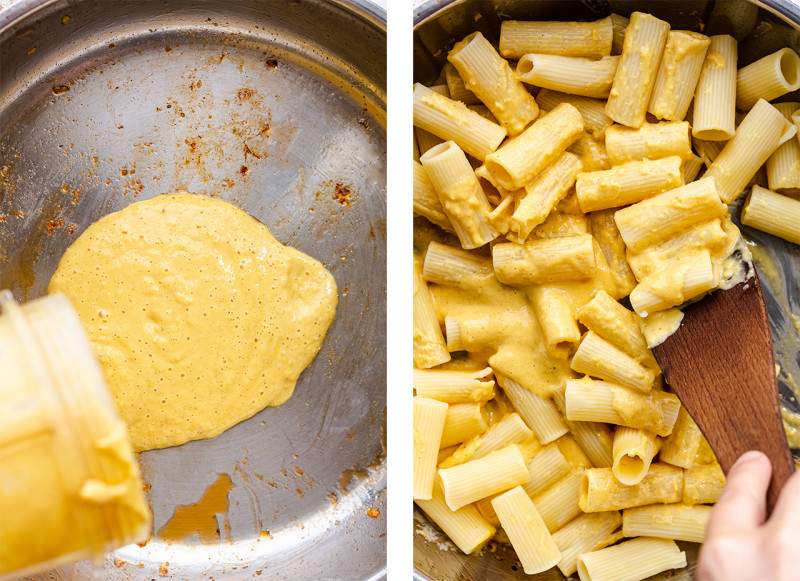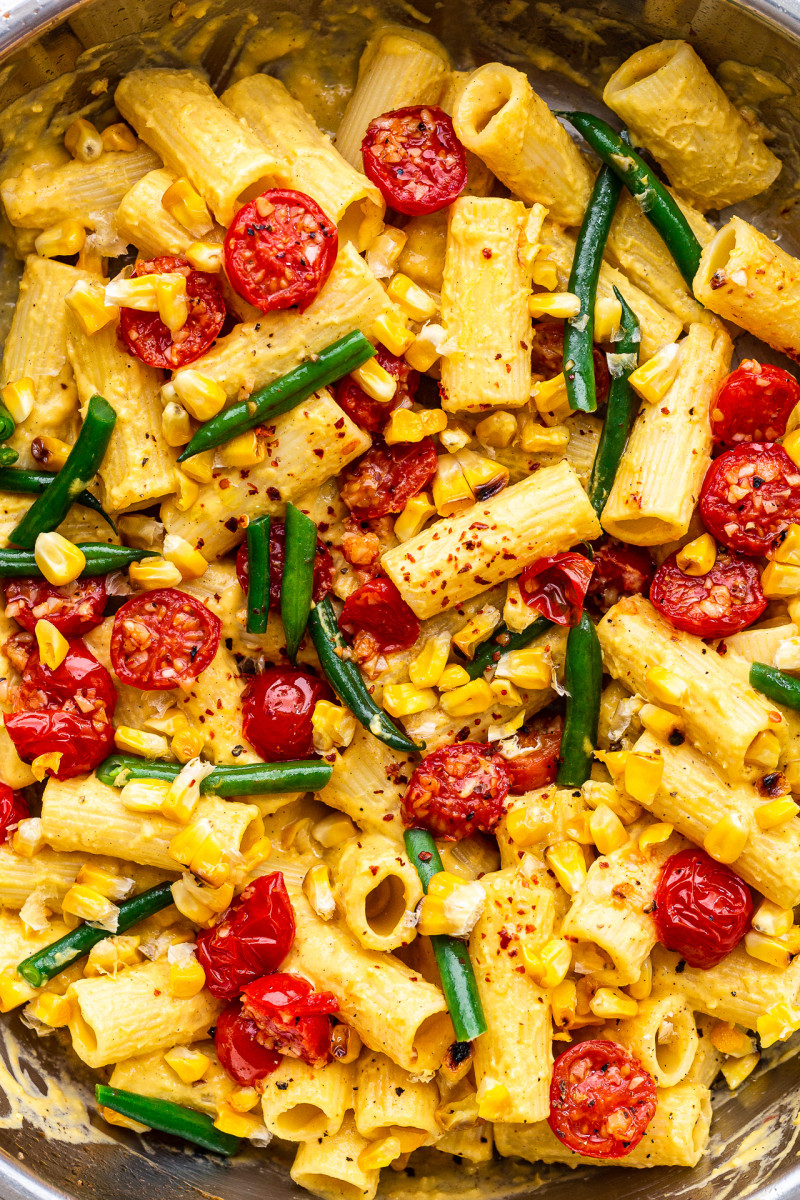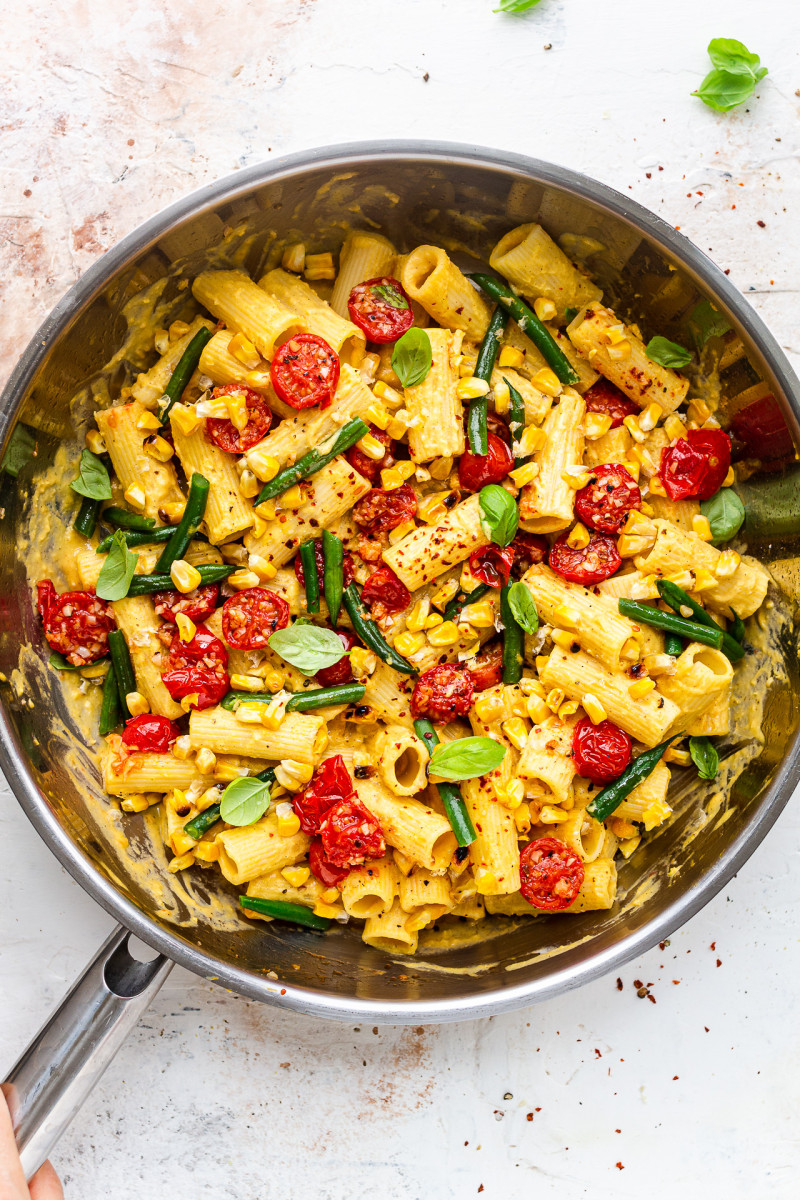 280 g / 2 cups sweetcorn, fresh (2 cobs) or defrosted
50 g / 2 oz green beans, optional
200 g / 7 oz rigatoni*
30 ml / 2 tbsp olive oil
4 garlic cloves, very finely diced
a few pinches of chilli (or smoked paprika)
150 g / 5 oz sweet cherry tomatoes, halved
20 ml / 1½ tbsp lemon juice, more to taste
2 tbsp nutritional yeast or 1 tbsp shiro miso
salt and black pepper, to taste
60 g / ¼ cup vegan cream, I used Oatly
2 tbsp toasted breadcrumbs, optional
handful of basil leaves, optional
METHOD
If using fresh corn, brush it in olive oil and char on a griddle pan turning every 3-4 minutes or so. I tend to char 4 cobs at once and use leftover throughout the week. If using defrosted corn (or shaved fresh corn), you char it on an oiled skillet first to amplify its flavour.
IF USING GREEN BEANS, cook them in your pasta cooking water before you cook your pasta (fishing them out with a slotted spoon before adding pasta) or you can steam them above the cooking pasta. Depending on their freshness they take approx. 5 min to cook.
Heat up 2 tbsp of olive oil in a large pan on low heat.
Add garlic and sautee on a very low heat, stirring frequently until fragrant and softened but not browned – about 2 minutes.
Put halved cherry toms in the garlicky oil cut side down. Season with some salt and pepper and pinch of chilli flakes.
Sautee tomatoes in the garlicky oil until softened, stirring frequently – about 4 minutes. Put the tomatoes aside leaving as much oil as you can in the pan.
Cook your pasta al dente saving ½ cup (120 ml) of pasta cooking water just before you drain it.
Place 1 cup (140 g) of corn kernels in a blender with garlicky oil from the pan, vegan cream, lemon juice, nutritional yeast, 1 tbsp of pasta cooking water and a generous amount of salt and pepper. Blend until smooth, adjust the seasoning.
Return the sauce to the pan, toss cooked pasta in it adding a splash more of pasta cooking water if needed. Warm up the pasta.
Add chopped beans, tomatoes and the rest of shaved corn kernels (use as much as you wish, I used only ½ cup and saved the other ½ cup for another meal.
Divide between 2-3 plates, sprinkle with toasted breadcrumbs and basil leaves.
NOTES
*NUTRITIONAL YEAST – if you don't like it or cannot have it for whatever reason – a spoonful or so of
shiro miso
(white miso) is a good substitute.