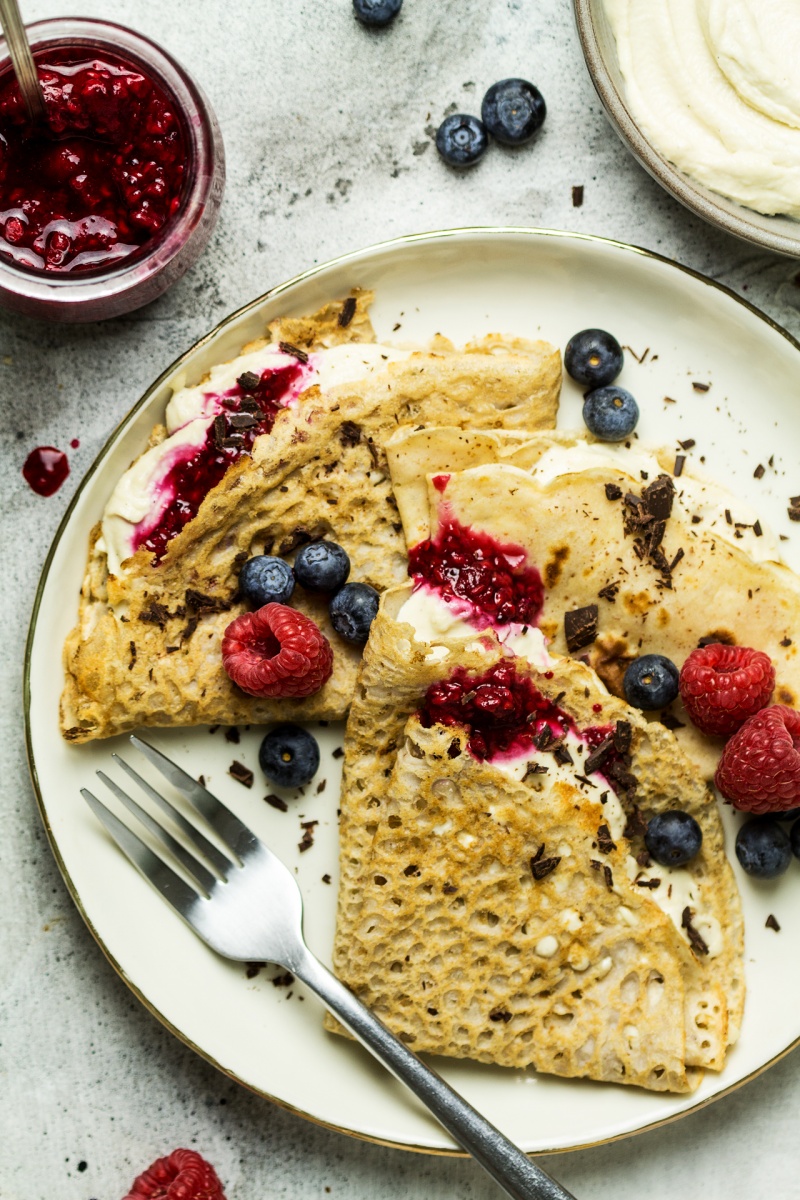 Welcome to the week of indulgence as we celebrate Pancake Day and Valentine's Day in quick succession this week. After I've poured my heart and soul into this year's Valentine treat (she is here, in case you wanna meet face to face 😉 ), today I opted for something quick and simple crêpes filled with an indulgent vanilla cream and topped with berries.
I know it's not even remotely berry season yet, but I've decided to make an exception this one time.
If you have a vegan cream cheese that you are keen on, forget my cashew-based filling and simply mix your favourite cream cheese with some icing sugar (or maple syrup), a touch of lemon and some vanilla. I haven't yet managed to find a brand that doesn't leave me with a strange aftertaste, so that's why I've made my own cream filling from blended cashew nuts, but that's totally optional.
You are of course welcome to have these with any filling that takes your fancy: lemon and sugar, peanut butter and jelly, hazelnut spread and berries, cinnamon apples and caramel are just some of my favourite sweet fillings. What are yours?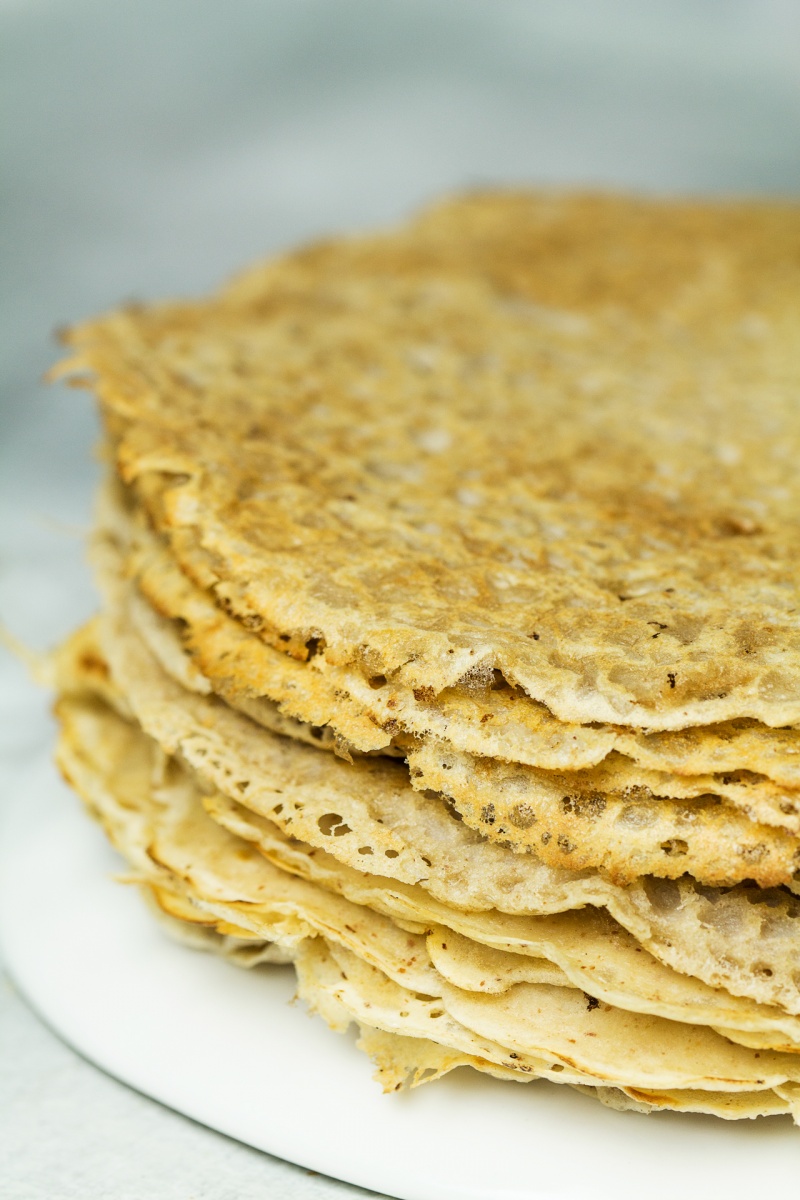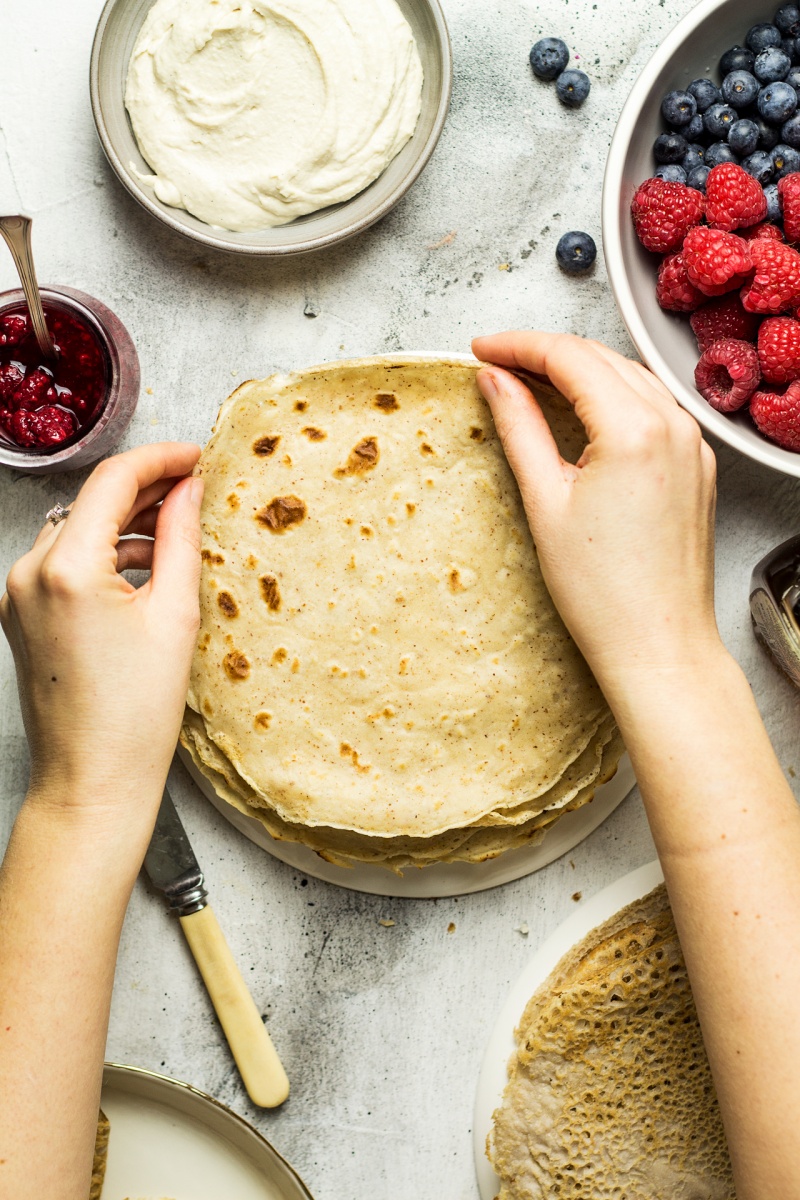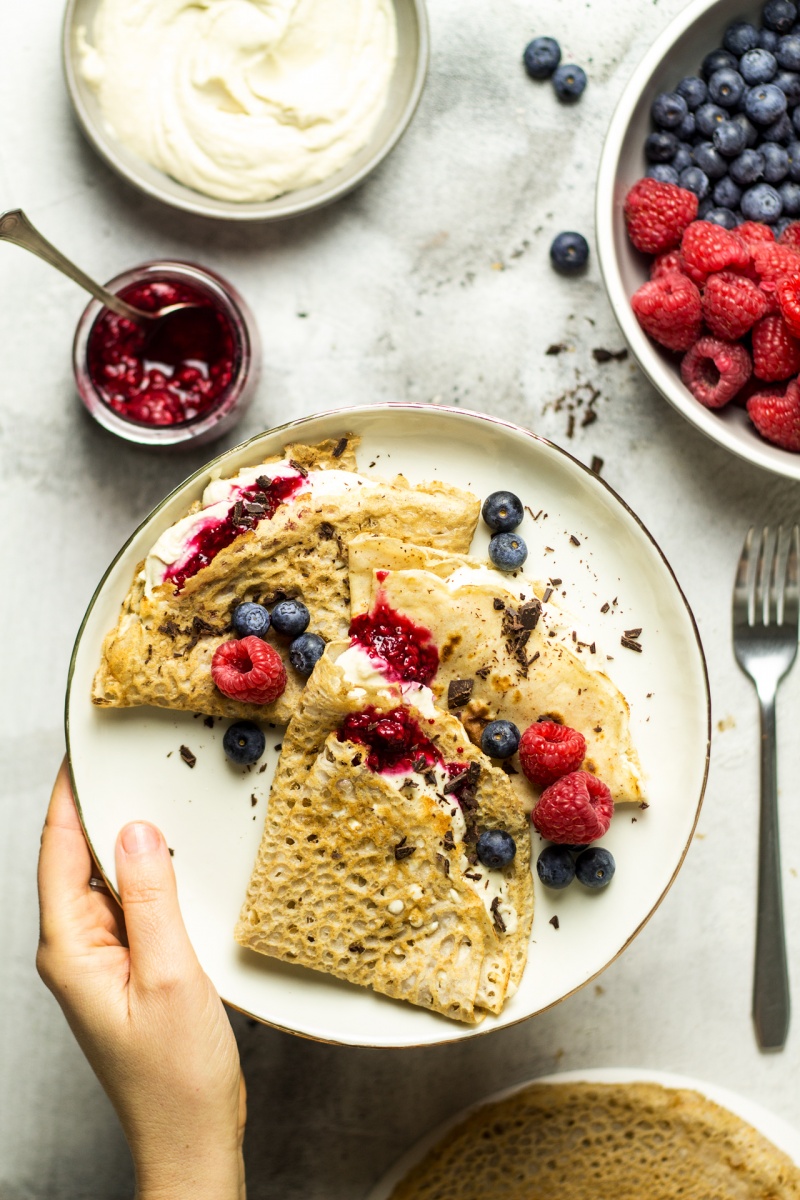 BATTER
120 g / 1 cup plain flour or GF plain flour blend or buckwheat flour*
480-600 ml / 2-2½ cups almond milk (or other thin plant based milk)
1 tbsp oil, I use refined coconut oil, plus more for frying**
1 tbsp maple syrup (optional)
VANILLA CREAM (optional)
225 g / 1½ cups cashews, soaked overnight or in boiling water for 30 minutes
1 tsp vanilla extract or seeds from 1 vanilla pod**
¼ cup coconut cream (from a tin of full fat coconut milk, I used this brand)
4 tbsp maple syrup, adjust to taste
3 tbsp lemon juice
OTHER INGREDIENTS
fresh or frozen berries or chia jam
dark chocolate shavings (optional)
CRÊPES
Place flour in a large bowl. Make a well in the centre and very gradually start adding in plant milk (60 ml / ¼ cup at a time) whisking the whole time. Whisk well after each addition to ensure that there are no lumps in the batter. Initially the batter will look thick and gloopy, but it will start looking like a crêpe batter with every milk addition.
Whisk in oil (or smooth almond butter), maple syrup (if using) and adjust the amount of plant milk to ensure the batter is the right consistency – it should be runny, but should coat the back of the spoon. I found that buckwheat flour requirs more milk (600 ml / 2½ cups) than plain flour or GF plain flour mix (480 ml / 2 cups), so please proceed with caution – it's easier to thin the batter than to thicken it.
Heat up a medium (I used 24 cm / 9.5 " pan) non-stick pan on a medium heat. Brush the pan with a small amount of oil to make sure that the pancakes do not stick. Take the pan into your hand (off the stove) and pour a thin layer of batter (I found that 80 ml / 1/3 cup of batter is optimal) into the pan and swivel it well to form a thin, round crêpe. Put the pan back on the stove and cook until the crêpe no longer sticks to the pan and can be flipped to the other side. Once flipped, cook the crêpe on the other side for another minute or so.
Put cooked crêpes in a stack so that they do not dry out and become brittle.
Once ready to serve, fill each crêpe with vanilla cream and berries, sprinkle with more berries and chocolate shavings.
VANILLA CREAM (optional)
Rinse the cashews and chop them roughly. If you own a very powerful blender (like a Vitamix or Blendtec) this step may be completely redundant, but with my low-range (and fairy old) blender, this is the only way I can achieve a smooth consistency without adding too much liquid.
Divide the chopped cashews into six portions roughly. Chuck the first portion of chopped cashews into a blender with vanilla seeds, coconut cream, maple syrup and lemon juice. Process until super smooth.
Once smooth, add another portion of the chopped cashews. Process until smooth and repeat until you've used up all of the cashews. Towards the end, the mixture will become very thick and heavy and your blender may struggle to turn. To remedy this, start making circles on the surface of your mixture (in the direction of the turning blades) with a spatula to prevent air pockets forming under the mixture's surface. Be careful not to dip the spatula in too deep as you don't want to accidentally touch the turning blades. If you follow the technique I've described above, there should be enough moisture in this recipe (from coconut cream, lemon juice and maple syrup if using) not to have to use any water, which means you'll end up with a thick and smooth cream-cheese like mixture.
Place the mixture in the refrigerator for a few hours to firm up.
*I like buckwheat flour most as it produces crispy and lacey crêpes. If you allergic to gluten and want to use buckwheat flour, make sure you buy gluten-free certified buckwheat flour.
**You can skip the oil in the batter (or replace it with smooth almond butter, for example) but adding it produces a nicer result.
***If you are out of vanilla, you could add freshly grated ginger (adjust to taste) instead.