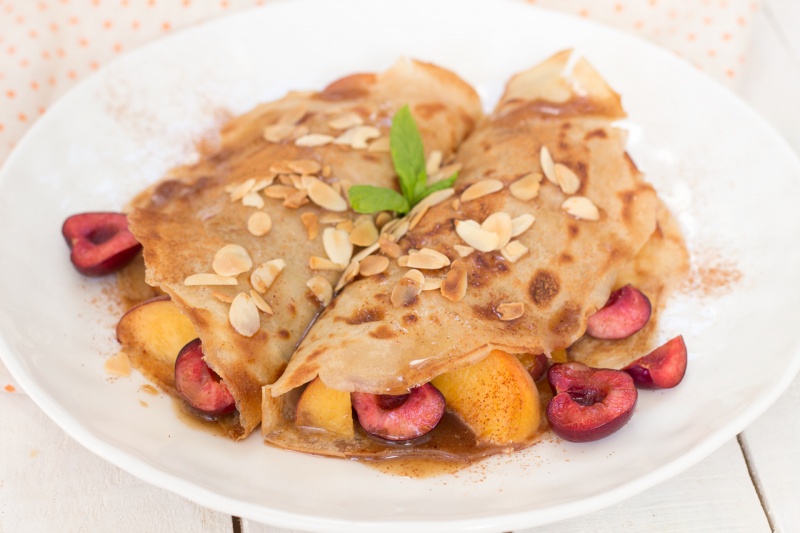 Crêpes may seem like one of these things that you'll have to miss out on once you go vegan, but you'll be pleased to know that it's not the case. All you need to make a tasty vegan batter is two everyday ingredients: plant milk and all purpose flour. Simples! It did take me a few attempts to get the exact proportions right, but since I used to make regular crêpes from time to time, I had some idea of what consistency of batter I'm looking for.
I did toy with the idea of stewing the fruit gently with a bit of sugar and a touch of cinnamon for a truly indulgent filling, but in the end, I couldn't go ahead with this as I was naughty enough to have these for breakfast! I know. Instead, I filled them with succulent, naturally sweet peaches and sweet cherries, topped with cinnamon and toasted almond flakes. I did have to placate my sweet tooth somehow though so I made a super simple, salty caramel sauce to make these a tad more indulgent. It comes together in minutes, but if you don't have time or are watching your weight, use maple syrup as is or skip altogether.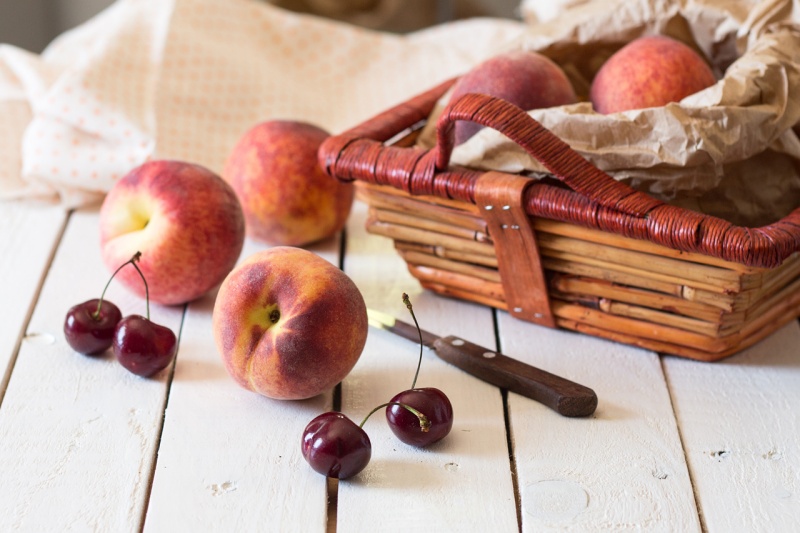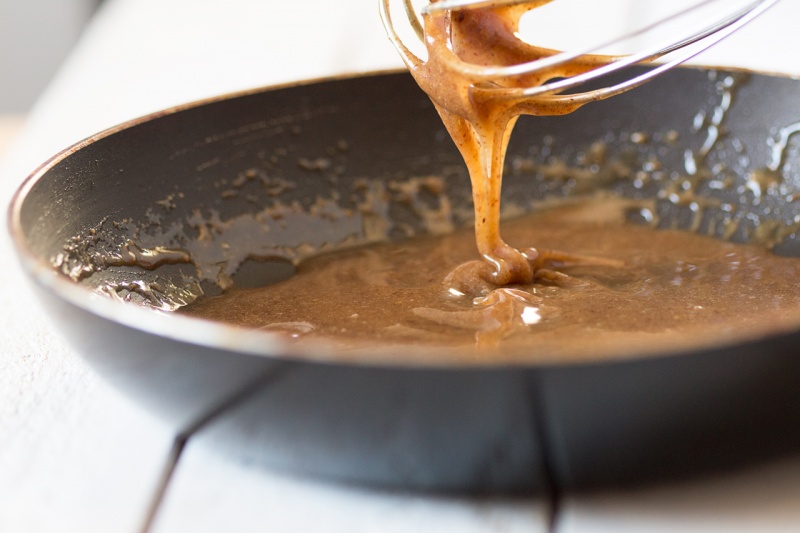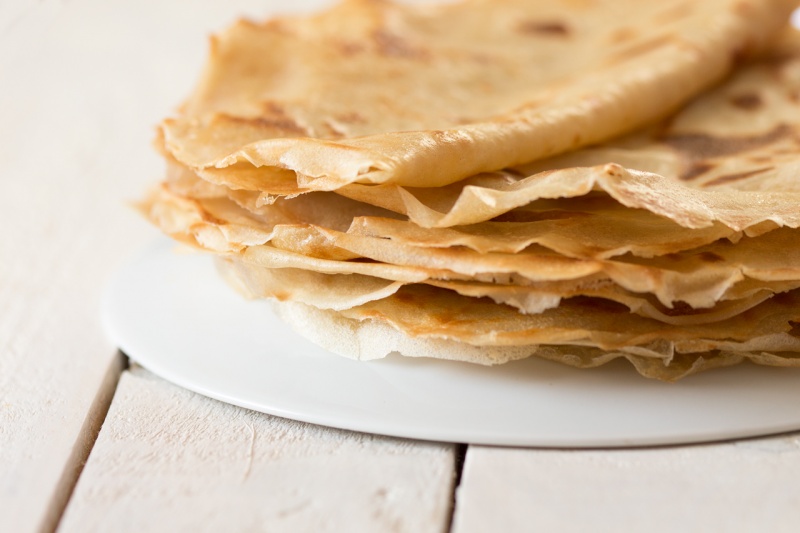 200 g / 2 cups of all purpose white flour, sifted*
about 540 ml / 2 and ¼ cups plant milk (I used rice milk which is naturally sweet)
½ tbsp maple syrup (optional – if milk isn't sweet already)
MAPLE CARAMEL (OPTIONAL)
¼ cup / 60 ml maple syrup
1 tbsp smooth (100% natural – almonds only) almond butter
a fat pinch of salt
FILLING AND TOPPING IDEAS
handful of fresh cherries, de-stoned and sliced
2 peaches, de-stoned and sliced
almond flakes
ground cinnamon
Heat up a dry pan and dry-roast your almond flakes until golden. Remove from the pan and side aside.
MAPLE CARAMEL: Slowly heat up maple syrup in a pan. When it starts to boil gently, take it off the heat. Stir in almond butter and salt with a hand whisk. Return the pan to the stove and simmer very gently, stirring the caramel for another minute to thicken the sauce a little bit – remember that it will thicken a bit more as it cools anyway. If it's too thick once cool, stir in a few drops of plant milk to bring the desired consistency back. Set aside.
Put sifted flour in a large bowl. Make a well in the centre and very gradually start adding in milk (¼ cup at a time) whisking the whole time. Whisk well after each addition to ensure that there are no lumps in the batter. Initially the batter will look like a thick hummus, but it will start looking like a crêpe batter with every milk addition.
Heat up a pan on a medium heat. Brush the pan with a tiny bit of oil to make sure that the pancakes do not stick. Take the pan into your hand (off the stove) and pour about 100 ml of batter (depends how big is your pan, mine is 21 cm dia) into the pan and swivel it well to form a round crêpe. Put the pan back on the stove and cook until the crepe no longer sticks to the pan and can be flipped to the other side (you may need to peel the edges off gently before flipping as they sometimes stick). Once flipped, cook the crepe on the other side for another minute or so.
Put cooked crêpes in a stack so that they do not dry out and become brittle.
Once ready to serve, fill each pancake with sliced fruit and top with maple caramel and toasted almond flakes.
*It is crucial to sift the flour.