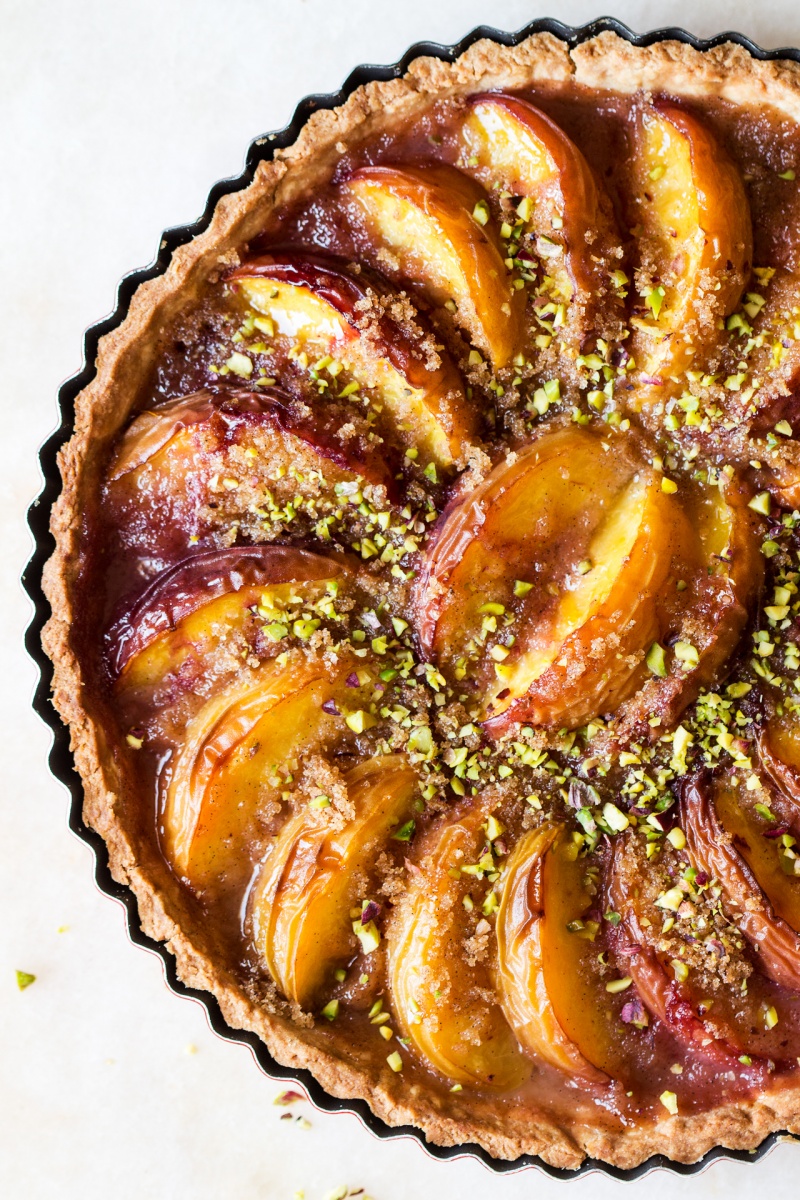 Peaches, beautiful peaches everywhere. How could I resist? The truth is I couldn't, so I finally had to put the oven on again. It was worth it though – the house was instantly filled with the most beautiful smell of baked fruit and crumbly pastry.
Duncan was hovering over me as I was photographing in a bid to get 'his slice' as soon as possible. And he didn't stop at one! Neither did I. And whatever was left was hoovered up by the guys at our evening yoga class, which is great as having things like that lying around in the house is a dangerous business 🙂 .
This fruit tart is a perfect summer dessert. Delicate and 'buttery' pastry enclosing a simple filling of succulent peaches and a sprinkle of sugary crumble to absorb all the beautiful juices that the fruit releases during baking. On paper, this size of tart should feed about 8 people, but I don't reckon you'll not have very much left if you placed it in front of just four 🙂 . I'm not complimenting myself here, it's the baked peaches that make it truly irresistible.
This tart is as easy as it gets. The only mildly tricky thing to do here is a shortbread crust, but it's actually not that difficult at all. The key thing is not to overwork the pastry as you don't want to develop too much gluten in your flour. If this happens your pastry will end up tough and not melt in your mouth delicious, like it should.
If lining a tart case with delicate pastry intimidates you, you can always turn it into a nonchalant galette and then the more rustic it looks the better – just make sure you place it on a baking paper-lined tray as the juices will be flowing – a lot!
The only other piece of advice I can give you is get yourself a tart case with a loose bottom (not a euphemism) as to get this puppy out of my rubbish tart case took two people and a bit of improvised engineering (read: two knifes, a spatula and a cake serving spoon) and we still didn't manage to get it out completely intact. An experience that motivated me to stop being tight and finally get a proper tart case. With all this amazing stone fruit at our fingertips, we intend to eat a lot of similar specimens this summer.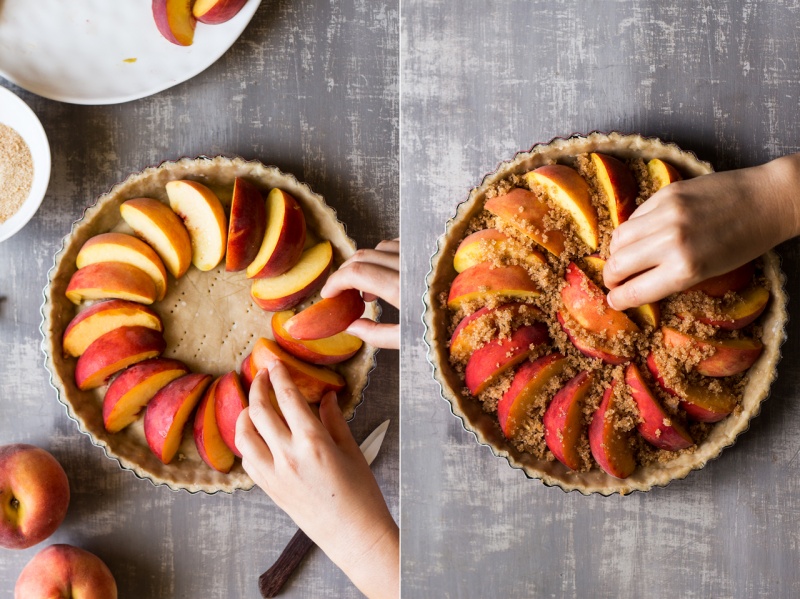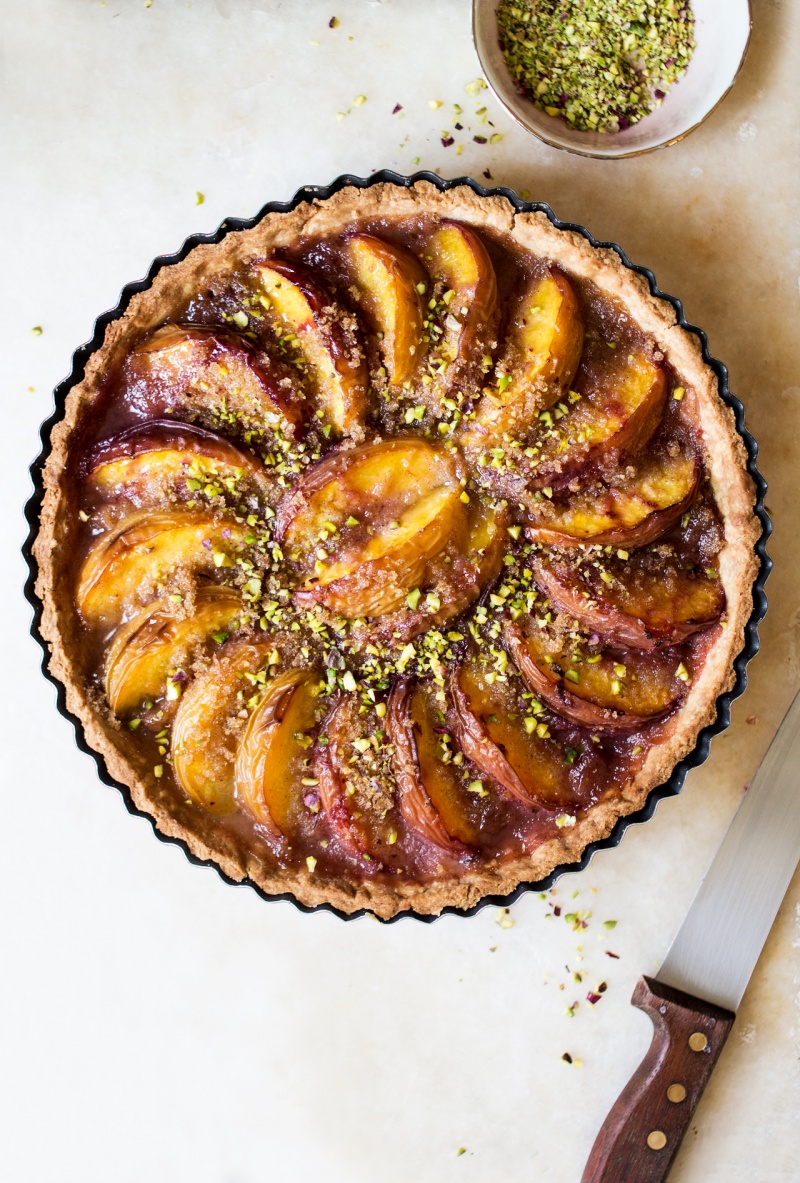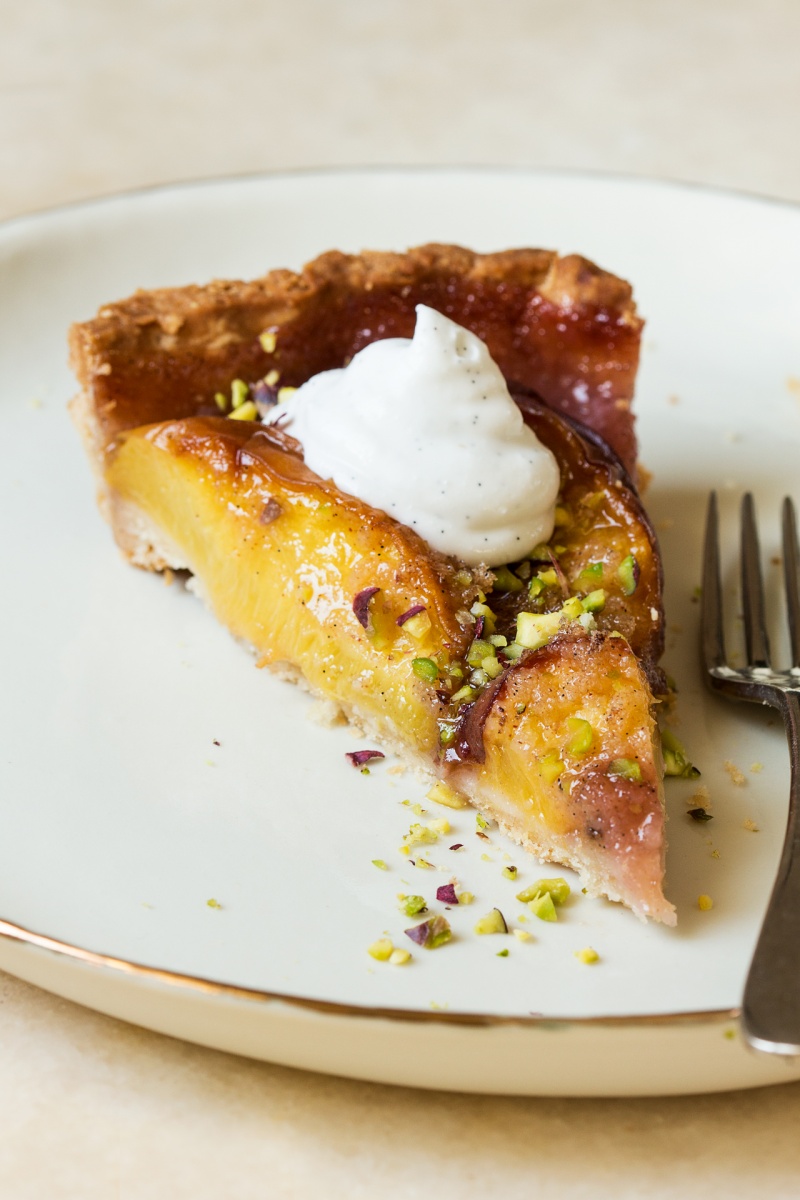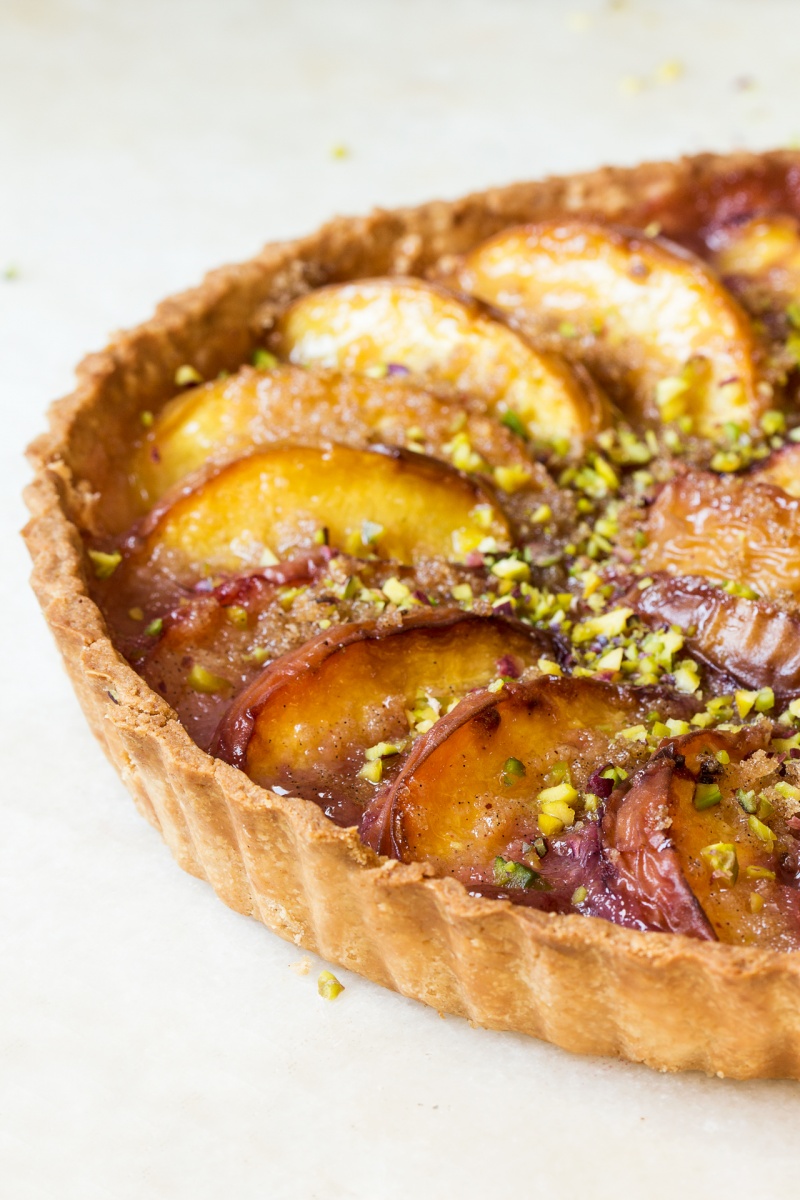 REGULAR CRUST
90 g / 6 tbsp refined / mild* coconut oil (solid not melted)
240 g / 2 cups white pastry flour
2½ tbsp icing sugar (or finely ground sugar)
¼ tsp fine sea salt
GLUTEN-FREE CRUST
FILLING
3-4 ripe but firm peaches
50 g / ¼ cup sugar (I used brown)
1 tbsp all purpose flour
1 tbsp fine semolina or all purpose flour
2 tsp lemon or lime zest
1 vanilla bean, seeds scraped
½ tsp cinnamon
15 g / 1 tbsp refined / mild coconut oil (solid not melted)
2 tbsp chopped pistachios, for decoration (optional)
CRUST
Combine flour, icing sugar, (plus cornstarch and xanthan gum if making GF pastry) in a large bowl.
Add softened (but not melted) coconut oil and rub it into the dry ingredients with your fingers until your flour looks like breadcrumbs and there are no lumps of coconut oil left.
Add cold water – be careful, do it gradually – how much water you'll need depends on how absorbent your flour is. I added just under 4 tbsp. Combine all the ingredients into a dough gently, but do not knead (if you're making the GF version, you don't need to worry about this) or the pastry will be tough. Wrap it in a piece of cling film and chill it in the fridge for 45 minutes.
Remove the dough from the fridge. Flatten the dough with your palm and place it between two sheets of baking paper. Roll the pastry out very gently until you get a rough circle, about 2 mm in thickness. Place the rolled-out dough over your tart case and gently line the inside of it with the pastry. Tuck the pastry in well, ensuring that it snugly fits into all of the nooks and crannies. Trim the excess pastry with a sharp knife.
FILLING
Preheat your oven to 200° C fan forced / 390° F fan forced (or 220° C / 425° F without the fan).
In a small bowl, mix sugar, flour, semolina, lime zest, vanilla bean and cinnamon.
Rub softened coconut oil into the dry ingredients until the mixture looks a bit like a crumble top. Put into the fridge.
Cut each peach into eight (if large) or six (is small) equal pieces and layer them all along the edge of the pastry in a fan formation – let them overlap a fair bit and don't worry if they appear to be quite high, they will sink a little after baking. Fill the centre of the tart with some more peaches in whatever way they will fit snugly.
Remove the topping from the fridge and scatter it all over the pie, especially in all the gaps that have opened up in between the peaches.
Bake the pie for about 30-35 minutes, until the edges of the pastry are golden brown, the fruit has softened and the juices are bubbling.
Cool before removing from the tart case and cutting. Consume within 1 day. I served mine with a dollop of vanilla flavoured whipped cream from this earlier recipe.
*I recommend using a mild (refined) type of coconut oil as it has a neutral flavour (it does not taste or smell like coconut) but if that doesn't bother you, feel free to use extra virgin coconut oil instead.
The exact dimensions of my tart tin are top: 25 cm / 10 inches , bottom 22 cm / 8.5 inches and side 3.5 cm / 1.4 inches.
he pastry is based on an old recipe of mine and the topping is inspired by this recipe.