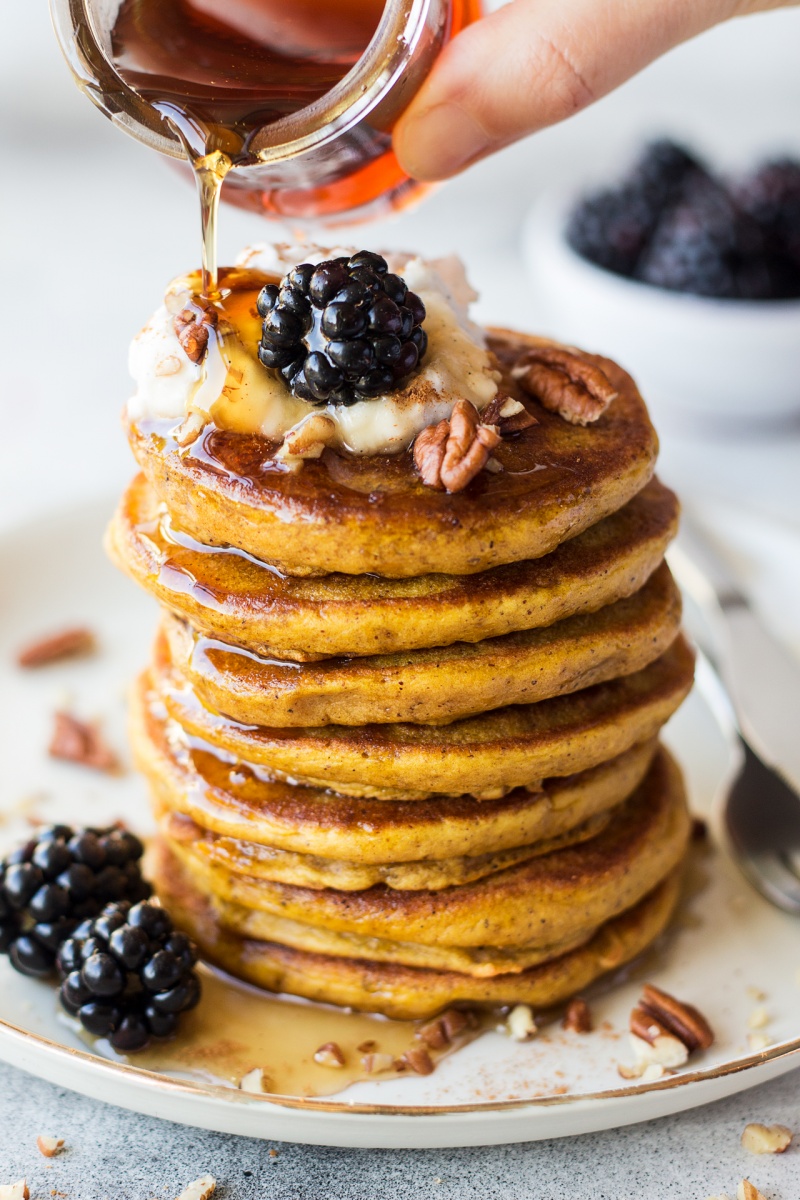 Hey fellow pumpkin lovers, join me on this pumpkin fest, will you? We will live in an abandoned pumpkin coach in the woods, eat and drink all things pumpkin until we cannot look at pumpkins any more. Well, not quite, but I intend to take full advantage of this popular autumn staple and turn it into all sorts of yummy things all season long. So if you love pumpkin, come with me…
First up, a stack of beautifully fluffy pumpkin pancakes served with a dollop of thick coconut yoghurt, crunchy pecans, the last of the summer berries and heaps of maple syrup. They will put a smile on everybody's face, I promise. I only make pancakes about once every few months, because Duncan gets upset when breakfast takes too long. He always wakes up ravenously hungry, whereas I could eat nothing for a good two hours after I've got up. Not very compatible in this respect, but we manage 😉 .
I love pancakes myself, but I feel like they are more of a dessert than breakfast, so I only allow them myself as a special treat, now and again. Today is the day, I think, as I've got loads left from yesterday's photoshoot, so I will simply reheat them and voila! Pumpkin pancakes, a walk in the sunshine, some running, eating out and generally being lazy for a change, that's in my weekend plans. Hope you've got something good planned too.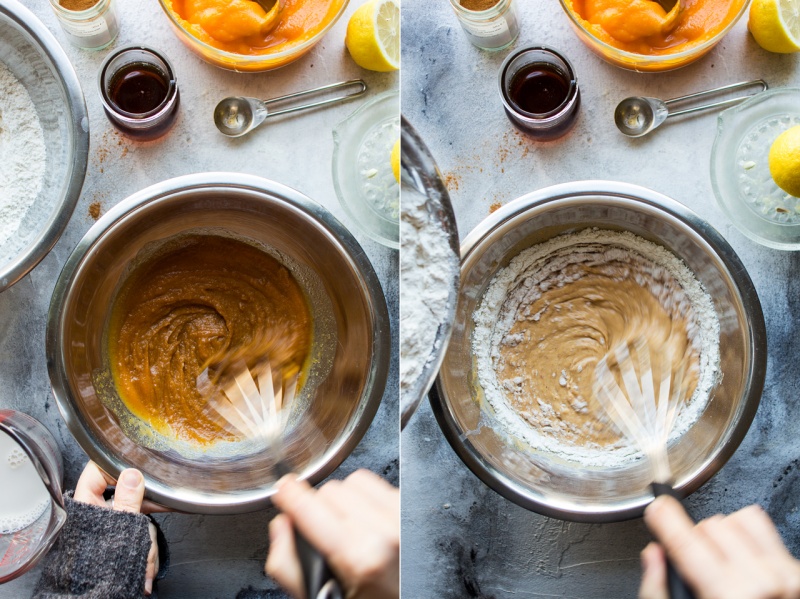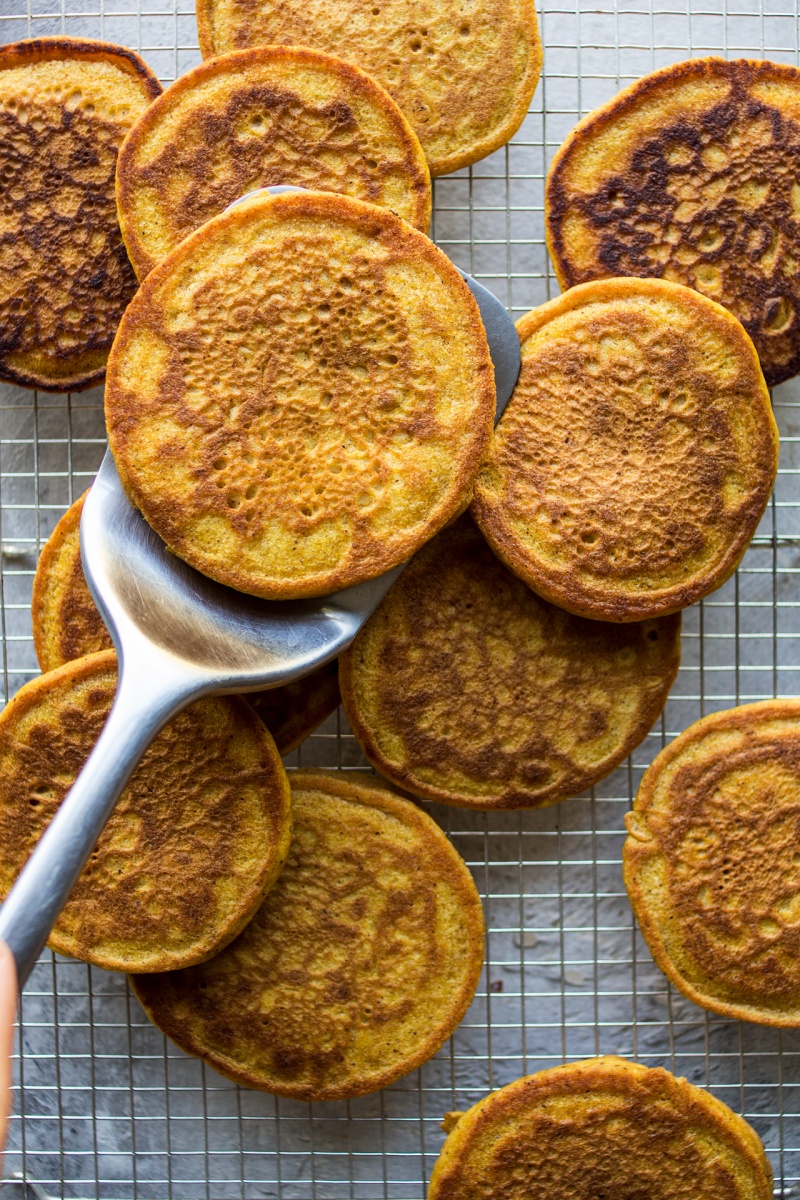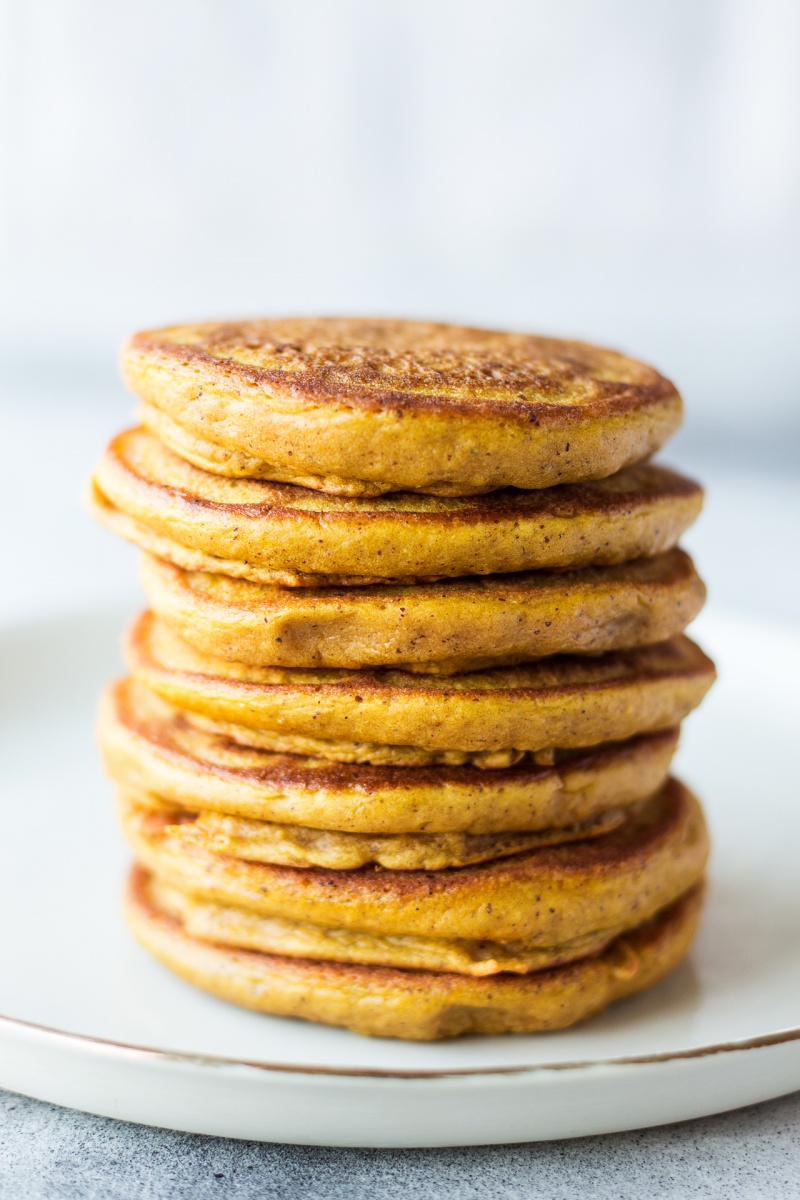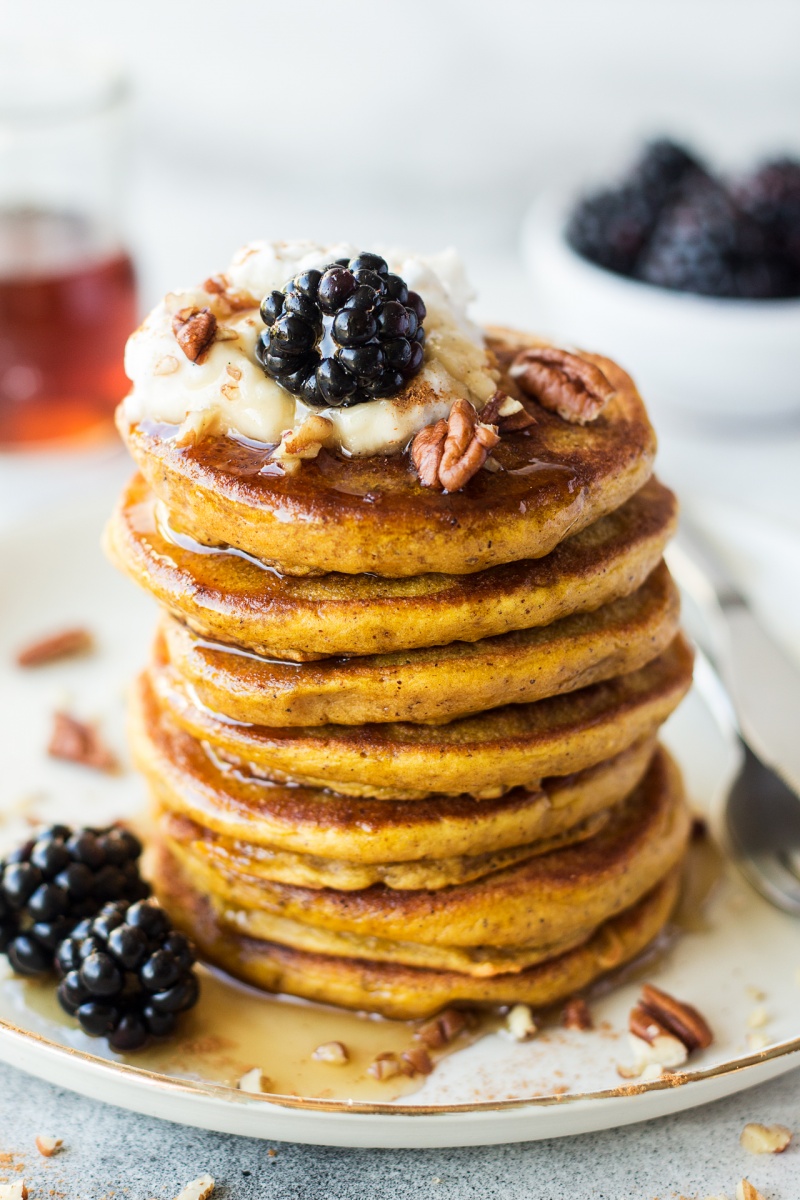 In a large mixing bowl, whisk almond butter, pumpkin puree, plant milk, lemon juice and maple syrup until smooth.
Whisk in flour, cinnamon, baking powder and baking soda.
The batter should have a thick but spoonable consistency. If it doesn't, thin it out with a splash of almond milk. Let the batter sit for about 5-10 minutes for the baking powder and soda to activate.
Heat up a medium non-stick frying pan on the stove, but be careful not to get the pan too hot as the pancakes will burn before cooking in the middle.
Brush the pan with a bit (I found that ½ tsp is enough if you're using a non-stick pan) of oil using a silicone brush.
Ladle 2 tablespoons (I used a 1/8 cup measuring spoon for this) of the pancake batter per pancake. Cook each pancake for about 3 minutes (until tiny bubbles appear on the surface and burst) on one side and then flip. Cook for another 2 minutes on the other side.
Keep the cooked pancakes in a stack in a warm oven while making the rest. Serve with maple syrup, blackberries and a dollop of vegan yoghurt.
*The exact quantity of plant milk required depends on the thickness of your pumpkin puree (shop-bought is likely to have some stabiliser, which means it will be a bit thicker), the absorbency of the flour you use and also on how accurately you measure the flour (if you use cups), so feel free to add a splash more milk if needed. Thick batter will make your pancakes thick and fluffy, if you prefer your pancakes thinner, thin the batter out a bit (approx. 2 tbsp milk) more.
**To make your own pumpkin puree, cube peeled pumpkin into a large dice and steam until tender (for butternut pumpkin / squash it takes about 35-40 minutes), cool and blend in a food processor until smooth.