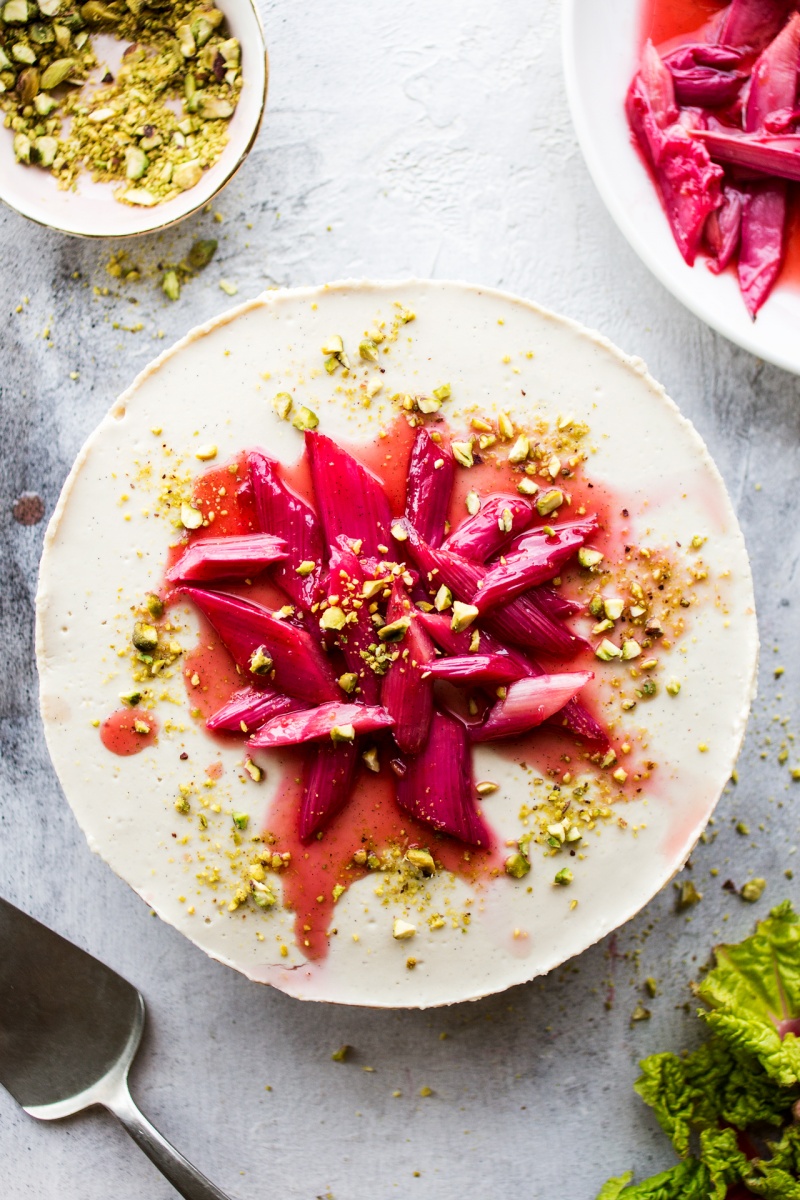 Happy Friday, guys! At last!! What a week, eh?!! I don't know about you, but ours was pretty exhausting and I just need to lie down in the sun (if only the English weather would cooperate!) If you are planning a little get together with friends, a small garden party or something of the sort, I may have just the recipe for you.
I've been thinking of doing this recipe for a while now, but I was sort of missing one crucial component for the flavours to truly sing in unison… Then I saw rhubarb at my local greengrocers et voila – I knew I was onto something gooooood. I only just photographed this puppy yesterday and I was going to share a different recipe with you today, but then I was too excited to wait!
This insanely indulgent cheesecake has it all, it's creamy and sweet and a little sour and a little (or a lot) spicy. If you have any white chocolate, ginger and rhubarb fiends in your life (vegan or not), make it for them this instant. They will want to dive into it head first, promise 😛 ! The white chocolate and ginger flavour combo is inspired by a particular non-vegan (sadly) cheesecake that I used to enjoy at Wagamamas. I miss it so much that I've decided to recreate these flavours in a plant based version. And I did, and it was nice, but it was missing a certain 'je ne sais quoi' and I couldn't quite figure it out.
And then I had a close encounter with ruby red rhubarb in my local grocery store, it was so pretty and it got my brain cells ticking. Funnily enough, I used to hate rhubarb as a child – mainly because the cooks at my kindergarten used to brutally overcook it and serve it to us as a stewed fruit kinda drink. It was super sour, stringy and just plain awful. It's funny that if you put your mind to it, you can always turn a flavoursome vegetable (yes, it is!) into a bland pile of meh. Anyways, I digress…
The moment I saw these beautifully bright red stalks, I knew they would look stunning against white cheesecake and their sour notes would cut through the richness of the white chocolate cream underneath perfectly. I was sold and the test cook totally confirmed my intuition. Moments like this are when recipe development feels like the best job in the world, when suddenly all the pieces of the puzzle come together neatly. I really needed that as, if I'm honest, I've struggled a little with work-life balance lately and I've been grappling with a lot of self-doubt. I'm working on it, but some days I am winning more than others. Let's just say that yesterday was a really good day!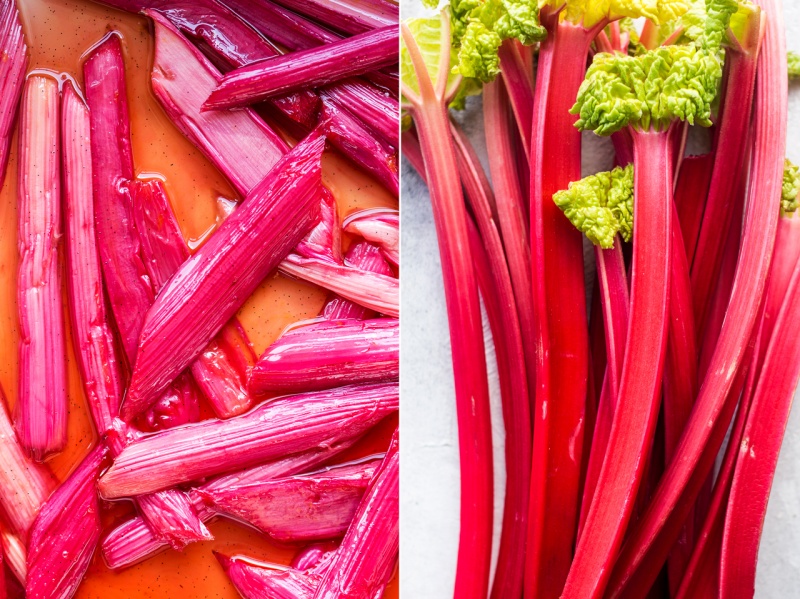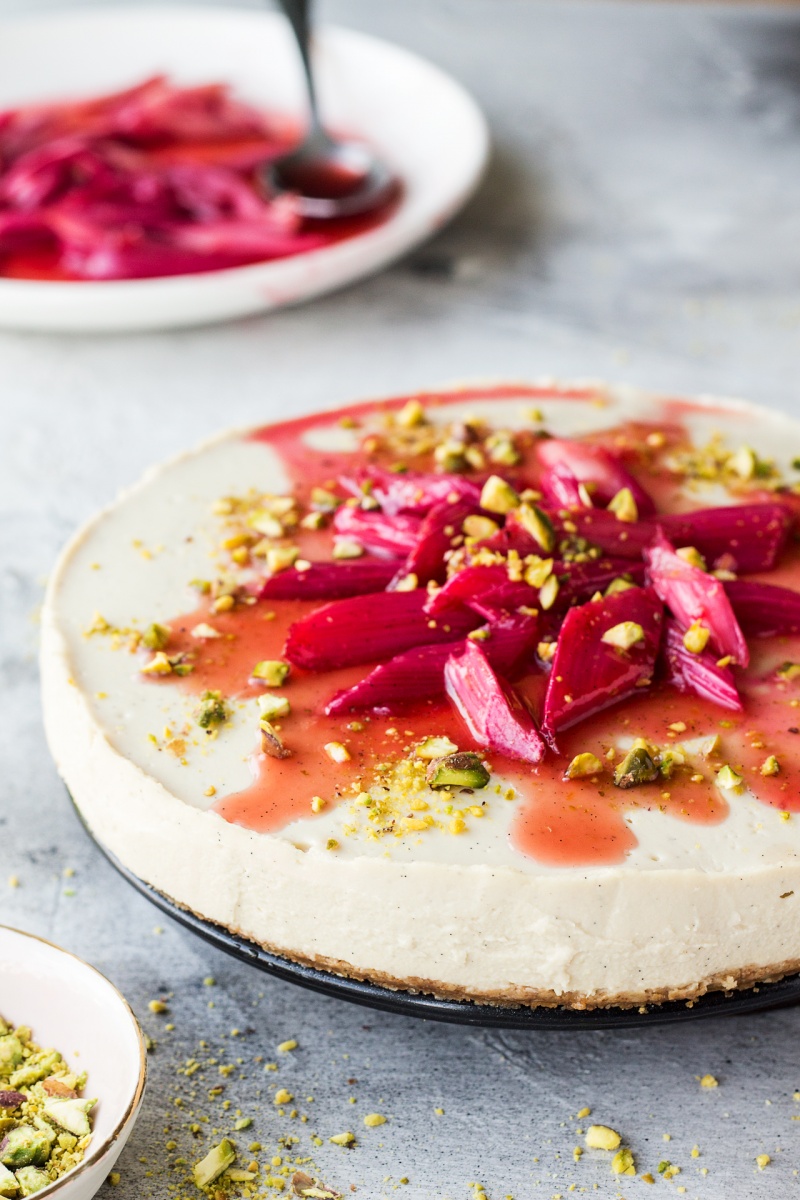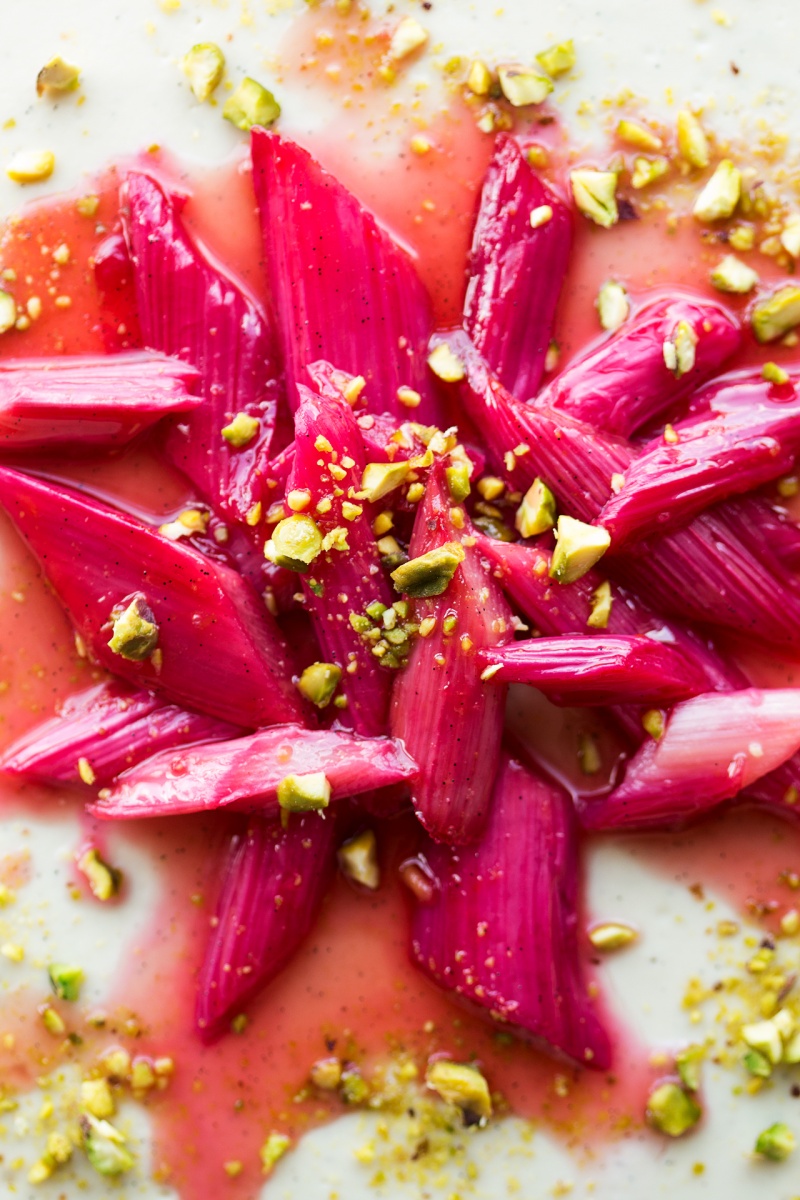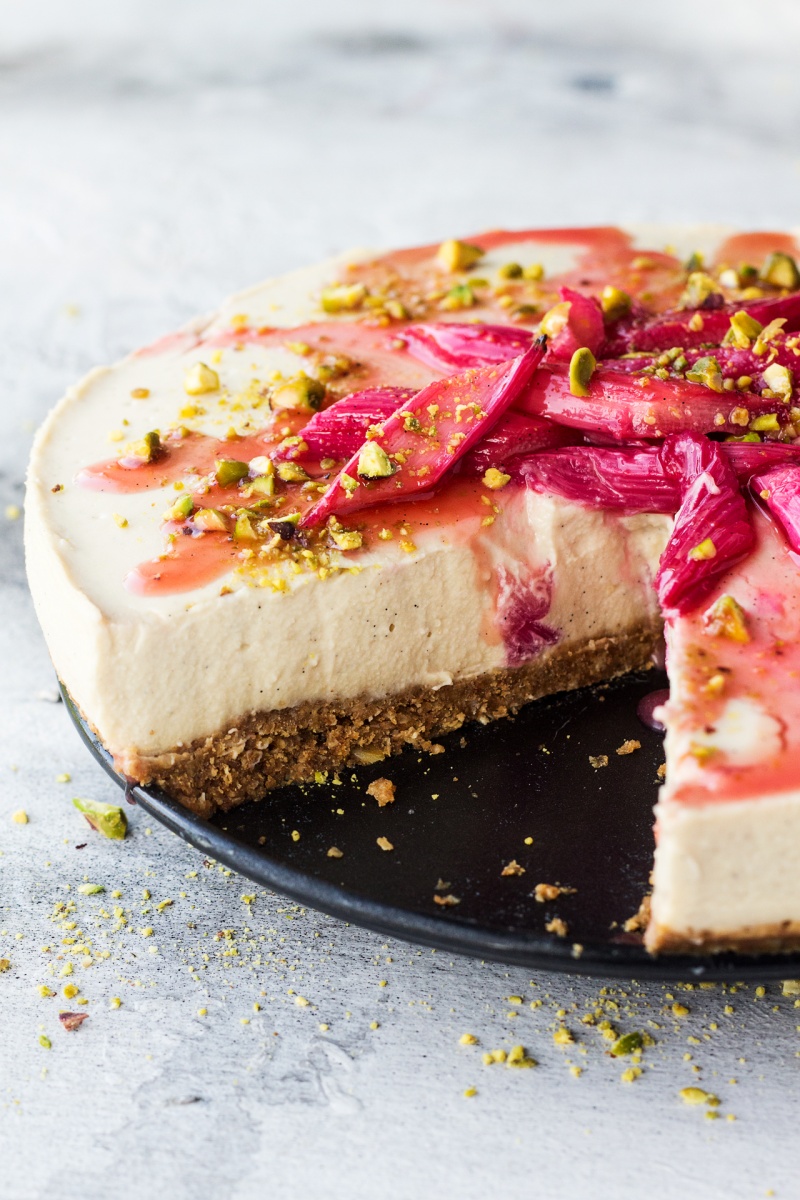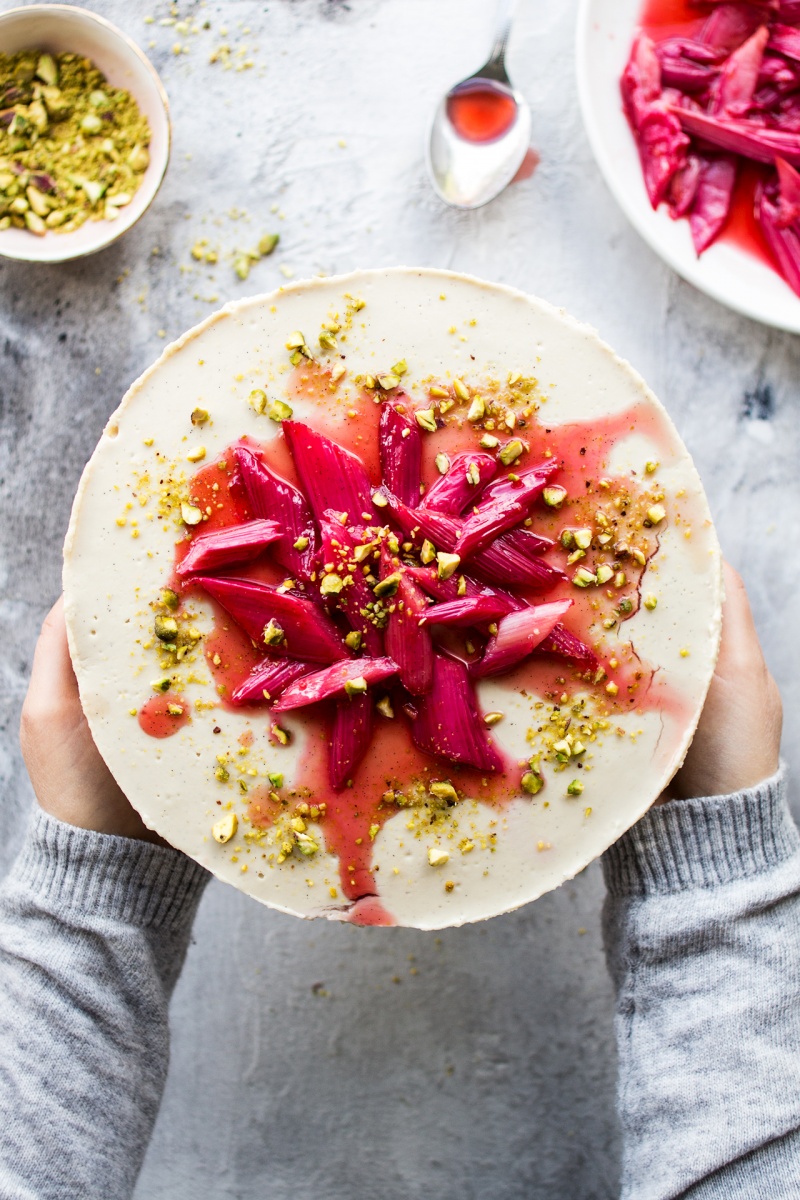 CHEESECAKE BASE
62 g / 5 tbsp coconut oil
300 g / 10.5 oz vegan biscuits (GF if needed)*
CHEESECAKE MIXTURE
100 g / 3.5 oz raw cacao butter
240 ml / 1 cup almond milk (or any plant milk)**
approx. 180 ml / ¾ cup maple syrup, adjust to taste
300 g / 2 and 1/3 cups raw cashews (soaked overnight)
2½ tsp vanilla extract
4-5 tsp freshly grated ginger, adjust to taste
2 tbsp lemon juice
ROASTED RHUBARB
Optional: line the bottom of your springform tin with a circle of baking paper and cut out a long rectangle to line the sides of the tin with. Affix the long strip of paper to the sides of your springform tin. This is especially crucial if you aren't using a non-stick tin.
CHEESECAKE BASE
Melt the coconut oil gently in a small pot.
Grind your biscuits in a food processor until you get a delicate crumb.
Add the melted coconut oil and process until the mixture sticks together, if it's too dry add a few teaspoons of almond milk, but let the biscuits and oil sit together for a few minutes before you judge. In fact, I tend to transfer the mixture to a large bowl and play with it a bit before I decide if any more moisture is needed.
Transfer the mixture to the lined tin and press it into the base really well, creating a compact biscuit base. I used the bottom of a glass to ensure the base is smooth, even and well bound. Place in the fridge while you make the other two components.
ROASTED RHUBARB
Heat up the oven to 190º C / 375º F.
Chop the rhubarb into 2.5 cm / 1″ pieces.
Place the rhubarb in a large baking dish, toss in the sugar (or maple syrup), orange juice and vanilla extract. If you want even more sharpness to your rhubarb, you are welcome to skip the sugar here.
Roast the rhubarb until soft, for about 10 minutes. The thicker stalks may take a bit longer (12-15 minutes). Remove the rhubarb from the oven and allow it to cool down.
If you wish, you could thicken the juices with a little cornflour so that they stay on the top of the cake. To do that, place the juices in a small pot and mix cornflour and a teaspoon of water in a small cup or saucer. Place the pot with the juices on a low heat, mix dissolved cornflour in and allow both to come to a gentle simmer, stirring the whole time. Simmer for a few minutes for the juices to thicken and allow the mixture to cool down.
CHEESECAKE MIXTURE
Melt the cacao butter gently, over a water bath. Allow it to cool down a little before adding it to the mixture.
Put the plant milk, maple syrup and drained and rinsed cashews into a blender. If, like me, you don't have a very powerful blender, I recommend doing this in two batches to be able to get the cashews blended super smooth and creamy.
Add melted cacao butter, vanilla, ginger and lemon juice to the blender until you get a super smooth mixture. Adjust the amount of sweetness and spiciness to taste.
Pour the cheesecake mixture over the set base and place the tin in the fridge overnight (or 8 hours at least) to set.
Once set, top with roasted rhubarb pieces, thickened roasting juices and chopped pistachios. Keep refrigerated.
*For a raw, refined sugar free and gluten-free base you can use
this base
instead, but without cacao powder.
**Use full fat coconut milk for a firmer texture. Almond milk, which is what I used, renders it quite delicate, but I personally like that.