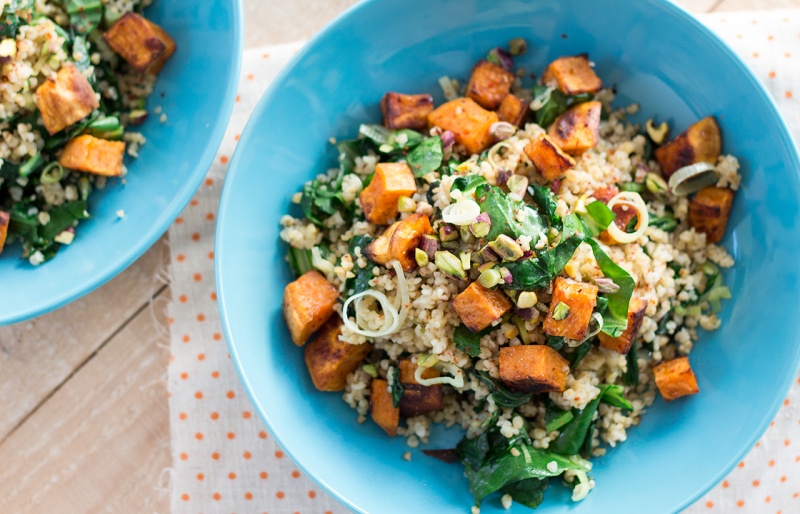 So this post was really meant to be about a carrot cake. I know, I know, this really doesn't look anything like a carrot cake – that's because I've aborted the mission. Well, not really aborted, but postponed it so don't fret you will still get your carrot cake fix soon. In a bid to give you a perfect egg-less carrot cake recipe I made four carrot cakes over the course of last week, . The first one was an absolute disaster but having a massive sweet tooth (or sugar addiction), Duncan and I still ate it. We came to regret it shortly afterwards, but it was all in the name of science. The last recipe was pretty much spot on but by that time I've eaten bucket loads of cake and I right now I can't possibly look at another one!
All this trying and testing means that sometimes by the time you've finished a recipe you suddenly lose all interest in it. That's what happened to me yesterday and I ended up making a healthy dish to restore my inner equilibrium. I made this comforting, warm cracked wheat and sweet potato cube salad. It's delicious and filling. It uses white beet greens which (alongside other beet greens) are super healthy and due to their mild taste take on other flavours very easily. Don't worry if you cannot find them where you live though – you can easily substitute them for other leafy greens such as chard or kale. It makes a perfect lunch or a light dinner.
Apologies, but I made an error in this post. It used to say that you need bulgur wheat rather than cracked wheat. I corrected the post and recipe, but for SEO reasons I'm unable to change links or image pathways so please do not pay attention to the fact that they still say 'bulgur wheat'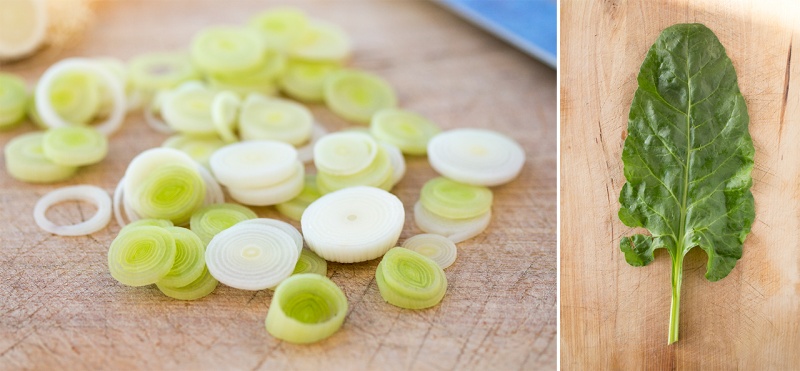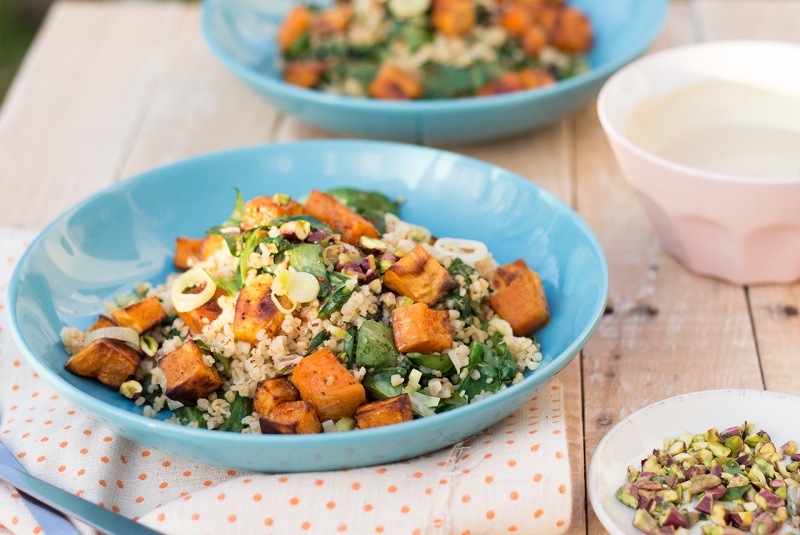 SALAD
150 g or ¾ cup cracked wheat*
1 medium sweet potato, peeled and diced
1 large garlic clove, finely diced
15 cm leek, sliced
10 white beet leaves, chopped**
2 tsp ground cumin
1 cinnamon stick
2 cloves
1 bay leaf
1 green cardamon pod
salt and pepper
pinch of chilli
2 tbsp lemon juice
handful of pistachios or almonds, chopped
olive oil, for sautéing and roasting
TAHINI SAUCE (optional)
4 tbsp tahini
½ – ¾ cup water (depending on how thick your tahini is)
4 tbsp lemon juice
1 small garlic clove, pressed
1 tsp maple syrup
salt and pepper
METHOD
SALAD
Set the oven to 200° C, coat diced sweet potato in 2 tbsp of olive oil, sprinkle with salt and 1 tsp cumin. Once oven is ready, put it into the oven on a baking tray for about 30 mins – until soft and nicely browned. Stir half way through to ensure even roasting.
Meanwhile, heat up 2 tbsp of olive oil in a pan/heavy-bottom pot with a fitting glass lid. Sautée sliced leeks until tender and add in garlic stirring frequently to prevent burning. Once garlic has been sautéing for a minute or so add in chopped beet greens. Sautée for a few minutes until tender. Remove leeks, garlic and beet greens from the pan and set aside.
Put rinsed cracked wheat into the pan with 1 and ½ cups of water, ½ tsp salt, cinnamon, bay leaf, cardamon pod and 2 cloves. Cover, bring to boil and then simmer gently on a low heat until all the water has been absorbed. Do not lift the lid at any point. Once the water has been absorbed, keep the pot on the switched off hob ring (the lid on) for another 10 minutes so that the grain finishes off cooking in its own steam.
Stir in sautéed leeks, garlic and beet greens. Season with lemon juice, chilli, extra cumin and salt and pepper. Add in roasted sweet potatoes.
Sprinkle chopped pistachios on top for a bit of texture.
TAHINI SAUCE
In a bowl, mix tahini and water until you get a light-coloured, pourable and homogeneous mixture.
Season it with lemon juice, maple syrup, garlic, salt and pepper. Enjoy it poured over the salad.
NOTES
Volume measurement I use is 1 cup = 237ml
* Cracked wheat can be easily substituted for brown or white rice (for gluten-free version). White rice can been cooked in the same way, 1 volume of rice to 1 1/2 volume of water. Brown rice requires plenty of water and a separate pot.
** White beet greens can be substituted for chard, kale or even red beet leaves if you don't mind stronger taste and everything turning pink.